What was once a virtually unknown and underappreciated art, K-pop has taken the music world by a storm in recent years, and is now recognized as a $5 billion global industry. With the rampant popularity of the music style, it is not surprising that fans want to know everything possible about the artists behind the music. One such artist, Kim Myungjun, affably referred to as MJ, is one of the most beloved members of the K-pop boy band Astro. MJ is a highly accomplished singer, dancer, musician and actor, and always fills the room with his signature quirkiness and upbeat personality. However, the path has not always been easy for him, but he has managed to make the best of the cards dealt to him, and made a name for himself in the entertainment industry.
Just a simple reminder that article is created and owned only by kpopwiki.org. Article cannot be re-published in any other pages or documents. Copyright is protected by DMCA. All found copies will be reported.
Original source: https://kpopwiki.org/kim-myungjun-mj-astro-age-height-family-net-worth-bio/
Early Life and Family
Kim Myung Jun was born on 5 March 1994, in Suwon, South Korea. Although the names of his parents are unknown, it is believed that he has a younger sister. Kim was an intelligent and fun-loving child, but initially wanted to become an architect when he grew up, an expression of his drawing prowess and artistry. However, he would later abandon this dream, both because of the intensity of the work and to pursue a career in music. Kim Myung Jun probably also discovered his affinity for impressions as a child, an ability he still makes use of today.
Education
MJ attended Jinjeop High School, then Gunpo e-Business High School for the majority of his formal education.
He later received a scholarship to the National University of Seoul after a failed audition, but it's unknown what he studied there.
Kim Myong Jun also received training in performance and dancing, as well as voice training, prior to the debut of Astro. This is common practice with the K-pop and Mandopop industry, where potential members of the band will undergo years of training before the members of the group of finalized, and their music produced for public consumption. MJ and the other members of Astro received training at Fantagio iTeen Boys, a talent development agency. Making it into the program was no guarantee of later fame, and in fact of the eight members of iTeen Boys, two were cut before the formation of ASTRO.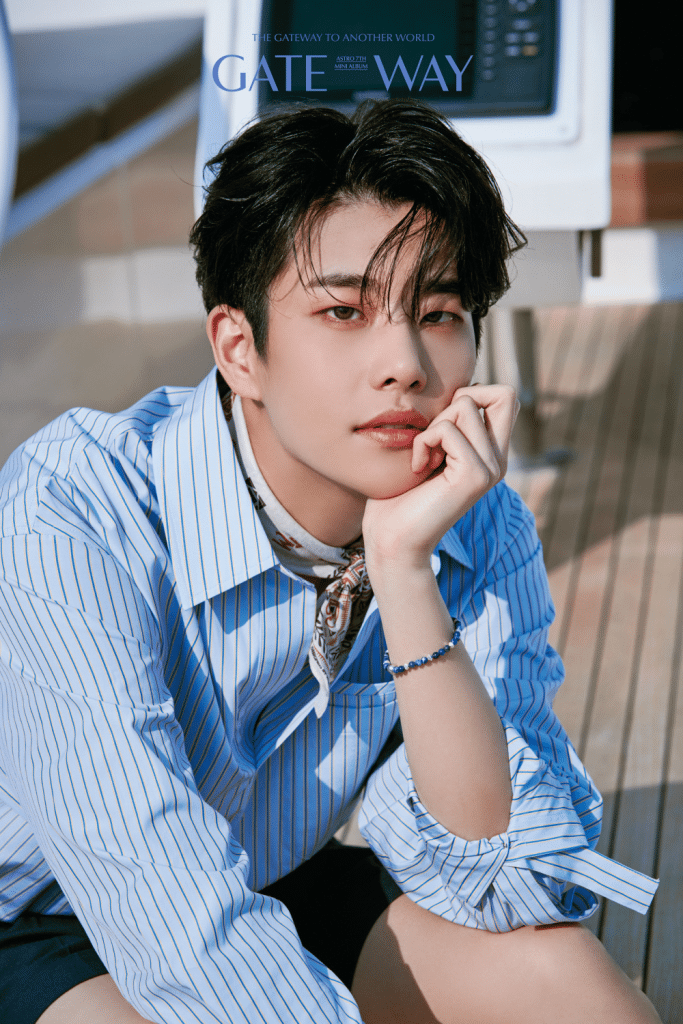 Career
Initial Auditions
MJ first auditioned for JYP in 2012 – JYP is a well-recognized talent agency, entertainment group, and record label conglomerate, that has given rise to multiple K-pop bands and artists, including Wonder Girls, Boy Story, and Itzy. Unfortunately for MJ, the audition didn't go as well as he had hoped, and he didn't secure a contract from the company, however, what he did receive was a full scholarship to the National University of Seoul. Still, MJ didn't give up on his dream of becoming a K-pop star, and soon earned a place in the Fantagio training program iTeen Boys.
Fantagio
Although the iTeen Boys group originally consisted of eight members – Park Jin-Woo (JinJin), Lee Dong Min (Cha Eunwoo), Moon Bin (Moonbin), Park Min Hyuk (Rocky), Yoon San Ha (Sanha), Lee Jaesung, and Son Jungyoung – only six were selected to become the bad Astro. Lee Jaesung and Son Jungyung both left the agency for various reasons and the ones that remained are the band that is known and loved today.
The members of the K-pop band were officially announced in August of 2015 and the boys were given the opportunity to star on the reality TV show "To Be Continued" with other notable names in the industry. Early the next year, the group took to the screen again in a show of their own "Astro OK! Ready" which premiered on 16 January, a month before their musical debut.
(Preview🌠) 191116 JAPAN FANPARTY #아스트로 #ASTRO #엠제이 #MJ @offclASTRO

울명준봐서 행복한 엠닷이야😭💕 pic.twitter.com/ELUd11NuRX

— 엠제이닷컴💕 (@kimmyungjun_com) November 16, 2019
Astro released their first Extended Play (EP) entitled "Spring Up" on 23 February 2016. The EP didn't just do well, it did spectacularly. "Spring Up" reached number four on Gaon Music Chart, and six on the Billboard World Albums Chart in the USA. From there, the popularity of the group only gained momentum. On the 6 March, they held their first press conference which allowed the public to get a better glimpse of the members, but also allowed Astro to announce the name of their official fanbase: Aroha (Astro Hearts All Fans).
Astro made headlines that same year when they became the only Korean band to be invited to China to participate in the LeTV Entertainment awards, despite the rising tensions between South Korea and China. They then released their second EP, "Summer Vibes", on 1 July and once again shot to number six on the US Billboard World Albums Chart.
Although the group went on their first tour, ASTROAD, from 15 July to 29 August 2017, things were beginning to get tense due to internal conflict at their record label, Fantagio. The same conflict prevented them from promoting their EP in July of 2018, and forced the group to take an eight-month-long hiatus.
Despite the difficulty the group faced, they returned on 16 January 2019 with their first full-length album: "All Light". As of 2020, the group has released one album, an album single, multiple singles, and seven EPs. They also won two Asia Artist awards in 2017, namely the New Wave Award and Popularity Award. They have been nominated for countless other awards, and won an additional six titles, including the 2020 Best Male Performance Award at the Golden Disc Awards.
Other Ventures
The stature and fame that comes with being a celebrated K-pop idol opened hundreds of doors for MJ, allowing him and his fellow bandmates to appear on staple South Korean TV shows, radio programs, and reality shows. MJ appeared in "After School" (2016), "Weekly Idol" (first in 2016 and again in 2019), "Idol Arcade" (2017), and as a panelist in "This World's Quiz"s the second season in 2019.
Personal Life
Personality
Kim Myung Jun has what the members of the band like to refer to as a 4D personality – vibrant, vivacious, and contagious. He is well known for being upbeat and positive, and loves to make people laugh, even when his jokes are received as 'lame'. It is this trait that has led the group to dub him "The Happy Virus", claiming that his joy is contagious. MJ himself prefers the title "The Smile Engine", but mostly just enjoys having fun.
Although he is the eldest in the group, he is often mistaken as the youngest, and is by far the most talkative.
Social Life
MJs social life is not limited to the confines of Astro, and he is in fact friendly with Xiheon from MYTEEN. Although some members of Astro, Moonbin in particular, can find MJ's behavior weird and strange at times, they are all still good friends. MJ is perhaps closest to Sanha, who he revealed was his first friend when he joined the group; he currently shares a dorm room with Rocky and Sanha. MJ has never revealed any of his romantic relationships to the public, but when pressed about his ideal girl at the Astro Idol Party, he told the interviewer that if he were a woman, he would date himself.
Hobbies and Talents
As is expected with his explosive personality, MJ has a broad range of interests and hobbies. He loves the Marvel franchise and is a big fan of Iron Man. He is also an exceptional artist, and it has been suggested that if he were to abandon his musical career, he could make a name for himself in the graphic design industry. MJ has his mind on other things however, and would like to open a sushi restaurant one day, to express his love of seafood. MJ is also known for the hilarity of animal and human impressions which he has displayed on various forums, including the "Weekly Idol" Autumn promotional videos.
Appearance
MJ has a slender figure, but he admits that he has what he would call a "Baby Belly".
However, he is perfectly comfortable with his body and claims that he would not want to switch his baby belly for abs as it is far more comfortable to lie on his stomach as it is. MJ loves to play with the color and style of his hair, dying it white blonde, pink, red, and regular blonde, but also often opting for his natural dark hair. He is 5ft 9ins (1.75m) and weighs 127lbs (58kg). He occasionally appears with glasses that only serve to accentuate his light-hearted personality.
Net Worth and Salary
MJ receives his income primarily from his role as the main vocalist within Astro. His net worth is estimated to be close to $1 million, but as is often the case with K-pop artists, this is unconfirmed. All told, he lives a comfortable life without any financial stress.