Hwasa is a South Korean singer-songwriter, rapper, and dancer, who rose to fame as a member of "Mamamoo" with numerous hits such as "Um Oh Ah Yeh," "You're The Best," "Decalcomanie," and "Starry Night." She debuted as a solo artist in 2019 with "Twit", and made it to No.26 on Forbes Korea's list of Top 40 Power Celebrities that year. "Maria" made her the first Korean female artist to top the iTunes Albums Chart in the United States.
Just a simple reminder that article is created and owned only by kpopwiki.org. Article cannot be re-published in any other pages or documents. Copyright is protected by DMCA. All found copies will be reported.
Original source: https://kpopwiki.org/hwasa-mamamoo-biography-age-height-dating-loco/
Early life and family
Hwasa was born Ahn Hyejin on 23 July 1995, in Jeonju, Jeollabuk-do (North Jeolla Province), South Korea. She belongs to a family of five with two older sisters, but not much is known about them except for her father, Ahn Chan Yeob, who hailed from Namwon, which is less than an hour away from Jeonju, and has a vegetable farm there.
During the IMF financial crisis, her family had taken a hit, and her parents were so busy working that it was difficult to make them come to school.
Her mom would only stop by briefly if she told her she'd be performing at school arts festivals, or competing during field days. Getting her parents' attention growing-up had become her driving force to winning school competitions.
When she was in middle school, she would cling to her father's leg whenever he was about to leave for work, begging him to help her become a singer. He was initially against it and tried to talk her out of it, as he knew the road to stardom wasn't going to be simple and easy. Money had been a sensitive matter to her father as they were poor, so she would get scolded a lot for spending money on downloading songs and videos on her computer.
As she pursued her dream in Seoul, she stayed with two other trainees, Solar and Moonbyul, in the cheapest rooftop house they could find, that was too cold in winter and too hot in summer.
When her father visited her, it broke his heart to see her living in a place with puddles of water on the floor and dirty walls, but he couldn't afford to rent a nicer house for her. He still had to pay her rent when it was the hardest time for him financially, as he'd acquired a lot of debt. Her father later said that the first thing Hwasa did once she started earning money was to pay-off all his debts, so he and his wife were able to live with more confidence.
Her uncle, who was an old bachelor, loved and treated her like a daughter and helped pay for her living expenses in Seoul. She had a hard time when her uncle passed away in 2017 in a car accident.
She missed her parents a lot, and would call them when she came home from work, usually after midnight;her parents made it a habit to wake up around that time to answer her call right away. When she needed a break she would visit her father's hometown, as it was less crowded and she had happy memories there.
⚡️ "HWASA's 2020"#2020_최고의_화사#2020_BEST_HWASAhttps://t.co/lLD8nmDBnw

— HWASA GLOBAL (@HwasaGlobal) December 31, 2020
Her mom was sick and was taken to a hospital for a CT scan in 2020 although she was assured that it wasn't too serious.
Educational background
She attended Jeonju Elementary School then Jeongju Seongsim Middle School, before matriculating from Wongwang Information Arts High School.
Career
First steps
Hwasa became a trainee of RBW in 2011, but before that, she received training from a different agency, and recorded guide vocals for the girl group 4Minute.
To launch a girl group, RBW co-CEO Kim Dohoon selected five trainees from their pool of talent who were good at singing and having fun on stage. Quincy Jones held a concert in Korea in 2013, and at the after-party the group performed the song "Mamamoo," which Dohoon made for the American record producer, which later became the name of the girl group after a staff member of the agency suggested it.
One trainee left before they could debut, so they became a four-member girl group.
Although the group was formed using the "idol group format," Kim Dohoon wanted to promote them as artists who were good at music, so they went with R&B soul and jazz sounds instead of the usual idol music. During the first half of 2014, they collaborated with established singers and rappers, the most notable with the balladeer K.Will featuring Wheesung in "Peppermint Chocolate – it peaked at No.10 on the Gaon Digital Chart, and No.7 on Billboard K-Pop Hot 100.
Hwasa along with Solar, Moonbyul and childhood friend Wheein, officially debuted as Mamamoo on 18 June 2014, with the extended play (EP) "Hello", peaking at No.9 on the Gaon Album Chart with close to 13,000 copies sold. The lead track, "Mr. Ambiguous," reached No.19 on the Gaon Digital Chart with over 445,000 downloads, and No.28 on K-Pop Hot 100. The music video (MV), which featured several artists including Baek Jiyoung, garnered over 9.5 million views. Included On the EP was Hwasa's solo "I Do Me," which she wrote herself.
🌼🌼🌼#Mamamoo #MAMAMOO #MooMoo #Moomoo #rbw #Solar #KimYongsun #Moonbyul #MoonByulyi #Wheein #JungWheein #Hwasa #AhnHyejin #fanstagram #kpop #kpoper #kpoplover #kpopfff #follow #like4like

Posted by Theoldmc6106 on Sunday, March 31, 2019
The commercial success of their debut album and single was partly attributed to their participation in the "Immortal Songs: Singing The Legends" competition, when they showed off their powerful vocals.
Further success
So far, Hwasa and the girls have released three studio albums and ten EPs, which all entered the top 10 of the Gaon Album Chart, with their 10th EP "Travel," released in November 2020, having the highest number of copies sold at around 170,000. "Purple" (2017), "Red Moon" (2018), and "Reality in Black" (2019) charted well on Billboard's World Albums Chart at No.1, No.4 and No.11, respectively, and sold over a thousand copies each in the US.
Most of their singles sold well too, making them one of the most successful girl groups in Korea. "Um Oh Ah Yeah," which Hwasa co-wrote, was their first song to reach the one-million mark in digital downloads; it was the lead single of their third EP, "Pink Funky," released in June 2015.
"You're The Best," the lead track of their first studio album entitled "Melting," was their first chart-topper on the Gaon Digital Chart, with over 1.4 million digital downloads, and won them their first No.1 Song of the Week trophy on a music show on 6 March 2016. Hwasa also contributed to the lyrics and/or music of some of the tracks on the album such as "My Hometown," "Recipe," and "Taller Than You," which peaked at No.5 on the Gaon Digital Chart with over 485,000 downloads, reaching No.8 on Billboard's World Digital Song Sales Chart.
"Decalcomanie," which Hwasa also co-wrote, was one of their biggest hits, with over 2.5 million downloads, and was the lead single of their fourth EP, "Memory," released in November 2016. Hwasa and Moonbyul formed the rap line of the group, and recorded the sixth track, "Dab Dab."
"Yes I Am" from their fifth EP, "Purple," released in June 2017, was another million-seller that Hwasa co-wrote. It reached No.2 on the Gaon Digital Chart, No.1 on the Billboard K-Pop Hot 100, and No.7 on Billboard's World Digital Song Sales Chart.
"Starry Night" was certified Platinum by the Korea Music Content Association (KMCA) in November 2018 for 100 million streamings, and in July 2019 for 2.5 million digital downloads. It was the lead single of their sixth EP, "Yellow Flower," released in March 2018. Included on the EP was Hwasa's solo "Be Calm", in which she was the lyricist and co-composer.
"Hip," which was co-written and co-composed by Hwasa, received Platinum certification from KMCA in November 2020 for 100 million streamings, after it was released in November 2019 as the lead track of "Reality in Black." It topped the Billboard's World Digital Song Sales Chart, reached No.2 on Billboard K-Pop Hot 100, and No.4 on the Gaon Digital Chart.
According to their co-CEO Kim Dohoon, Mamamoo always exceeded their expectations and managed to pull off the concept planned by their team. He said the secret to their success is that they value the opinions or input of the members to their albums, solo and group activities, and the direction they want to take in their careers.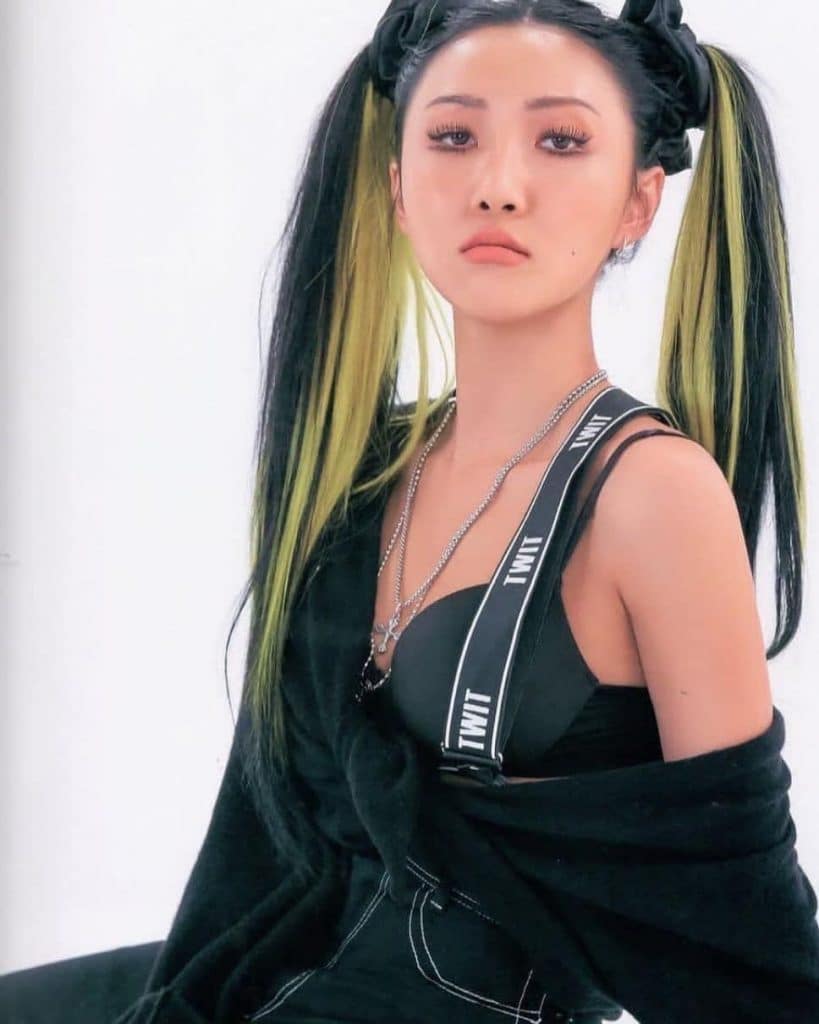 During Mamamoo's stage appearance at the 2018 Mnet Asian Music Awards (MAMA) Fans' Choice held in Japan, Hwasa performed wearing a red latex bodysuit and thigh-high boots, which became controversial. Some netizens bashed her for it, saying it was too much and didn't fit the "Korean standards", while others said it was hot and sexy. According to the co-CEO, the members who worked well with the stylist team, get to decide what they want to wear on stage. Her outfits were often much talked about, and sometimes caused controversy.
Solo activities
Her popularity soared even higher as she joined the cast of MBC's variety show "I Live Alone," in 2018, continuing up to the present. She earned the nickname "Gopchang Queen" as her first appearance on the show eating gopchang (small intestines of beef) started a gopchang craze in Korea. The viewers got to know her better, as the program is all about documenting the daily lives of celebrities.
She won the Rookie Female of the Year Award (2018) and Female Excellence Award (2019) at the MBC Entertainment Awards.
Hwasa, Uhm Junghwa, and Jessi were tapped by Lee Hyori to join her as members of her dream girl group project called Refund Sisters, with Yoo Jaesuk acting as their manager. It was for the variety show "Hangout With Yoo," also known as "How Do You Play," which features Korea's National MC, Yoo Jaesuk," as he engages in various activities. They released the song "Don't Touch Me" on 10 October 2020, topping the Gaon Digital Chart, and peaked at No.2 on Billboard K-Pop Hot 100 and No.8 on Billboard's World Digital Song Sales Chart. The proceeds from their album sales and group promotions were donated to charity. Hwasa won the Female Top Excellence Award in 2020 for her inclusion in both MBC variety shows.
Hwasa debuted as a solo artist with the single, "Twit," which she co-wrote and co-produced, released on 13 February 2019. She said it was based on her personal experience, as it's about someone who's a fool for loving her too much, when he's only second on her priorities as she still had things she wants to achieve.
It topped the Gaon Digital Chart and Billboard K-Pop Hot 100. It peaked at No.3 on Billboard's World Digital Song Sales Chart, and Billboard ranked it at No.8 on "The 25 Best K-Pop Songs of 2019." She bagged her first solo music show win for the No.1 Song of the Week on 2 March 2019, courtesy of MBC's "Show! Music Core."
Hwasa collaborated with Dua Lipa for the remix of "Physical", released in March 2020, and was featured in the original soundtrack of the romantic fantasy series "The King: Eternal Monarch" (2020) singing "Orbit," which reached No.16 on Billboard's World Digital Song Sales Chart.
Hwasa said her first EP, "Maria," was like a diary that contained the emotions she felt in her mid-twenties – "Maria" is her baptismal name. It was released on 25 June 2020, peaking at No.5 on Gaon and No.7 on Billboard's World Albums Chart, and topping the iTunes Albums Chart in 20 countries. She was the first Korean female artist to claim the No.1 spot on the iTunes Albums Chart in the US. She contributed to the lyrics and/or music to six tracks, including her previously released single "Kidding," "Why," and "I'm Too Bad."
The title track peaked at No.2 on the Gaon Digital Chart, No.2 on Billboard K-Pop Hot 100, and No.6 on Billboard's World Digital Song Sales Chart. It won the No.1 Song of the Week trophy on various music shows, digital bonsang (main prize) at the 35th Golden Disc Awards, and Best Solo Dance Performance at the 22nd MAMA. Time Magazine included it on the Top Ten Songs That Defined K-Pop's Monumental Year in 2020.
Hwasa injured her back during practice a week before her comeback, and was rushed to the emergency room and diagnosed with having an herniated disk. Fortunately, she was able to perform as scheduled, but was still in pain then.
Personal life
When it comes to her love life, Hwasa admitted in an interview in March 2019 to loving someone whom she calls her first and last man. She met the guy one winter and followed him for a year although he wasn't interested in her. He finally fell for her when they started dating; she didn't divulge the identity of the guy.
Many people are wondering if Hwasa was dating the rapper, Loco, after they participated in the KBS' variety show "Hyena on the Keyboard" (2018), as they collaborated on a project and released the single, "Don't Give It To Me," on 21 April 2018. It was certified Platinum by KMCA as it surpassed 2.5 million downloads. Loco had chosen Hwasa as his ideal girl in the past, and it was evident in episodes shown that he's thrilled to be working with her. However, in April 2020, it was revealed that Loco was in a relationship with the Korean-American model and actress, Stephanie Lee, but no longer.
Appearance
She is 5ft 2ins (1.6m) tall, weighs 100lbs (45kgs), and her vital statistics are 34-25-34. She has curly black hair and black eyes.
Net worth
Hwasa has an estimated net worth of $1.3 million, according to sources as of January 2021.