Kim Mingyu is a South Korean singer, actor, model, and host, who became popular when he joined the reality television survival series "Produce X 101," and was among the top ten trainees throughout the show, but not when it counted the most, as he ranked No.12 in the finale and didn't get a spot in the debuting group.
Just a simple reminder that article is created and owned only by kpopwiki.org. Article cannot be re-published in any other pages or documents. Copyright is protected by DMCA. All found copies will be reported.
Original source: https://kpopwiki.org/kim-mingyu-produce-x-101-height-age-net-worth-wife-bio/
Early life and family
Kim Mingyu was born on 12 March 2001, in Gumi, Gyeongsangbuk-do, South Korea but was raised in Dong-gu, Ulsan. His name is sometimes spelled as Min-kyu as the letters "k" and "g" are often interchanged when translating the Korean language to English. Mingyu means "star in the sky."
He has supportive parents and considers them as his role models; he gets his height from his mother as she is also tall. His mom would perm his hair when he was a little kid, as he disliked getting a haircut.
Mingyu is two years older than his sister – when he was five years old, he already knew Santa Claus is not real and told his younger sister this sad truth.
When he was young, he wanted to become one of the Power Rangers (Japanese superhero).
Education background
Mingyu attended Munhyeon Elementary School, where "Pepero" (a brand of cookie biscuit dipped in chocolate) was his nickname during that time as stated in his yearbook. He studied at the Hwaam Middle School, then went to Moonhyeon High School before transferring to Youngdon High School.
Career
First steps
Mingyu had a lot of dream jobs including being a businessman, historian, and singer. However, being a singer must have been foremost in his mind, as he became part of a band called No Plan when he was in high school. At firs, he was the lead singer, but the band decided on having a female vocalist instead, so he ended up as the drummer, the only unfilled position.
When he was in 11th grade, he auditioned for Jellyfish Entertainment, home to Korean pop (K-Pop) groups such as Gugudan and VIXX – fortunately the casting director saw his potential and he got in.
"Produce X 101"
Some of the artists in his label joined reality TV survival series when they were just trainees, and it paid off as they received training from various mentors, and gained exposure which later helped launch their careers. After just eight months of being a trainee of Jellyfish Entertainment, Mingyu took the same path as his label mates, as he jumped at the chance to participate in Mnet's "Produce X 101," the fourth season of the popular franchise series.
Eleven out of 101 trainees who were either independent or from 47 entertainment agencies would debut, and promote as a temporary male idol group for two and a half years.
The winners would be chosen by the viewing public, referred to as the "national producers," through a voting system. Filming started on 4 March 2019, and first aired on 3 May.
During the initial evaluation, he was given the X grade, the lowest rank given to trainees by the mentors; he still thanked them even if it meant he couldn't practice at the training center. He said that a chance to be evaluated by them doesn't come by every day, so if they think he hasn't earned the right to be there, then he should practice more and improve his skills. The mentors felt his sincerity, and said that it was very mature of him to think that way, and that he was taught well by his parents.
He worked doubly hard to improve and charm the audience to lift his grade and ranking. At the end of the first episode he ranked first among the trainees in popularity, and with his good looks, he also took first place when a poll was taken for "Top Visual," which was aired in episode five.
When the other trainees first saw Mingyu, they thought he looked like a number of K-Pop artists, including Hwang Minhyun (NU'EST), Bae Jinyoung (CIX, WannaOne), Yoo Seonho (Produce 101 Season 2), and N (VIXX).
He had a difficult time during the show as he was a poor dancer and he knew it, so he practiced hard to the point of exhaustion. When he was eliminated from one team and transferred to another, he pretended to be okay but wasn't. It had become his habit to try to hold back his tears as that was not the time to cry. He once said that hard work doesn't betray, but that time he felt that the results didn't reflect his efforts and hard work, so he hated himself. Instead of being called "hardworking Minkyu," he wanted to be called "talented Minkyu."
As more and more trainees were being eliminated, Mingyu was safe in his position, as he never ranked below third place during the first five ranking announcements. It was only later when he received his lowest rank at tenth place but he bounced back to fifth place afterwards.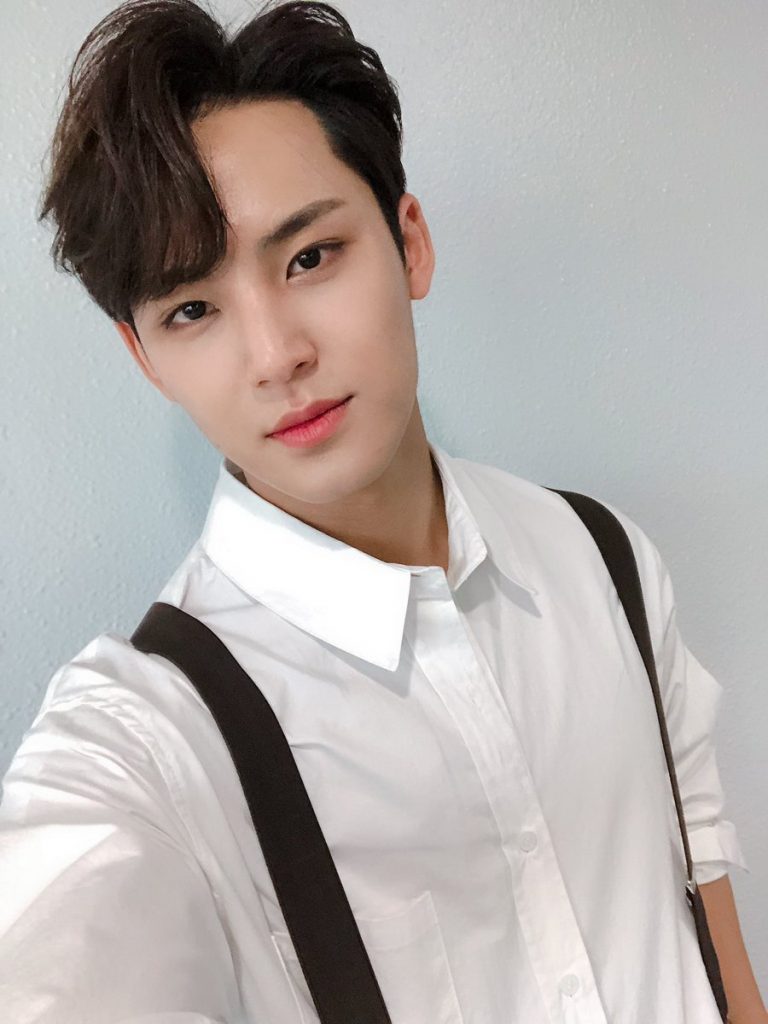 Nobody including the fans, viewing public, and co-trainees thought that he wouldn't make it in the final ranking, so it was unfortunate that he was in 12th place in the finale, and didn't get to debut as a member of X1.
However, viewers of "Produce X 101" filed a lawsuit against the producers of the show, alleging vote-rigging, and a thorough investigation of the producers and entertainment agencies was conducted by the police. One of the producers of the show, Ahn Joon-young, was arrested, and admitted to manipulating the rankings. The winners were predetermined by him and other individuals even before the votes were counted or the final broadcast began. The culprits were sentenced to jail and fined. Mnet apologized and said that they would compensate the trainees who were eliminated unfairly. However, it was not revealed who the real winners were.
Further steps
Although Kim didn't win and went back to being a trainee, endorsement deals poured in right after the final episode was aired on 19 July 2019. Advertisers couldn't overlook the fact that aside from his outstanding visuals and the good image he had shown, Mingyu acquired a huge fan base during the show. According to his company, he received around six offers for Commercial Films (CFs), for a cosmetic brand, casual fashion, fast food, household electrical appliances, etc.
Mingyu signed a deal with the South Korean cosmetics brand Banana Co., as its first male model. He also became a model for the American clothing brand, Guess, and so was featured in fashion magazines such as NYLON, Grazia, and DAZED.
During his first V Live broadcast on 7 August, which only lasted for 15 minutes, he received 10 million hearts and gained 120,000 views. He talked about his friendship with other trainees in the survival series, and made special mention of Song Hyeongjun who is his favorite, having spent around 90 out of 100 days with him.
He considered "Dream For You," which Lee Daehwi (AB6IX) wrote, as one of his memorable stages in the show as he had the center role for this production.
Even before officially debuting, Kim held his first fan meeting on 25 August called "Nineteen, Minkyu", at the Donghae Culture and Arts Center at Kwangwoon University in Seoul, and went to Bangkok, Taipei, and Japan to meet his international fans as well. He was nervous during the fan meetings, but because of the positive reactions from the fans, he was able to enjoy the experience and did a good job.
His first hosting job was as a panelist along with Kun (Way V) and Hwang Kwang Hee (ZE:A) in a Korean beauty talk show called "Pink Festa", that began airing in December 2019 on the MBC Music channel. The main hosts were singer Kim Jongkook, and the actress Go Jun Hee.
Mingyu received the "Hot Rookie Award" at the "2020 Korea First Brand Awards" held in Seoul on 17 December 2019.
He was off to a good start in 2020, as he along with Kim Si-hyeon (Everglow) and Juyeon (The Boyz) was tapped to co-host the music program, "The Show," which airs on the SBS MTV channel and is broadcast live through MTV Asia to 17 countries. His hosting stint started on 11 February 2020 and is still ongoing.
When two of Everglow's staff members tested positive for the COVID-19 virus after the K-Pop group performed on the music show in April 2020. As one of its MCs, Mingyu had been tested as well, fortunately with a negative result, but he continued to be under quarantine after that.
So hottttt🔥🔥🔥#SEVENTEEN #Mingyu #Kimmingyu #세븐틴 #민규 #김민규 pic.twitter.com/t9KfZCSvmH

— 𝗺𝗮𝗿𝗼𝘀𝗲. (@marose_hhj) March 31, 2020
He made his acting debut in 2020, in the romantic fantasy entitled "Pop Out Boy!", based on the webtoon "Comic Book Boy Girl," by Namni. He played the role of the fictional character, Chun Nam Wook, who popped out of a comic book into real life to find Han Sun Yeo played by Kim Do-yeon (Weki Meki), who looks like the female lead in the comic book. It aired on V Live for 10 episodes from 25 June to 29 July.
Mingyu has been appointed as the Ambassador of Goodwill of Miral Welfare Foundation, which manages the welfare activities of disabled children. He said he's grateful for the opportunity, and hopes to provide a positive influence in society, as he works with the foundation in carrying out activities 'that can bring dreams and hope to children with disabilities.'
Personal life
He is 19 years old and single. There are no reports of him dating or being in a relationship.
Hobbies, favorites, rumors, and interesting facts
His hobbies include reading Champ Comics and writing movie reviews.
Favorites: dog (animal), pink and black (colors), winter (season), 7 am (time of day), samgyeopsal or pork belly (food), mint chocolate chip and shooting star (Baskin Robbins flavor), history (subject), ballad (music genre), Homer Simpson (cartoon character), Iron Man (Marvel character)
The best way for him to relieve stress is by playing drums. Other instruments he plays include the piano and guitar. He's also good at table tennis.
Once he turns 20 (19 in international age – in Korea, a person is one year old at birth, and he or she is a year older on New Year's Day), which is the legal age in Korea, he wants to experience traveling alone, such as visiting to Jeju Island to go horseback riding.
Some netizens (online users) confused him with Kim Mingyu, the lead rapper and face of Seventeen who was born in 1997, as well as Kim Min-kyu, the actor best known for his role in the historical drama series entitled "Queen: Love and War" who was born in 1994. There are around 40 people who are registered as Kim Min Kyu on Korean portal sites.
His fans call themselves "MooMin-dan" which means "Absolute Minkyu Squad."
Three wishes that he would ask a Genie to grant him include making lots of money, for MooMin-dan to be happy, and to have three more wishes.
He can't eat grilled fish.
Mingyu's anti-fan bragged on Twitter that he kept on reporting Mingyu's personal Instagram account, @kimminkyu_0312, since the idol opened it in July 2019 until it was removed in October. However, Mingyu recovered his account that same month and had it verified. He has over 1.5 million followers, and posts mostly selfies and a few photos with friends.
He opened his official fan café account, café.daum.net/minkyu00312, and Twitter account, @minkyu_0312, in January 2020.
Appearance
He is 6ft (1.83m) tall, weighs 140lbs (63kgs), and has a lean build. His natural hair color is black and his eyes are dark brown – Mingyu described his long eyelashes as charmin, saying that they can hold up to eight pieces of mechanical pencil lead, and jokingly said that he developed it as his own unique talent. He has a mole on the right side of his face. His shoe size is 10 inches (280mm).
Net worth
Kim Mingyu has an estimated net worth of over $100,000 as of October 2020, according to sources.