Min Yoongi, best known as Suga, is a South Korean singer-songwriter, rapper, and record producer from the world's biggest boyband, BTS, whose meteoritic rise to global superstars has proven that music knows no language. The physical version of their self-produced records in the Korean language has sold over 20 million units in just seven years, and they became the only group since The Beatles to achieve three No.1 albums released in just 11 months.
Just a simple reminder that article is created and owned only by kpopwiki.org. Article cannot be re-published in any other pages or documents. Copyright is protected by DMCA. All found copies will be reported.
Original source: https://kpopwiki.org/who-is-min-yoongi-suga-age-height-brother-net-worth/
Early Childhood and Family
Min Yoongi was born on 9 March 1993, in Buk-gu, Daegu, South Korea. He came from a poor background with both of his parents working to make ends meet.
Growing up, he thought of pursuing a career in architecture, but after listening to the song "Fly" by Tablo, a popular South Korean rapper of Epik High, his interest shifted to rapping and making music. He has been writing lyrics and rhymes since then. He was discouraged by his parents when they learned about it, but his older brother, Min Geumjae, was quite supportive of his dreams.
Educational Background
He went to Taejeon Elementary School and Gwaneum Middle School in Daegu, then when he transferred to Seoul, he finished his secondary schooling at Apgujeong High School. He graduated from Global Cyber University in 2015, with a Bachelor of Arts degree majoring in Broadcasting and Entertainment.
Career
Suga was an underground rapper, and goes by the name "Gloss," which is a direct English translation of his real name, Yoongi. He was already producing music back in 2010, and was a part of a hip hop crew, D-Town. During an open rap audition that year by the newly-established entertainment company, Big Hit Entertainment, Suga ranked No. 2 among all the participants. He originally joined the company as a music producer, but when the management started to form a Korean Pop (K-Pop) boyband, he was tapped to become one of the members. The CEO and Founder of the company, Bang Si Hyuk, told him that he wouldn't be required to dance, but only to rap in the group, similar to YG Entertainment's hip hop group, 1TYM.
Suga claimed that he was tricked by his CEO, as instead of just rapping, he trained for three years learning how to dance and sing with six other boys, RM, Jungkook, J-Hope, Jimin, Jin, and V.
First Steps – Debut Year (2013)
Big Hit Entertainment held a live showcase on 13 June 2013 for a seven-member K-Pop boyband, BTS, which originally stands for Bulletproof Boys or Bangtan Boys. It was later changed to Beyond the Scene, to more easily connect with international fans.
Suga and the boys debuted with the song, "No More Dream," which charted but peaked only at No. 124 on the local charts. Unfortunately, it only sold around 24,000 units during the time of its release. Their second single, "We Are Bulletproof Pt. 2, was a bust.
BTS tried again, and released its first extended play, "O!RUL8,2?," on 11 September 2013 and it did a little better than their previous releases. The debut year wasn't as successful as they wanted it to be, but their skills were recognized by music critics. They took home three New Artist of the Year Awards from Seoul Music, Golden Disc, and Melon Music.
Bang Si Hyuk allowed the members to participate in the creative process of the group's music. Suga was involved in the writing of the lyrics and music composition of most of their songs.
Path to Stardom (2014-2016)
Success didn't come easily to the boys, but they work hard for it. To penetrate the local music industry and gain a loyal fandom, they released two studio albums, "Dark & Wild" (2014) and "Wings" (2016); three EPs, "Skool Luv Affair" (2014), "The Most Beautiful Moment in Life, Pt. 1 and Part 2" (2015); and one compilation album, "The Most Beautiful Moment in Life: Young Forever", in 2016.
Most of their releases charted high in the South Korean Gaon Chart, and on Billboard's World Album Chart. Each release outsold the previous one, which encouraged Suga to write more songs for the group. It was in 2015 that BTS first entered the Billboard 200 Chart, and they haven't looked back.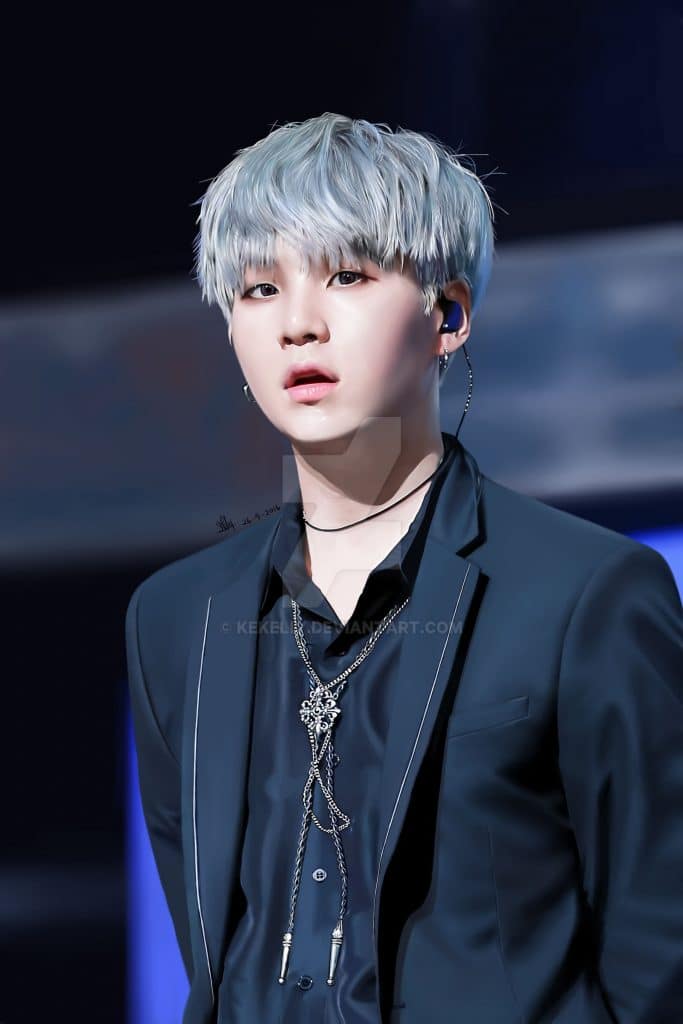 This was also the time Suga was able to perform in different parts of the world, with three tours including "The Red Bullet Tour" (2014-15), "Wake Up: Open Your Eyes Japan Tour" (2015), and "The Most Beautiful Moment in Life On Stage Tour" (2016).
Worldwide Success and Billboard Chart Domination (2017-present)
"DNA," the lead song from the fifth EP, "Love Yourself: Her," was the catalyst for their worldwide success. When it first debuted at No. 85 on the Billboard's Hot 100, which is the group's first entry in the chart, it wasn't really a huge deal, since other K-Pop acts had charted higher than that. However, the song kept on gaining recognition, as it peaked at No. 67 with over 500,000 certified units sold, and eventually received a gold certification from the Recording Industry Association of America (RIAA). They made history as the first K-Pop group to perform at the American Music Awards in November of 2017, and they brought the house down.
Suga couldn't help but be overwhelmed that the song he helped write was certified gold, not only by the RIAA but also by the Australian Recording Industry Association (ARIA). However, it was just the start, as the other songs he created with the BTS songwriting team such as "Fake Love" (2018), and "Boy with Luv" (2019) also received Gold and Platinum certifications respectively, from the RIAA.
BTS broke the Billboard record held by The Beatles for having three albums topping the Billboard 200 chart in under 11 months, including "Love Yourself: Tear," "Love Yourself: Answer," and "Map of the Soul: Persona," while the Beatles did it in 11 months and one week.
In August of 2020, BTS released their first English song, "Dynamite," and it debuted at No.1 on Billboard's Hot 100, and stayed there for three weeks, only to be toppled by one of their collab songs with Jason Derulo and Jawsh 685, entitled, "Savage Love (Laxed –Siren Beat)."
Solo Projects
Min's songwriting skills have produced commercially successful songs not just for BTS, but also for other K-Pop artists. The most notable were:
"Wine," a digitally released song Suga made for Suran that charted at No. 2 on Gaon Chart, and later took home the Best Soul/R&B song of the year in 2017 from Melon Music Awards.
"Song Request," a song that he wrote with one of his musical influences, Tablo of Epik High, for one of the popular ballad singers in South Korea, Lee Sora. It charted at No. 3 on the local chart, and No. 2 on Billboard's World Digital Songs Chart.
"Eight," a song Suga featured in and produced for IU, which not only debuted at No. 1 on Gaon and Billboard's World Digital Songs Charts, but also received a Perfect All Kill certification on Instiz Chart, by topping all major online music charts in South Korea.
Suga also released two mixtapes under his rapper name, Agust D. The first entitled "D" was released in 2016, and while it didn't attract too much attention from fans, music critics gave favorable reviews, and Fuse TV even included it in their top 20 mixtapes of 2016. He later re-released it in 2018, and it peaked at No. 3 on Billboard's World Album Chart.
In May of 2020, he released his second mixtape, "D-2," with 10 tracks, and this time fans took notice. It charted at No. 2 on the Billboard 200, and No. 9 on Billboard Top Rap Albums. The lead track, "Daechwita," debuted on top of the Billboard Rap Digital Song Sales. He broke the records set by the other BTS members, RM and J-hope who both previously released their own mixtapes.
Most Notable Awards Local and International
After sweeping awards including Artist, Album, and Song of the Year in South Korea for two to three years now, fans are most interested to see if they can score big on major international award-giving bodies. BTS did not disappoint the fans as they took home the following:
American Music Awards – Favorite Social Artist (2018), Favorite Duo/Group Pop/Rock (2019), Tour of the Year (2019)
Billboard Music Awards – Top Social Artist (2017-2020), Top Duo/Group (2019)
E! People's Choice Awards – Group of the Year (2018), Song of the Year (2018)
Personal Life
Suga is single and hasn't been known to have been dating anyone since his debut. He admitted that he had a girlfriend before his debut, but ended the relationship to focus on his goals. Most K-Pop artists, particularly those included in a boyband, are forbidden to date for about three to five years after signing a contract. While he doesn't fall into that category any longer, it is highly unlikely to hear anything about him dating, as it's taboo in the South Korean entertainment industry to talk about it. No one wants the ire of the fans, most especially the possessive Korean fans.
When asked of his ideal type, Suga said he's not particular with looks but would like to meet someone who also loves music, particularly hip hop. In 2014, he was rumored to be bisexual, which caused a major furor among his fans.
Selca + whole body photo! #Minyoongi #SUGA @BTS_twt #SeasonsGreetings2021 🥰 pic.twitter.com/GNRnsh8k0g

— Eleanor de Leon (@nineteeneleanor) November 18, 2020
It was due to a mistranslated interview done in Japan, which was straightened out and cleared by his record label. He's quite outspoken about same-sex relationships, and has said, "There's nothing wrong. Everyone is equal."
Suga battled with anxiety, loneliness, and depression during his trainee days. Music and his dreams helped him get over that period. In the past, he would be consumed with pushing for his goals, but these recent years he has focused on the most important things in life, such as values and happiness. He would often talk about mental health and share his thoughts with the fans.
He bought a luxury apartment worth $3 million in 2018, but BTS as a group still chose to live together, since it's easier for them to move around living close to each other. He used to share a room with Jin, but in the new dormitory, all of them have their own room to enjoy.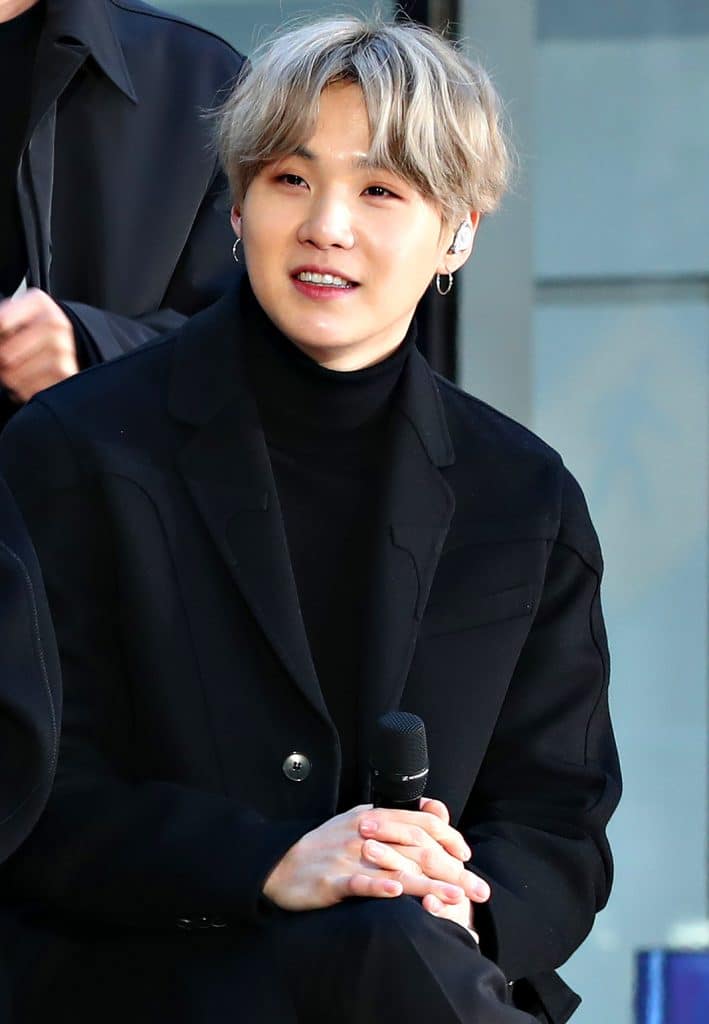 Hobbies, favorites, rumors, and interesting facts about Suga
Bang Shi Hyuk may have coined his stage name but it also came from the words "shooting guard," which are pronounced in Korean Hangul as Syuting Gardeu. When playing basketball on Sundays during his trainee days, he always plays the point guard or the shooting guard, hence the name.
Suga's other nicknames are "Mr. Appendix" due to his appendicitis surgery back in his debut year while they were in Japan; "Motionless Min" because he prefers staying at home and doing nothing during his off days, and; "Grandpa" due to his fondness for sleeping, and his crankiness.
His favorite rappers are Lil Wayne, Kanye West, Hit Boy, and Lupe Fiasco.
Among all the members of BTS, Suga has the most straightforward personality.
Suga's favorites: white (color), three (number), meat particularly chicken (food).
He rarely goes out, and would rather sleep or work on something in the recording studio.
Suga cannot sleep more than five hours a day, even if he likes to sleep longer.
The TV series, "Stranger Things" is fascinating to him, though he can't really focus on the plot.
He has the whole collection of a Korean comic book series, "Slam Dunk."
Watching electronic gadget videos on YouTube has been one of his favorite things to do, along with browsing over product reviews on wristwatches.
Working out helps him in de-stressing.
Prior to his professional debut, he doesn't celebrate his birthdays but now BTS' fandom Army would always find a way to make it a special day for him.
Suga prefers watching movies over television shows, but he's not interested in the horror genre, not because he can't handle it, but he's just not interested.
A Satoori accent (Korean dialect) can be heard from him whenever he's nervous or crying. He also has a habit of biting his nails.
During one of the episodes of the reality TV series, "Burn The Stage," Jimin asked Suga about the time he fell in one of the rooms and hurt his shoulders. Suga confessed that it was actually from a motorcycle accident, when he was still delivering food as his part-time job. He couldn't tell the company as he was afraid that he might get fired, but eventually when his company learned about it, they paid his tuition fee. This is the reason why he can't do intense dance choreography.
Appearance
Suga is 5ft 8.5ins (1.74m) tall, weighs 130lbs (59kg), and his shoe size is 8.5ins. He has black hair and dark brown eyes. Since debut, he has sported several hair colors during promotional activities, including blond, auburn, green and blue. He fondly uses colored contact lenses as well, to give a different vibe during photoshoots, and live performances.
Net Worth
According to authoritative sources, Suga has an estimated net worth of close to $2 million as of October 2020.