Ellin is the vocalist, lead dancer, and visual of the South Korean girl group called Crayon Pop, that rose to fame with the release of their hit single, "Bar Bar Bar," in 2013. She is currently working as a broadcast jockey (BJ) on Afreeca TV, but was implicated in the $860,000 "romance scam" in 2019.
Just a simple reminder that article is created and owned only by kpopwiki.org. Article cannot be re-published in any other pages or documents. Copyright is protected by DMCA. All found copies will be reported.
Original source: https://kpopwiki.org/who-is-crayon-pops-ellin-age-height-husband-net-worth/
Early life and family
Ellin was born Kim Min Young on 2 April 1990, in Seoul, South Korea. All that is known about her family is that she has a younger brother, with whom she enjoyed playing video games.
Career
First steps
Ellin had been a fitting model before deciding to pursue a career as a Korean Pop (K-Pop) idol. Around that time, a commercial photographer named Hwang Hyung-chan decided to create a girl group, after watching T-ara's performance of their hit song, "Roly Poly" released in 2011.
However, he wanted something different from the usual too cute, sexy, or girl-crush concept. He searched for girls with ordinary looks, not taller than 5ft 4ins, and who didn't have strong personalities. He used his own money to establish Chrome Entertainment that same year, and formed the group, Hurricane Pop.
Ellin was referred by the company's dance choreographer, and auditioned three times before being accepted as the fourth trainee to be included in the female idol group the company planned to launch. According to CEO Hwang, most of the people in his company were opposed to Ellin, as she had no basic dancing skills, no specialities, and her looks didn't exactly match the group's concept as she has great visuals. He told her that despite the opposition he would gamble on her, so she should work hard and not make him a laughing-stock.
Her life as a trainee was difficult and had lots of restrictions.
She wasn't allowed to date or have access to cell phones; if she wanted to visit her family or go out, she had to ask permission first from the company; even family members were not allowed to visit without prior notice. Dieting was also a must, as she had to maintain her weight and figure fitting for an idol. If caught violating any of these requirements, she would be told to pack leave, or wouldn't debut.
Ellin and the other trainees practiced all day, but as the time of their debut drew near, their practice schedule became brutal. They had to be at the dance studio by 4 am, and it would be after midnight by the time they returned to the dormitory that the agency provided for them. As the group practiced their dance choreography, each trainee was required to wear an 11-pound (5kg) sandbag on each leg, so they would be light on their feet during the actual dance performance.
After about a year of training, Ellin finally debuted as a member of Hurricane Pop along with four other girls, namely Serang, Soyul, Choa, and Geunmi; the stage names were picked by their CEO but with the girls' input. Their first live performance of the debut song, "Bing Bing," was in January 2012 in Hangzhou, China, for a television drama series entitled "Curry Campus." Serang, who was designated as the group's leader, left the company in May, and was replaced by Way, Choa's twin sister.
Debut as a member of Crayon Pop
With plans to promote in Japan, the company CEO decided to change the group's name to Crayon Pop, as the former name was deemed insensitive as the previous year the country was struck with a 9.0 to 9.1 magnitude earthquake that triggered a tsunami as high as 133ft (40.5m). They went to Japan in May to promote "Bing Bing", as well as to film the music videos for the Japanese and Korean versions of the song.
In July 2012, Crayon Pop released the single "Saturday Night," and then "Crayon Pop 1st Mini‑Album," which included previous releases and their instrumental versions. They promoted it on Mnet's "M Countdown", but didn't attract any attention from K-Pop fans. The album was a commercial failure, and depleted the company's money.
However, instead of giving up, they released the digital single "Dancing Queen" in October 2012. While performing the song they wore tracksuits, which became their trademark on three music shows. Ellin and the girls needed to continue to promote the song, but the only avenue left for them was to perform it to small crowds on subways and the streets of Seoul – Koreans call them guerilla performances. It was winter during that time, but they performed tirelessly. They also starred in the reality show "Crayon Pop TV" that the company produced.
Most of their fans were older guys, which is "ajeossi" in Korean, so they were referred to as "Pop‑jeossi."  Crayon Pop went to Shibuya, Tokyo to hold a mini-concert in January 2013 with tickets sold out, so they added two more shows: one in Osaka in February and then in Shibuya in May.
"Bar Bar Bar"
On 13 June 2013, they released the music video of their fourth single "Bar Bar Bar," which was filmed in a small abandoned theme park with a budget of less than $350. Donning scooter helmets that were bought for $22 in a motorcycle alley in Chungmuro, Seoul, polo shirts, and tracksuit pants underneath their skirts, the girls performed an unusual dance choreography that featured jumping, which was called the "straight-five engine dance" as it resembles engine cylinders' movement.
Some people found it ridiculous but continued to be fascinated, and it certainly caught the attention of the public and K-Pop fans around the globe, so much so that it went viral and was much talked about at that time.
The digital single was released a week later, and was No.143 on the Gaon Digital Chart in its first week, but peaked at No.3 in its seventh week; it spent almost eight months on the chart with more than a million digital sales. It also topped the Billboard K-Pop Hot 100 six weeks after its release, beating 2NE1's "Do You Love Me." The song gave Ellin and the girls their first music show win on 30 August 2013 through KBS' "Music Bank", beating EXO's breakthrough single, "Growl." CEO Hwang said the company earned $2 million in the year after its release.
Crayon Pop's schedule was full, as they were very much in demand to appear in various music shows on television.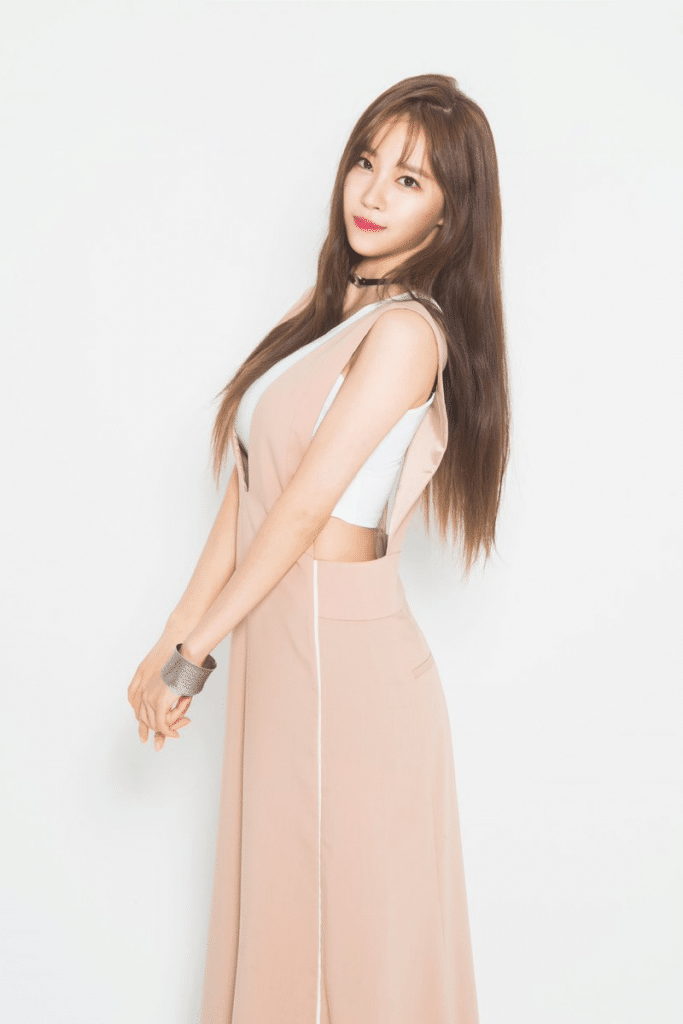 They performed at KCON (Korean Wave Convention) in the United States in August, then held a free concert in Seoul followed by a concert in Tokyo.
They received several awards including the Best New Female Artist at the 2013 Mnet Asian Music Awards, New Artist Award from Seoul Music, and New Rising Star at the Golden Disk Awards.
Further success
Ellin and her co-members released the Christmas single album entitled "Lonely Christmas" on 26 November 2013, peaking at No.12 on the weekly digital chart of Gaon with over 400,000 digital sales, and No.17 on the Billboard K-Pop Hot 100. They were accused of plagiarism because of similarities with the opening theme of the Japanese anime entitled "Lupin the Third" – the composer of the Korean song said that they were only similar because both were in the bebop genre. The girls wore a Christmas tree‑inspired outfit for their concept photos, and were accused of copying the outfit of a member of a Japanese girl group.
They dropped their sixth single, "Uh-ee," in April 2014, and it peaked at No.10 on Gaon Chart with over 380,000 digital sales. It reached No.8 on Billboard K-Pop Hot 100, and No.15 on Billboard World Digital Songs. This time the girls wore traditional Korean dress or hanbok‑inspired outfits with bandanas on their heads, and donned traditional rubber shoes, with their choreography featuring the "chicken leg dance." They were banned from performing the song on KBS' "Music Bank" due to a Japanese word in the lyrics, but after a modified version was recorded, they were allowed to promote on the said show.
When the video of the "Bar Bar Bar" was seen by the American singer-songwriter Lady Gaga, she invited Ellin and the girls to perform as the opening act for her concert tour, "ArtRave: The Artpop Ball," in North America in 2014. CEO Hwang only agreed to one month for 13 concerts, as the girls had to work on their album.
In March 2015 they released the mini-album "FM," which charted at No.6 on Gaon. They went with a "female warrior" concept this time, that was said to be inspired by "Sailor Moon" and "Super Sentai." Afterwards they were busy with the release of their Japanese single and studio album, as well as group promotions and concerts.
They released their Korean studio album entitled "Evolution Pop: Vol1" with the lead track, "Doo Doom Chit" in September 2016. One of the members, Soyul, went on a hiatus due to personal reasons and was unable to continue to promote with the group.
When Ellin and the girls' contract ended in 2017, they signed a non-exclusive contract for their Crayon Pop promotions but would pursue solo careers under a different label.
Crayon Pop members wore only one costume per day no matter how many events they went to.
#CrayonPop's #Ellin Apologizes And Admits To Lying About Romance Scam https://t.co/UD0yPmuTIC pic.twitter.com/xaDfCxF7oD

— Soompi (@soompi) November 8, 2019
According to CEO Hwang, since they mostly wear sweats as a costume, it would be comfortable to wear all day. Each member had only one helmet to use for all their promotions as this was part of their signature look. Since the company had to match the color of the helmet with their costume, they just changed the color of the electrical tape used on the surface of the headgear. Fans didn't recognize Ellin and the members without their Crayon Pop outfits
Solo activities
In April 2018, Ellin began working as a broadcast jockey for live streaming platform Afreeca TV. A netizen (online user) posted on a community forum that he spent around $860,000 on a female BJ and former idol he believed he was in a romantic relationship with. He said he gave her gifts and moving expenses as well as balloons – virtual currency on Afreeca TV. He further added that he posted this to warn others about this kind of "romance scam."
When people started speculating it was Ellin, she denied it at first, then later apologized during a live broadcast for lying. The guy accepted her apology, and she resumed working after a three-month break because of the scandal.
She also has her YouTube channel with over 200,000 subscribers, and her videos have gained more than 40 million views.
Personal life
Ellin is 30 years old and single. Not much is known about her personal life, but she's revealed that she was in a relationship with an actor, but that they broke-up before she became a BJ. When it comes to her ideal type, she said physical appearance is not important to her, but wants someone with individuality, and who must be good at singing or dancing.
Ellin's Hobbies, favorites, rumors, and other interesting facts
She has fear of heights.
Her favorite color is pink.
Ellin enjoys taking selfies.
She has a barista license..
In 2014, Ellin posed for a photo with her fingers forming the letter "E" for her initials. Netizens accused her of using the Ilbe hand sign, an online community site that became controversial for its far-right tendencies and hateful comments. It wasn't the first time the company was accused of being affiliated with the website as another member used a phrase in twitter that was intended as an aegyo (cute expression) but was said to be popularized on the site. Even CEO Hwang was registered on the site, but he said it was to gather information about singers as well as to promote his girl group. Because of the controversies, events were canceled and their TV commercial was not aired during that time.
Based on the past and present photos of Ellin, fans say that she's had double eyelid surgery and a nose job to make her eyes bigger and her nose pretty.
Appearance
She is 5ft 4ins (1.65m) tall, weighs 95lbs (44kg), and has a slim build. Her natural hair color is black and her eyes are dark brown.
Net worth
Ellin has an estimated net worth of $500,000 as of November 2020 according to sources. During the peak of her career as a Crayon Pop member, the group earned a lot, but she didn't receive her first paycheck a year and a half after she debuted. Each member had to pay back the expenses incurred when forming the group and preparing for their debut. The company received 70% of the profit, but the expenses were split in half between them and the members. After their stint with Lady Gaga, they didn't receive any money, and were surprised to learn that they owed the company money; the members were told that they had to go to various events to pay off their debts.
She earned almost $8,000 in her first week as a BJ and around $177,000 in four months.