AleXa is an American-born singer-dancer, based in South Korea, who first gained notice in 2018 when she participated in the reality television survival series, "Produce 48," although eliminated in the fifth episode. She then debuted as a solo artist in 2019, under the ZB Label, a subsidiary of ZanyBros, with the release of her single album "Bomb," which entered the Billboard World Digital Song Sales chart at No.7.
Just a simple reminder that article is created and owned only by kpopwiki.org. Article cannot be re-published in any other pages or documents. Copyright is protected by DMCA. All found copies will be reported.
Original source: https://kpopwiki.org/who-is-alexa-kpop-singer-aka-alex-christine-profile-wiki/
Early Life and Family
AleXa was born Alexandra Christine Schneiderman on 9 December 1996, in Tulsa, Oklahoma USA. She and her younger brother were raised in a middle-class household by her Russian-American father and South Korean mother, who had been adopted by an American couple at the age of five. AleXa grew up in a small Caucasian community, and never had any idea about Korean culture as her mom was raised as an American.
Just like most people with mixed ethnicity, AleXa was partly bullied and subjected to racist jokes, but it wasn't as bad during her mother's growing up years that had included physical bullying. However, she said during an interview that apart from those incidents, she had a happy childhood. Reading and writing poetry was a hobby she had started when she was a young girl. She was a member of a school choir in high school, and her interest in singing developed from there. AleXa was also passionate about dancing that she took up ballet, tap, jazz and hip hop classes as a child up until she was 14 years old, alongside her academic classes.
In 2008, during a Chinese language class in middle school, a classmate introduced her to a South Korean Pop (K-Pop) boyband called Super Junior M. – Henry Lau, one of the Chinese members, was their main subject for a class project. The boyband was just a sub-unit of a bigger group, and that led her to discover more K-Pop artists such as Shinee, which was the first K-Pop group she liked. It was the beginning of her journey as a fan of the K-Pop music industry.
Educational Background
She matriculated from Jenks High School in May 2015, and then attended Tulsa Community College with Musical Theater as her major, but dropped out in 2017 to pursue her dream of becoming a K-Pop artist.
Career
AleXa started gaining online fans through her social media Instagram account, due to her K-Pop dance covers, which grew to around 60,000 followers. When she learned of the worldwide online competition in 2016 sponsored by Soompi in partnership with JYP Entertainment, called "Rising Legends," she sent her audition video. She won the dance category in the first season, and in the second season was in partnership with Cube Entertainment.  This time she topped the votes of all categories, and so was chosen as the grand winner of the 2017 competition. The main prize was to be flown to South Korea and have a chance to audition for JYP Entertainment and Cube Entertainment.
Another part of the prize, she also filmed a reality-TV mini-series, "Legendary: Making of a K-Pop Star," with JERKML, a popular K-Pop vlogger, produced by Viki Originals and under the direction of ZanyBros – it was to document her South Korean adventure as she went through her auditions. She also filmed a music video for the song "Strike it Up," under the name Alex Christine to complete her experience of being a K-Pop Star.
She went back to Oklahoma to wait for the results, but failed both auditions. However, ZanyBros, South Korea's largest music video production company wanted to establish a music label, and offered AleXa a chance to become its first contracted artist. Her parents were reluctant at first, but eventually allowed her to pursue her dreams.
First Steps – "Produce 48" (2018)
After signing up with ZB Label, she underwent professional training under reputable vocal coaches and dance mentors.
In 2018, she participated as Alex Christine in the reality-TV survival series "Produce 48," the third season of the successful "Produce 101" franchise series. It was the easiest way for K-Pop hopefuls to gain nationwide attention, and most South Korean agencies would send their trainees to join the competition. While it can be a risky move for the trainees as they can be eliminated on national TV, the media mileage the show offers is incomparable. More often than not, even those trainees who don't make it to the Top 11 gain a solid loyal fan base, as they're able to show their skills and charm through the program.
Unfortunately, AleXa didn't get past the fifth episode. It was a heartbreaking experience for her because she was eliminated during the first round and just right after the dance battle which was her main forte; she was ranked at No.82 out of the 101 trainees. The Top 11 winners went on to become members of the top-charting K-Pop girl group, IZ*ONE.
Official Debut (2019)
A year after her stint on "Produce 48," she debuted on 19 October 2019 with a new name and the release of her debut single entitled "Bomb" under the ZB Label, with Korean and English versions. Many were surprised that ZanyBros forayed into artist management and music production, as the company was well-known for making music videos for top artists and ad marketing visuals in South Korea. However, ZanyBros said it was one of their company plans to move in that direction, and they were just waiting for the right timing and people. After having witnessed AleXa's skills and creative ideas in the past, they believed that she was the ideal match to what they had in mind in bringing innovative concepts to the world.
Around $300,000 was spent for her debut alone – the CEO of Zanybros, Kim Junhong, said 'I am beyond excited to release a project we have been planning for so long. We found the perfect artist to work with for this concept …'
— AleXa (@AleXa_ZB) January 28, 2021
For her music video, all the creative juices of the people from her agency flowed to produce a perfect multiverse for AleXa. Her MV had 2.8 million views within four days after it was posted on YouTube, and 19.5 million views as of January 2021. It was worth all the money and effort spent, as the song debuted at No.7 on Billboard's World Digital Song Sales chart, only one of two new K-Pop songs that penetrated the Top 10. The song also ranked at No.5 on the iTunes Top K-Pop Song Charts in the US, and the English version was ranked at No.36.
First Extended Play and Podcast on HDIGH (2020)
AleXa followed it up with the song "Do or Die" in March of 2020, which was a pre-release single for her first extended play (EP) with the same name; the song ranked at No.23 on Billboard's World Digital Song Sales chart. The EP was released on 1 April 2020 with eight tracks, including a remixed version of her debut track "Bomb," "A.I. Trooper," "Kitty Run," and the instrumental versions of the four songs.
ZB Label posted music videos for all the songs featuring a different AleXa character for each one from the multiverse that they'd created for her. She performed her new songs in popular music shows such as SBS' "Inkigayo," Mnet's "M Countdown," KBS' "Music Bank," and MBC's "The Show."
On 13 May 2020, to help with the Covid19 information awareness campaign, AleXa released the digital track "We Can."  The short single of 1 minute and 34 seconds was made available through downloading and streaming.
On 7 August 2020, AleXa officially became one of the hosts of the podcast "HDIGH", which is short for "How Did I Get Here," with Jae Park of the band Day6. After being a guest co-host for about two months, fans so loved her meme-worthy expressions and her happy disposition along with great chemistry with Jae, that the podcast producers decided to make the job permanent. During the year-end podcast global awards, the show received two awards – the People's Choice Award and the best in the Entertainment category. The duo also received the Best Podcast 2020 from Apple Podcast.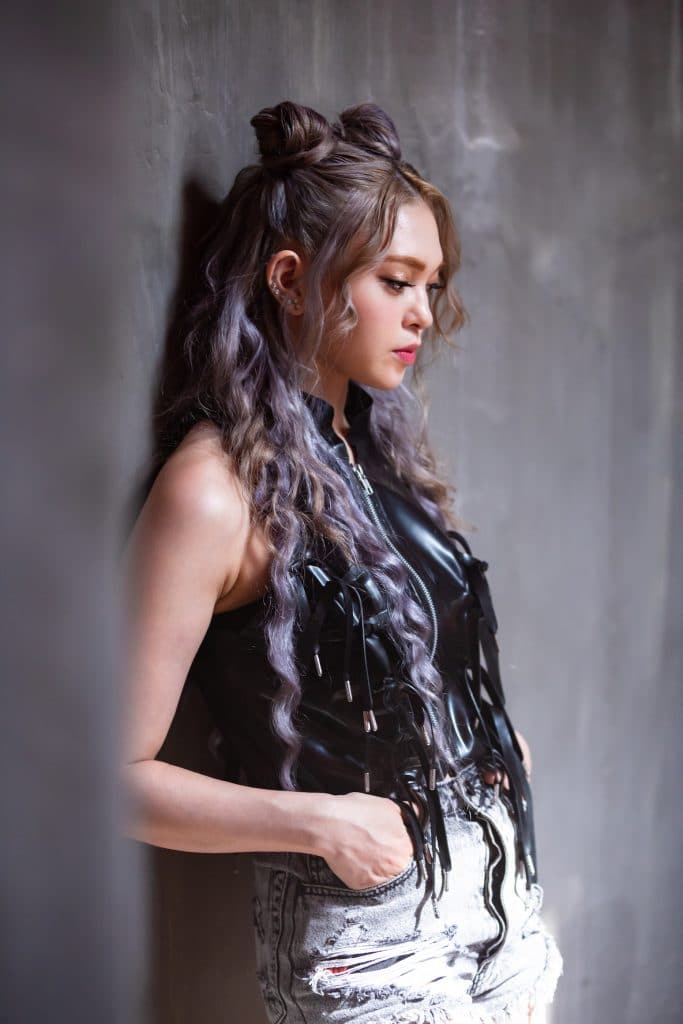 Online Concert and Second Extended Play "Decoherence" (2020)
On 16 July 2020, AleXa released her third digital single entitled "Villain."  The official MV of the song was a continuation of an Artificial Intelligence (AI) multiverse storyline that they created for her since she dropped her debut MV – it garnered 3.8 million views.
Two days after the digital single release, she held her first online concert just like most artists have done due to the social distancing regulations brought by the Covid19 pandemic.  She hosted her solo concert, "CTRL + AleXa: Enter the AleXa Universe," on the 18th of July 2020 exclusively at FanBox.Live social media app. The virtual concert attracted 7,000 online viewers, and she was extremely happy about it, and can't wait to perform in front of a live audience.
AleXa's second extended play, "Decoherence," was released on 21 October 2020. The EP consisted of eight tracks including the pre-released song "Villain," the ballad "Moon and Back," the electric addictive "Burn Out," and the lead track "Revolution," which also comes with an English version. The CD version had a bonus track, "Allegory of the Cave."
The release of the album coincided with her anniversary, and offered a conclusion to the three-part AI series in the AleXa universe. It started with the debut track "Bomb," followed by "Do or Die" and ended with "Revolution." Also included is an audiobook at the end of the album, so the fans who were confused can listen to a detailed explanation of the storyline.
The final chapter of her multiverse storyline can be seen on her official music video, which had 7.2 million views three months after it was released. While her fans enjoyed the stunning images and stunts on her latest MV, AleXa was hurt during the filming of some of the explosions, being  partially hit by the explosions, but took it in her stride, saying that it was scary but she would do it all over again. She even attended a Korean stunt acting class to prepare for her character in the music video. This intense passion she has for her career is one of the reasons why her agency has been very supportive of her ideas.
Collaborations with Other Artists
Due to the success of her debut single, "Bomb," a rock version was released in December 2019. AleXa teamed up with DIABLO, a South Korean rock band headed by Jang Hak. The heavy metal gave the song a new twist that would make rock fans happy with the remix.
In May 2020, the United Nations Educational, Scientific and Cultural Organization (UNESCO) Global Education Coalition invited her to collaborate with the K-Pop girl group Dreamcatcher, and boy band IN2IT for a Millenasia Project. The artists recorded the song "Be the Future," which was used to help spread awareness about the importance of safety and health precautions during the Covid19 outbreak.
AleXa collaborated with TheFatRat, a German DJ and music producer, and released the digital track, "Rule The World" on 4 September 2020 – the dance performance music video had two versions uploaded on YouTube.
Digital Single Release (2021)
She started 2021 by releasing the digital single entitled "Never Let You Go" on the 14th of January. This time instead of the gun-blazing heroine ready to save the world on her music video with energetic beats, fans get to see her singing a pop ballad song showing the emotional side of her A.I. Avatar on her multiverse. Her label said that the song is just the start of the new chapter of AleXa as she continues to be part of the songwriting process of new music soon to be released.
Personal Life
She is officially single right now, since there is no news or rumors that say otherwise. Having just celebrated her anniversary in the business may contribute to the lack of dating news, since most K-Pop artists are forbidden to date for about three to five years after debut. This is to make sure that there would be no distractions from achieving their goals. Aside from her career, she's busy looking for her Korean relatives, as her Mom would like to get to know them.
However, if AleXa would go on dates, she prefers men who will respect her as a human being, one who she can have a good conversation and share the same sense of humor with.
[V LIVE] ur emotional support kpop girl https://t.co/wnf3rYhwL3 pic.twitter.com/pl8eKj8YUO

— AleXa (@AleXa_ZB) October 23, 2020
Hobbies, favorites, rumors, and interesting facts
AleXa loves bread, and calls it one of her guilty pleasures as she can consume lots of it.
Her Korean role model is Hyuna, and her western inspiration is Troye Sivan for his musical artistry.
Alexa's favorites: Ariel (Disney Princess), "Something in the Rain" (Korean drama), Vindaloo (Indian food), "RuPaul's Drag Race" (reality TV show), tulips and orchids (flowers), Spring (season), nine (number).
During her free day, she would just go binge-watching horror-thriller movies on Netflix, while eating a can of Pringles.
AleXa's celebrity friends are Jae of Day6 and Denise and Jinny of Secret Number,
Appearance
She is 4ft 11ins (1.52m) tall and weighs about 90lbs (41kgs) with a slim yet curvaceous body. She has dark brown hair, brown eyes, and has 14 ear piercings.
Net Worth
According to authoritative sources, AleXa has an estimated net worth of close to $500,000, as of January 2021.