Solji is the main vocalist and leader of the South Korean girl group, EXID, who became famous for their hit song "Up & Down," and for winning the title of Mask King in the pilot episode of "King of Mask Singer."
Just a simple reminder that article is created and owned only by kpopwiki.org. Article cannot be re-published in any other pages or documents. Copyright is protected by DMCA. All found copies will be reported.
Original source: https://kpopwiki.org/what-happened-to-solji-from-exid-age-daughter-surgery/
Early life and family
Heo Solji was born on 10 January 1989, in Seongnam, Gyeonggi, South Korea. All that is known about her family is that she has an older brother whom she is close to, and considers him as her drinking buddy.
Education background
She matriculated from Seongji High School and attended Dong-Ah Institute of Media and Arts, majoring in Applied Music.  In 2017 while on hiatus, she studied the Practical Music Program at Kyung Hee Cyber University.
Career
First steps
Solji had wanted to become a singer since she was young, and it came true when she debuted in 2006 as half of the duo 2NB, under Friday Entertainment. She said she sang like a machine – they released about 23 albums although none were successful. After six years in 2NB and only earning a little more than $500 during that period, she decided not to renew her contract, and left the company in 2012. At that time She had to work as a vocal trainer for other entertainment agencies, to augment her income from singing. Solji thought of ending her career as a singer because she was aging but not making any money. She even studied to become a consultant in the import and export business, as she considered pursuing a different career.
However, her work at EXID's agency, AB Entertainment, as a vocal trainer led her to an opportunity that changed her life for the better. It was only about two months after the K-Pop girl group EXID (Exceed in Dreaming) debuted when the company announced that three of the members would be leaving. Solji, who is a powerful vocalist, was asked to join, and she became the leader and main vocalist in July 2010. Being the main vocalist means that she is the one with the best singing technique, and who would sing the most difficult parts. Hyelin, another new member, is the lead vocalist, and these two along with remaining members Jeonghwa as the main dancer and lead rapper; LE (pronounced as Elly) as the main rapper and lead dancer; and Hani as the lead vocalist, lead dancer, visual, and face of the group, completed the new EXID lineup.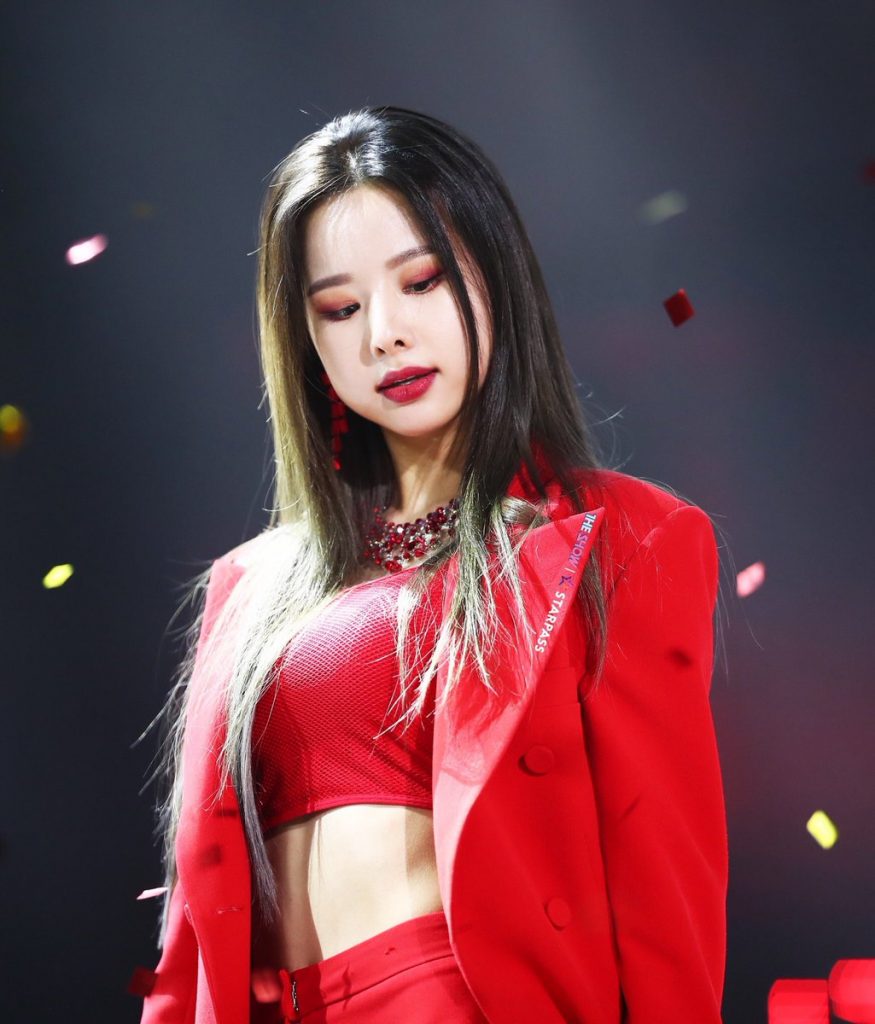 They released their first EP (Extended Play), "Hippity Hop," with six tracks on 14 August 2012, along with the release of the music video of the lead single, "I Feel Good." Solji's debut on stage as an EXID member was on KBS' Music Bank on the 17th of August, when they promoted their EP. Only 1,500 copies were sold, but the lead single was downloaded about 60,000 times that week and 150,000 times by the end of 2012. In October they released the digital single, "Every Night," which sold more than 100,000 digital copies, and made it onto the Gaon Singles Chart at no.43. It was followed by "Hey Boy," which is part of the soundtrack of an MBC sitcom.
Further steps
In February, she and Hani formed the sub-unit Dasoni, and released "Goodbye" as their debut single. Then the group signed an exclusive contract with Yedang Entertainment in June 2014.
"Up & Down"
The digital single "Up & Down," didn't fare well on the charts upon its release on 27 August 2014 – they worked hard to promote the song but it wasn't received well. There wasn't much of a request for them to perform on television shows, so they went to local festivals and military camps to perform. A fan recorded Hani dancing during one of their performances and uploaded it in October – it went viral on the social networking sites (SNS) in Korea.
From failing to enter the top 100 on Gaon Music Chart, to suddenly climbing the chart and making it to the top in January 2015, made EXID the "Queens of Chart Reversal."  It was the sexy choreography of the song that made it a big hit with K-Pop fans. They were invited back to various music shows to perform the song, and received their first win on Mnet's "M Countdown" followed by a second win at KBS' "Music Bank", and a third at SBS' "Inkigayo."
It sold more than 500,000 through downloads in 2014, and almost 1.5 million downloads in 2015. They signed endorsement deals, did commercials, graced the cover of magazines, and appeared on several popular variety shows.
Solji joined the singing competition on MBC's "King of Mask Singer" in February 2015. The singers wore masks to conceal their identity, and were judged solely on how well they performed. Voting wasn't influenced by popularity, age, or other factors. She presented herself as the Self-Luminous Mosaic, and won the title of "Mask King" in the show's pilot episode. It brought a lot of attention to EXID, and her prowess as a vocalist was acknowledged.
The group released their second EP, "Ah Yeah," with eight tracks that included the lead single "Up & Down," the follow-up single, "Ah Yeah," and another version of "Every Night."
It peaked at no.5 on the Gaon Album weekly chart, and at no.12 on Billboard's World Albums weekly chart. They won the Bonsang Award (Main Prize) at the 24th Seoul Music Awards.
Solji along with Doo Jin-Soo, her friend who is also a vocal trainer, appeared on MBC's "Duet Song Festival" on 8 February 2016, and competed against famous rapper Zico and his partner for the Lunar New Year Special which they won. The two went back on 8 April 2016, and sang Davichi's hit song, "8282," and won again, this time against f(x)'s Luna and her partner.
EXID signed with Banana Project to extend their promotions in China, and their record label changed its name to Banana Culture Entertainment. Their first Chinese fan meeting, "EXID's LEGGO Show in China," was held in Chien Shan Wan Cultural Center in Shanghai on 18 March 2016; Leggo is the official name of their fan club derived from the phrase, "Let's Go."
#Solji :: Perfect Body , Perfect Smile pic.twitter.com/4rmDsNbgcu

— باران⁷ (@agustmew) June 21, 2020
On the first day of June, her group dropped their first studio album, "Street," and made it onto the Gaon Album chart at no.2. The title track, "L.I.E," peaked at No.5 on Gaon, and included in the album is "3%," which is Solji's solo song.
They released their Chinese single "Cream" on 20 December 2016, and it entered the Billboard China V Chart, peaking at no.6.
Solji diagnosed with hyperthyroidism
Banana Culture announced on 21 December 2016 that Solji had been diagnosed with hyperthyroidism, after getting a thorough medical checkup when she exhibited several symptoms, such as protrusion of the eyes, and fever. According to her agency, 'her health is of the utmost priority so she will be taking a break and focusing on treatment.' They said that EXID would continue as four members, and added, 'We know how Solji plays a huge role in the team; we will do our best to support her back to her best condition again.'
Solji reassured her fans who were shocked upon hearing the news, and said on her Instagram post that she was sorry for worrying them and that she would take medication recover quickly and show them her healthy image. She also asked them to show support to the other members.
She underwent surgery on 8 January 2017 for orbital decompression, as a complication of her condition. On 15 December 2017, Solji took to Instagram to share the good news to her fans that she had fully recovered from the thyroid disorder. She said, 'I will work hard to stay healthy and sing from now on. Thank you to everyone who cheered me on… I love you, LEGGO.'
On 12 August 2017, during the encore performance of the group on their "EXID Asia Tour in Seoul 2017" concert held in Yonsei University, Solji made a surprise appearance to sing her part on the song.
EXID members and the fans were overjoyed and shed tears upon seeing her. The event was meant to celebrate their fifth anniversary and they were happy to perform as a complete group for their fans.
She recorded songs for the group's fourth mini-album, "Full Moon," which was released in November 2017 but she did not promote with them. She worked as a radio DJ during that time.
On 22 July 2018, she appeared as the "Dongmakgol Girl" contestant at the "King of Mask Singer", signaling her return to performing on stage. After ending her winning streak on the 21st of October, she revealed her identity and said that she chose the show for her first performance as this was where she first became famous as a singer.
The group released the single, "I Love You," on 21 November 2018, which debuted at no.5 on Billboard's World Digital Song Sales chart, and at no.61 on the Gaon Digital chart.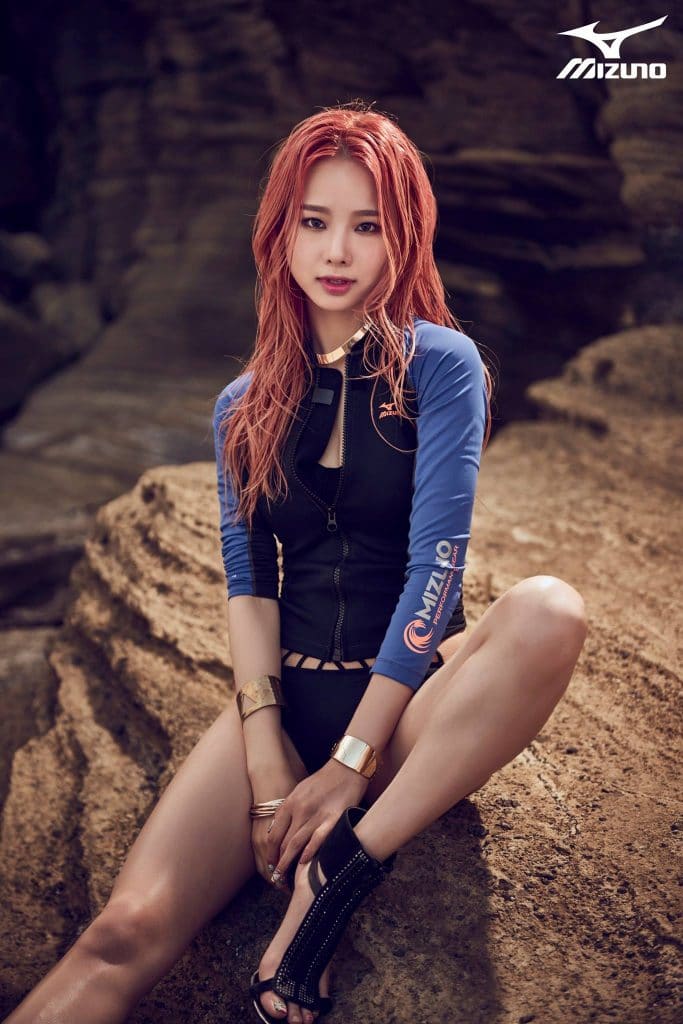 They released a Japanese version of the song "Up & Down," and the single entered the Oricon Singles at no.15 on its daily chart and at no.18 on its weekly chart, with almost 10,000 copies sold. They went on a concert tour in Japan, "2019 EXID Valentine Japan Live Tour," in February 2019 and performed their new Japanese single, "Trouble," which peaked on the Oricon Albums Chart at no.12 and on Billboard Japan's Hot Albums at no.23.
On 15 May 2019, they released their fifth EP, "We," with seven tracks. This was their last release as a five-member group, as Hani and Jeonghwa did not renew their contracts with Banana Culture, but agreed to participate in the album promotions.
Hyelin left Banana Culture in January 2020, followed by Solji in February, and LE in March. The agency said that the group would not be disbanding, but would be on indefinite hiatus as the members pursued solo activities.
Solji signed with C-JeS Entertainment on 23 March 2020, and released her first solo single, "Rains Again"/ "Because It's Raining Today" on 9 July.
Personal life
She is 31 years old and single. There is no news of her dating anyone as of yet, and when she was interviewed about dating, she said that she wasn't the type to make the first move on a guy, but since she became popular, men are afraid to approach her. She also said that previously she isn't interested in younger guys, but she doesn't mind it now. As for her ideal type, she wanted someone with a "Jekyll and Hyde" personality, in the sense that the guy is only sweet to her but cold to other women. She said that being the oldest in the group, her agency excluded her from the dating ban when she joined EXID. She admitted to dating before her debut in 2006, and dating in secret after.
Hobbies, favorites, rumors, and interesting facts
Her name Solji means Solomoneui Jihye (Solomon's Wisdom).
While she was working two jobs as a singer of 2NB and as a vocal trainer, the section chief said that, 'Solji, I don't think you're right as an idol. You're supposed to look like Kara's Hara at your age.' She said she was discouraged after hearing that, but actually worked even harder.
After her debut, she had no money and had to use her mom's card to pay her bills. However, when EXID became successful, she's the one giving a card to her mom.
Being the leader and the oldest in the group, she takes care of the other members, which earned her the nickname "mother" or "mom" – even during her hiatus, she would bring them food. It is an inside joke among the fans that she is a mother of four, which pertains to the other members.
She earned the nickname "Heo Bad Gas" because according to Hani, they only eat eggs when they're on a diet which caused her to often release gas.
A fancam of her that is focused on a specific part of her body that even showed her skin trembling was uploaded on SNS, and her brother happened to watch the video and was angry about it. Although she didn't care about it as it is part of her job, she realized that from her family's perspective, it could be embarrassing.
Solji has a high alcohol tolerance.
Hani and the othre members decided to split their income with Solji while she was on hiatus for health issues.
She started her own YouTube channel, "Soul G," in September 2019, and has close to 200,000 subscribers.
Appearance
She is 5ft 7ins (1.7m) tall and weighs 110lbs (50kg). She has black hair and dark brown eyes. Her shoe size is 7 inches.
Net worth
Solji has an estimated net worth of $100,000, as of July 2020, according to sources.