Kim Jonghyun was a South Korean singer, songwriter, record producer, author, and radio host, who found fame when he debuted in 2008 as the main vocalist of the Korean Pop group called Shinee under SM Entertainment. His group was one of the most popular boybands in Korea, with signature songs such as "Juliette," "Ring Ding Dong," "Lucifer," and "Sherlock." He was a successful solo artist as well, with hit digital singles including "Deja-Boo," "End of a Day," and "Lonely." He had over 70 songs credited to him. Jonghyun committed suicide in December 2017 at the age of 27. His album, "Poet/Artist," was posthumously released, and earned platinum certification from the Korean Music Content Association (KMCA).
Just a simple reminder that article is created and owned only by kpopwiki.org. Article cannot be re-published in any other pages or documents. Copyright is protected by DMCA. All found copies will be reported.
Original source: https://kpopwiki.org/the-truth-about-kim-jonghyuns-death-what-happened-wiki/
Early life and family
Kim Jonghyun was born on 8 April 1990, in South Korea.
He and his older sister, Sodam, were raised in a strict household – he was left-handed when he was young, for which his father scolded him, and forced him to learn to use his right hand.
His father was never present during his childhood due to his work. Jonghyun was in fifth or sixth grade when he, his mom, and sister went to live with their grandparents, and stayed there for a while; it's not clear if his parents separated or divorced, but Jonghyun mentioned that his family received some sort of allowance from the Korean government for four years, which some people deduced as financial assistance for single mothers.
He had a difficult life growing up, so much so that he threw away his photos and videos when he was a child, as there were memories he didn't want to remember.
His mom's support gave him the strength to move past his emotional scars – she was someone he respected and admired the most, as she was warm-hearted and strong-willed. He had been close to his sister since they were young, and spent much of his free time with her sister and his mom.
Educational background
Jonghyun attended Seoul Changshin Elementary School and Dongsun Middle School, before attending Daeshin High School, then transferring to Seoul Music High School. When his dad discovered he transferred to a music school, he waited for Jonghyun at the school gate to ask him to go back to his old school. He was not supportive of Jonghyun's career choice, and said that his son would fail because he wasn't talented.
However, he dropped out in tenth grade to pursue a career in music, then after earning his GED, he went to Chungwoon University and graduated with a bachelor's degree in Applied Music, then went to Myongji University to get his Master's degree in film and music.
Career
First steps
His love for pop music was due to his sister's influence, as she recommended songs to him when he was still in elementary school, and even gave him an mp3 player that she won in a drawing contest because he was fascinated by it.
He played bass as part of the band called Zion when he was in middle school, which was performing at a teen music festival in 2005 when he was scouted by a casting director from SM Entertainment, and was invited to audition. He sang R. Kelly's "I Believe I Can Fly" during his audition, and passed even though he had no dancing skills at that time, so just clapped when he was asked to dance. Jonghyun was 15 when he officially became a trainee.
Debut as Shinee
He debuted as the main vocalist of the five-member boyband called Shinee in May 2008, with the release of the five-track extended play (EP) "Replay", which peaked at No.8 on the Music Industry Association of Korea (MIAK) chart.
our moonlight 💙
『#종현 ☾ #SHINee  ☾ #JONGHYUN ☾ @SHINee』pic.twitter.com/WP23fyZCkw

— jonghyun loops (@jjongsloop) February 21, 2021
They performed the title track, for their debut stage performance on SBS' "Inkigayo", which had 21,000 downloads in the US. Its official music video had over 29 million views, and the group began a fashion trend that time with their skinny jeans, colorful tops, and high-top sneakers.
"Love Like Oxygen," the lead single of their 1st studio album, "The Shinee World," gave Jonghyun and his group their first music show win as the Song of the Week, courtesy of Mnet's "M Countdown" on 18 September 2008.
"Juliette," the lead track of their 2nd EP, "Romeo," released in May 2009, was the first song in which Jonghyun was credited as one of the lyricists. It had four music show wins, which made him incredibly proud, and he continued to contribute to the songwriting process of tracks on most of their succeeding albums and EPs.
"Ring Ding Dong" was the lead single of their 3rd EP entitled "2009, Year of Us" that was released in October 2009 and was also a major hit, with 38,000 download sales in the US; its MV had over 130 million views.
In July 2010, Jonghyun and the boys released their 2nd studio album, "Lucifer," and it topped the Gaon Album Chart. The title track peaked at No.2 on the Gaon Digital Chart with 1.4 million downloads, and No.3 on Billboard's World Digital Song Sales Chart with 60,000 download sales in the US. The album was repackaged as "Hello," and its title track had a million downloads in Korea and 38,000 in the US.
They continued to dominate the music charts with their digital singles, including "Sherlock" (2012) with 1.7 million download sales in Korea and 30,000 in the US, "Dream Girl" (2013) with 940,000 downloads, "Everybody" (2013) with 450,00 downloads, and "View" (2015) with 720,000 downloads.
Debut as SM the Ballad
SM Entertainment formed the project group called SM the Ballad comprised of singers from the agency including Jonghyun.
They released two EPs, namely "Miss You" (2010) and "Breath" (2014), which both topped the Gaon Album Chart. "Hot Times" from their 1st EP had 4,000 downloads in the US, while "Breath," which he sang with Taeyeon (Girls Generation), had over 250,000 downloads in Korea, and 3,000 in the US.
Solo and collaborations
Kim made his debut as a solo artist in January 2015, with the release of his EP "Base," which claimed the No.1 spot on the Gaon Album Chart with almost 100,000 copies sold, and Billboard's World Album Chart. It consisted of seven tracks to which he contributed as the lyricist and composer, and they all charted on Gaon. The lead track, "Deja-Boo," featuring hip-hop and R&B singer Zion T., topped the Gaon Digital Chart with close to 400,000 downloads. The 2nd track, "Crazy (Guilty Pleasure)," featuring rapper Iron peaked at No.5 on Gaon with 125,000 downloads, and No.12 in Billboard's World Digital Song Sales Chart with 3,000 downloads in the US.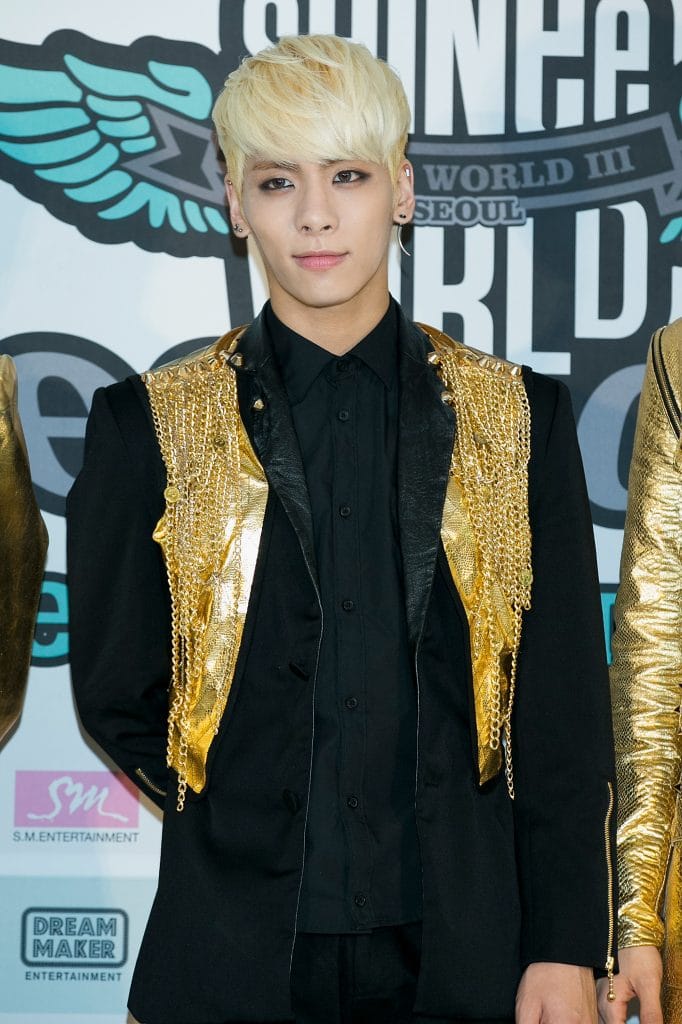 Jonghyun collaborated with various artists as a singer and/or composer. He was the songwriter of "A Gloomy Clock" (2013), which he sang with the popular singer-songwriter IU, which had cumulative sales of 400,000 downloads, and was included in her "Modern Times" album. He wrote and composed "Breathe" (2016), which Lee Hi sang and included in her "Seoulite" album, and which had over 2.5 million downloads and 100 million streams.
 "Blue Night"
From February 2014 to April 2017, Kim hosted the radio show "Blue Night," which aired daily at midnight on MBC FM4U. Jonghyun called it his mental refuge, as he was more open in talking about his depression, life experiences, his family, and even his puppy, Roo. The listeners sent their stories, which he read on the show, and this inspired him to write songs based on them, and were aired on the show in demo form through the segment "The Man Who Composes."
They were given new arrangements and released via "The Collection: Story Op.1" (2015) with the lead single, "End of a Day," and "The Collection: Story Op.2" (2017), with the lead track, "Lonely" featuring Taeyeon. He won the Excellence Award from the MBC Entertainment Awards in 2015.
Jonghyun considered doing this radio show as the second turning point of his life, because he grew artistically through the stories he read of other people's experiences; the first was when he dropped out of high school as he freed himself from what was expected of him. He eventually quit the show for personal reasons.
He held his first intimate solo concert series, "The Story by Jonghyun," in October and December 2015 at the SMTown Theater in Seoul, with 16,000 attendees; it was part of SM Entertainment's "The Agit" concert series brand.
His romantic novel, "Skeleton Flower: Things That Have Been Released and Set Free," was published in 2015, inspired by some of the songs he'd written over the years.
He then started writing a thriller, which he said was his favorite genre, but it was not known if he was able to finish it.
Personal life
He dated the actress Shin Se Kyung for eight months (2010-2011), and received much hate mail mostly from his possessive Korean fans, although his international fans were said to be more accepting of his relationship with the actress. They broke up due to their busy schedules, but  remained friends.
Marrying and having a family of his own were in his future plans. He wanted to teach his children music and art to let them know the 'luxury of feelings', or help them understand other people. He hoped to become a parent who allowed his child to be passionate or excited about something. His mother was like that to him, as she believed in him and supported whatever he wanted to do.
He lived for a few years with group members in the dorm provided by his agency, but he later moved in with his family in a place near the dorm, and was really happy about it – Jonghyun was always looking forward to going home after his work finished. He bought his family a house, and talked about having a fireplace installed in his room, which he considered his personal hideout.
Jonghyun's Death
On 18 December 2017, his sister, Sodam received worrying text messages on KakaoTalk from her brother, such as 'this is my last farewell' and 'please let me go and say I did a good job'.  She called emergency responders at 4:42PM after that, saying she feared that her brother would take his own life. Jonghyun was found unconscious by the police and responders at 6:10PM in an apartment he rented for two days in a residential hotel in Cheongdam, Gangnam District. He was in a state of cardiac arrest when he was rushed to Konkuk University Hospital, and was pronounced dead at 6:32PM.
Upon investigation by the police, it was revealed that he died due to carbon monoxide poisoning, as there were burnt coal briquettes on the pan in the apartment. The family requested that no autopsy be carried out on Jonghyun, and his death was ruled as suicide.
His wake took place at the Asan Medical Center funeral hall in Seoul on 19 December 2017, where celebrities, friends and fans came to pay their last respects. On the 21st of December, Shinee and Super Junior members helped carry his coffin to a hearse that would take him to a private funeral home, which only his family and close friends attended; he was laid to rest at a location not disclosed to the public.
One of his close friends, Jang Heeyeon, known as Nine9, posted Jonghyun's "suicide note" on her Instagram account with permission from his family. He sent it to her in the first week of December, and asked her for a favor to release it in the event of his death – she relayed it to his family after receiving it.
i'm sorry, jonghyun.
we failed to protect you.
as a malaysian, i feel so ashamed and saddened for what happened.
may you rest in peace there.
we love you always.#jannanickisgoingtojailparty#Jonghyun pic.twitter.com/gTbxV5iYH5

— 하욘༄ (@xxhayeon) February 21, 2021
She knew about his struggles as he had shared his 'dark thoughts' with her in the past, and she tried to help but said, 'It only delayed his passing, and didn't prevent it.'
Jonghyun wrote, 'I'm broken inside. The depression that had been slowly eating me up finally devoured me, and I couldn't defeat it.' He felt so much pain that he found it difficult to breathe at times, and wanted to end it. His struggles might also be compounded by the pressure of being a celebrity, as he said, 'It wasn't my path to become world-famous…It's a miracle that I lasted this long.' He ended his note with a plea, 'Just tell me I did well. Even if you can't smile, please don't blame me as you send me off. You've really worked hard. Goodbye.'
In an interview with Esquire Magazine in May 2017, Jonghyun said, 'I am a fundamentally pessimistic person…My feelings of depression and inferiority were always the ones that ruled over me.'
He added that it wasn't easy for people like him to be happy. Jonghyun recalled an incident in which he was drunk and crying when he woke his mom and sister up to ask them if they were happy, as it was his number one goal in life. When they said they were happy, he was envious of them as it wasn't the case for him, and said he wanted to be happy too.
Lee Eunkyung, his mother, became the director of Shiny Foundation, which was established after his death to help struggling young artists. It was funded by royalties collected from his music.
Appearance
He was 5ft 6ins (1.71m) tall and weighed 127lbs (58kg) with a slim build. He had black hair and black eyes.
Net worth
He had an estimated net worth of $5 million at the time of his death in 2017, according to sources.