Son Naeun is a South Korean actress and singer, who debuted as a member of the Korean Pop (K-Pop) girl group called Apink, which became popular with their hit singles "No No No," "Mr. Chu," and "LUV." She is also slowly establishing herself as an actress in "Cinderella with Four Knights" and "Dinner Mate."
Just a simple reminder that article is created and owned only by kpopwiki.org. Article cannot be re-published in any other pages or documents. Copyright is protected by DMCA. All found copies will be reported.
Original source: https://kpopwiki.org/son-naeun-apink-height-plastic-surgery-sister-biography/
Early life and family
Son Naeun was born on 10 February 1994, in Seoul, South Korea. Her parents raised her as a Catholic – Marcella is her baptismal name. Her father is a professor, and her mother is an art gallery owner. She is a mama's girl, and considers her mom her best friend as she can tell her everything that's happening in her life.
Her younger sister, Son Sae-eun, is a professional golfer.
Educational background
She studied at Chungdam High School, but transferred to and matriculated from the Seoul School of Performing Arts in February 2013. She graduated from Dongguk University with a Film major in 2015.
Career
First steps
Naeun was said to be a trainee of JYP Entertainment, before she ended up as a trainee of Cube Entertainment (formerly Plan A Entertainment).
One of the hardships she experienced as a trainee was going on a diet, as her weight was monitored by the company, which means eating pastries was out. However, whenever she wanted to indulge in her craving for cream puffs, she had to use her secret code with another trainee, Hayoung so the manager would allow them to leave. She would ask Hayoung if she wanted to go and lift weights as a code for 'do you want to eat pastries with me?' They secretly ate inside the restroom.
To document the launching of Apink, the agency produced the reality show "Apink News" in 2011, and Naeun was the first to be introduced as a member in February. Her group officially debuted on 21 April,  with the release of the extended play entitled "Seven Springs of Apink." The six-track EP reached No.6 on South Korea's Gaon Album Chart, and only sold close to 2,500 copies that month, with cumulative sales of over 25,000 copies. The lead single, "I Don't Know," which they performed that day on Mnet's "M Countdown," fared better, as it peaked at No.20 on the Gaon Digital Chart, with more than a million digital sales.
The lead single, "My My," from their second EP entitled "Snow Pink", released on 21 November 2011, sold close to two million digital sales, peaking at No.16 on Gaon. It gave the group their first music show win as the No.1 Song of the Week in January 2012, through "M Countdown."
They won the Rookie of the Year Award at the Seoul Music, Mnet Asian Music, Golden Disk, and Gaon Chart Awards.
Further success
Naeun and the girls released several EPs and albums from 2011 through 2020, and although most of them were only moderately successful, they have many singles with excellent digital sales, and three of them became their signature songs.
"No No No," the lead single of the third EP "Secret Garden" (2013), peaked at No.3 on the Gaon Digital Chart. It had over 1.7 million download sales, and became 2013's most-streamed song. Its music video garnered over 17 million views, and the EP peaked at No.2 on the Gaon Album Chart, with over 71,000 copies sold.
"Mr. Chu," the fourth EP's lead track released in March 2014, claimed second spot on the Gaon Digital Chart – it had more than 1.5 million download sales, becoming the eighth highest-selling digital single of 2014.
It peaked at No.20 on Billboard's Digital Song Sales Chart, and the official music video (MV) has accumulated almost 75 million views. The EP, "Pink Blossom," peaked at No.2 on the Gaon Album Chart, with over 76,000 copies sold.
"LUV" sold almost 1.5 million downloads, reached No.2 on the Gaon Digital Chart, and No.5 on Billboard's World Digital Song Sales Chart. It was included on the fifth EP entitled "Pink Luv", released in November 2014, topping the Gaon Album Chart with over 80,000 copies sold, and becoming the group's best-selling album to that date.
Two more EPs topped the Gaon Album Chart: "Pink Up" (2017) peaked at No.14 on Billboard's World Albums Chart, and "One & Six" (2018) reached No.11 on Billboard's World Albums Chart, making it the group's highest entry on the said chart. Its lead track, "I'm So Sick," placed third on the Billboard K-Pop Hot 100, and eighth on Billboard's World Digital Song Sales Chart.
Their latest EP, "Look," released in April 2020, topped the Gaon Album Chart, and sold close to 48,000 copies. The lead single, "Dumhdurum," peaked at No.2 on both the Gaon Digital Chart and Billboard K-Pop Hot 100, then reached No.10 on Billboard's World Digital Song Sales Chart, where it stayed for three weeks. Billboard ranked it at No.2 on their list of "The 20 Best K-Pop Songs of 2020: Critics' Pick"
Solo activities
After Naeun's debut, there has been much interest in getting her to appear in commercial films and print ads for beverages, fashion, and beauty brands, due to her great visuals and ability to make pretty facial expressions that are perfect for advertising products.
#SonNaEun reportedly to star in upcoming drama 'Human Disqualification' pic.twitter.com/KJG4vJVVIg

— K-Drama News! (@kdrama_news) January 12, 2021
She's a credible endorser, as the soju drink (Korea's distilled alcoholic beverage) she advertised had a tremendous increase in sales, and the Adidas leggings she was seen wearing in her group's dance practice videos in 2014, then later on photos she posted on her Instagram account, were sold out, and became known as "Son Naeun leggings." She was tapped as the brand ambassador for Adidas in 2018. Naeun won the Female CF Model Award at the 2019 Korea First Brand Awards, and the CF Star Award at the 2020 MTN Broadcast Advertising Festival.
In 2010, before her debut, she was featured in the music videos of the boyband Beast's "Beautiful," "I Like You The Best," and "Breathe." She also appeared in label mate Huh Gak's "The Person Who Once Loved Me" and "It Hurts" MVs, which were both released in 2012.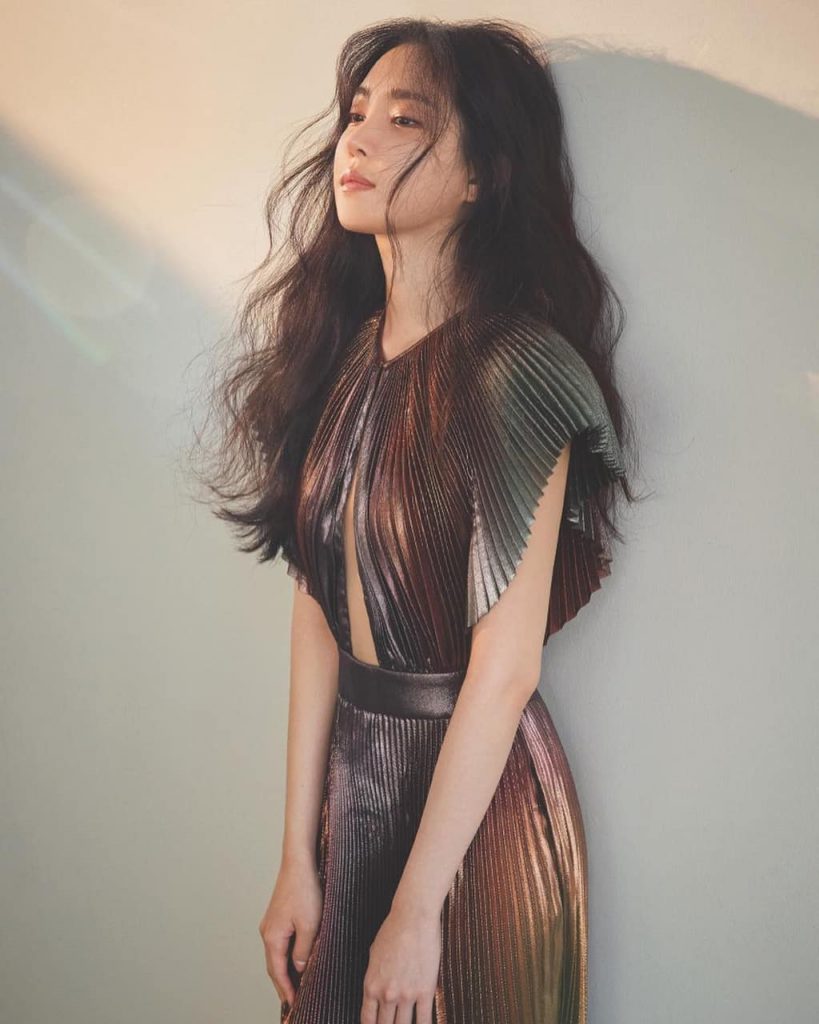 She also appeared in Psy's "New Face" MV, which was released in May 2017 and has accumulated over 230 million views – Psy chose her as he wanted someone with a lovely image. His friend told him that Naeun had a fun side to her, so he thought it would be a good thing for his MV; he later complimented her for having a talent in 'comic dancing.'
As an actress
Naeun made her debut as an actress in the SBS' historical television drama series "The Great Seer" (2012), top-billed by Ji Jin-hee and Ji Sung – she portrayed the role of the young Hae-in with the adult Hae-in played by Kim So-yeon. In her succeeding TV projects, she was fortunate to work with veteran actors in various drama series, including JTBC's "Childless Comfort" (October 2012-March 2013) with Lee Soon-jae, tvN's "Twenty Again" (2015) with Choi Ji-woo, and tvN's "Cinderella with Four Knights" (2016), with Jung Il-woo and Park So-dam.
She made a cameo appearance in the web TV series, "YG Future Strategy Office" (2018), which starred Seungri (Bigbang) as the head of the fictional department in the company. Blackpink, Daesung (Bigbang), Ikon, and Winner also appeared in this black comedy series, which was loosely based on real-life scandals involving YG artists.
In MBC TV's romantic drama series "Dinner Mate" (2020), she was cast for the first time in a lead role as Jin No-eul, who was the first love of Song Seung-heon's character, Kim Haekyung. It aired for 32 episodes from May to July 2020.
Naeun first appeared on the big screen in 2012, in a supporting role in the movie "Marrying the Mafia V: Return of the Family," which starred Sung Dong-Il and Jung Joon-Ho.
She was cast for the role of Ok-boon as the main lead in the 2018 horror flick, set during the Joseon period entitled "The Wrath," which was a remake of the 1986 classic horror movie "Woman's Wail."
Rumor has it that one of the rooms on the third floor of the hotel the staff was staying in during the filming was haunted, and Naeun's room was on that floor. The shoot was over at 4 or 5 am, and she was back in her room preparing for bed when she noticed that the door was ajar, and someone was peeking in from the outside. She thought it was her manager at first, but later believed it to be a ghost, as the manager was sleeping in his car at that time.
As a variety show guest and cast member
Throughout her career as an idol, Naeun often appeared along with her group or a co-member in variety shows such as SBS' "Running Man," KBS' "2 Days & 1 Night," MBC Every1's "Weekly Idol," and JTBC's "Knowing Brothers."
They also have their reality shows including "Apink Showtime" (2014) and "Apink Diaries," which aired from 2013 up to the present on the group's YouTube Channel.
She was given an opportunity to shine on her own when she appeared as a guest on KBS' "Happy Together" (2018), and SBS TV's "Village Survival, the Eighth"  Season Two (2019). Her guest appearance on MBC's "Radio Star" in 2018 became controversial as Yoon Jong Shin, one of the hosts, praised her for being beautiful, then asked her if it's all natural, as he said, 'You're all natural, right? I mean, if you had something done, I think it was done very nicely. It looks completely natural.' Naeun tried to avoid answering the question, but when the host continued to talk about plastic surgery not being a big deal, she replied, 'I work on maintaining my looks bit by bit.' The host was criticized by the viewers for being rude to the guest, who was uncomfortable about the topic and was forced to respond.
Naeun has been constantly plagued by rumors that she had something done to her eyes and nose, when her photos prior to debut and after that were compared, but she had never addressed the issue until she guested on that show.
She was paired with Taemin (Shinee) in the fourth season of MBC's "We Got Married", in which Korean celebrities were paired-up to act as a married couple, and carried out missions given by the staff of the show. Their virtual relationship lasted for eight months (2013-2014) and aired from episode 167 to 203. At the 2013 MBC Entertainment Awards, she and Taemin were nominated for the Best Couple Award – she took home the Star of the Year Award that night.
Naeun was cast alongside Solar (Mamamoo), comedians Ahn Young-mi and Park Na-rae, and actress Park So-dam in JTBC's variety show called "Camping Vibes." The show features tourist spots in South Korea, and began airing in October 2020.
As a songwriter
Naeun co-wrote the lyrics for the sixth track, "Cliché," on the special album "Dear" (2016), which she recorded with Chorong.
Personal life
Naeun is 26 and single. As an idol, she was banned by her agency from dating during the early years of her career. She politely turned down anyone who expressed interest in her, including someone whom she also had an interest in. Because of this, when male idols conducted a poll, she was voted as the No.1 female idol whom they thought of as a bad girl when dating.
If she were to date, she wanted someone manly but sweet. She admitted in 2018 that Dynamic Duo's Choiza was her ideal type among celebrities; as she is close to her mother, she said she wouldn't date a guy her mom wouldn't approve of.
Hobbies, favorites, rumors, interesting facts
She once earned the nickname "GoToNyu" for always having sweet potatoes and tomatoes in her bag wherever she goes.
Favorites: pink and purple (colors), one (number)
Hobbies: drawing, collecting, listening to music, and shopping
Her girl crush is Tzuyu of Twice. She met her at the Idol Star Athletics Championships, and felt a kinship with her as she was reminded of how she was when she just debuted, which was shy and quiet.
Motto: "Let's work hard enough to not regret later."
In 2018, she deleted photos on her Instagram that became controversial and started a heated debate on social media as they showed her holding a smartphone with the words 'Girls can do anything' written on its case. Some knetizens (Korean online users) criticized her for taking a stance on feminism, while her fans defended her by saying there's nothing's wrong with being a feminist. The photo also showed a cigarette pack on the table, which led others to believe that she smokes. However, the company denied it, saying it belonged to one of the staff members.
In November 2019, her agency had to drop a case they filed on behalf of Naeun against someone who was leaving malicious comments on her social media page, when they discovered that the person suffered a mental illness, and was being treated at a hospital. The family of the person has since apologized to Naeun.
Appearance
Naeun has black hair and black eyes, is 5ft 6ins (1.68m) tall, and weighs 100lbs (49kg) with a slim but curvy build, and vital statistics of 34-23-38. Her shoe size is 6 (US).
Net worth
Son Naeun has an estimated net worth of over $500,000 as of January 2021, according to sources.