Jun is a South Korean singer, dancer and actor, who rose to prominence when he debuted as the leader of the five-member K-Pop boy band, A.C.E., under Beat Interactive.
Just a simple reminder that article is created and owned only by kpopwiki.org. Article cannot be re-published in any other pages or documents. Copyright is protected by DMCA. All found copies will be reported.
Original source: https://kpopwiki.org/park-junhee-aka-jun-a-c-e-age-height-tattoo-family-bio/
Early life and family
Jun was born Park Junhee on 2 June 1994, in Suncheon, South Jeolla Province, South Korea. He has three older sisters, but one of them passed away when he was young. He is considered the baby in the family, as his parents and older sisters dote on him. Jun shares a special bond with his father, as he is the only son in the family.
Education background
There is no information about Jun's educational background except that he enrolled into a music academy for vocal training when he was still studying in junior high school.
Career
Just like many South Korean teens and kids who were inspired by K-Pop superstar Rain's path to stardom, Jun also enrolled himself into a popular dance studio, 1Million Dance Studio, to learn how to dance. He later found his confidence to participate in several auditions conducted by entertainment agencies, and was accepted at Jellyfish Entertainment sometime in 2008. He spent about seven years under the agency's training program, and almost debuted thrice but for some reason never did.
Unhappy with the treatment he got from Jellyfish, he transferred to Stone Music Entertainment and spent a year there. When Kim Hyeim, the CEO of newly established entertainment agency Beat Interactive and who a former executive of Jellyfish Entertainment, met with him and laid down her plans for a boyband debut, he put his trust in her, and signed up with her agency.
First Steps – Busking and Debut
He trained with other boys and was appointed leader of a five-member boyband called A.C.E., which stands for Adventure Calling Emotions. Before the group's debut, Jun with Donghun, Byeongkwan (previously known as Jason), Wow, and Chan were known for busking around Seoul, doing covers of K-Pop hit songs including "Bang Bang Bang" and "Good Boy" (Big Bang), "Playing with Fire" (Blackpink), and "Not Today" (BTS). It was their unique way of introducing themselves to the fans. All those performances were recorded and uploaded on YouTube.
As promised by the Beat Interactive CEO, Jun and the boys debuted on 23 May 2017 with the release of a single album called "Cactus" produced by Zoobeater Sound. The group chose a Hardstyle, a Dutch electronic dance music genre as their first song, performing it using the dance choreography moves taught by Lia Kim and Jung Koosung of 1Million Dance Studio, at the SBS MTV's "The Show" on the day the song was released.
They promote it on other popular mainstream music shows in South Korea for a whole two months, including, "Inkigayo," "Music Bank," "Music Core," and "M Countdown."
While they nailed the live performances, the single album only charted at No.24 on the South Korean Gaon Chart, making it a weak debut.
They released another single entitled "Callin" after six months, but it only peaked in 28th position on the chart, though they also promoted this song for about two months as well.
"The Unit" Survival Reality TV Series
Beat Interactive decided to use another marketing strategy to boost the popularity of Jun and the boys. Instead of recording new songs and releasing them as a follow-up in the boys' sophomore year as most new artists do, they let the boys participate in two talent competition reality TV series.
Jun and Chan were assigned to go to "The Unit", while the other three members went to audition for YG's "MixNine." If any of them won a spot as a member of a temporary boy group, they would cease to promote as A.C.E. for the required number of months.
Jun was ecstatic as well as nervous, because his role model, Rain, was the host/mentor of the reality show "The Unit." The show aimed to give nine boys and nine girls who had already debuted, another chance to show-off their skills and charm to the audience. In Jun's perspective, it was his chance to help his group gain more recognition and attract more fans. However, out of the total 126 idols/trainees (63 boys and 63 girls), he was ranked 20th during his last mission. He was eliminated in the 14th episode, and so didn't make it to the semifinals (Top 18) to qualify for the final battle. Fortunately, Chan secured a spot in the final nine, and the frustrated Jun was relieved that one of them uplifted A.C.E.'s brand.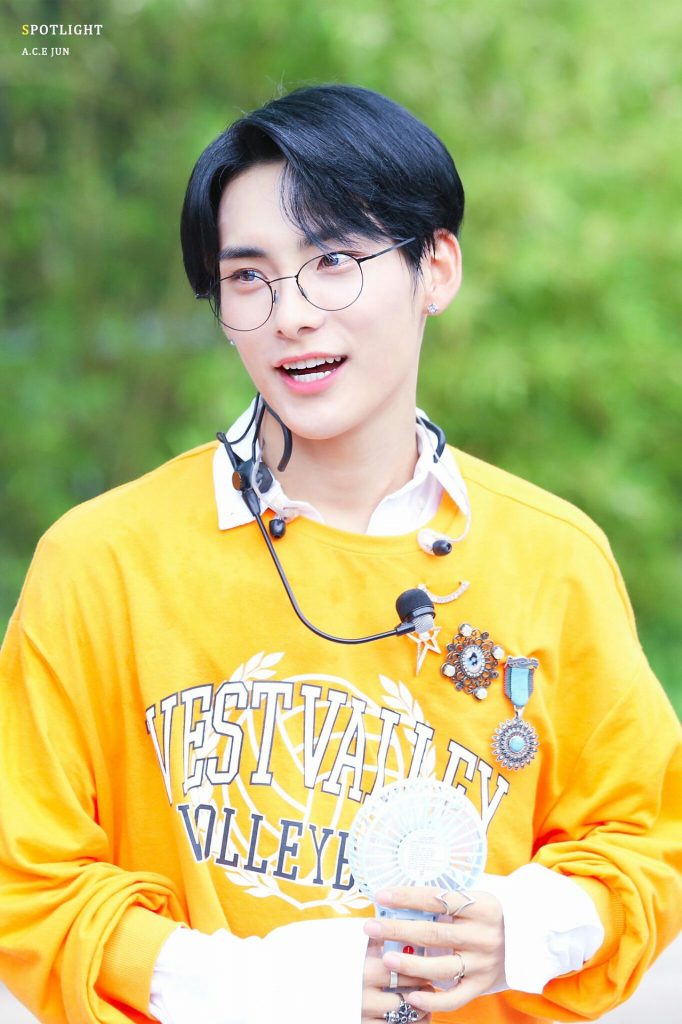 "5STAT (Incompletion)," Thank You Song for Loyal Fans
During the run of "The Unit" from October to February, they stopped promoting as A.C.E., and to show their appreciation to the loyal fans who patiently waited for their return, the group (minus Chan) released a special song in April of 2018 entitled "5TAR (Incompletion)," of which he co-wrote the lyrics with Donghun.  This was also their way of saying that they were back, and would again release songs.
A.C.E. World Tour in 2018
Before 2018 ended, the group surprised many people by conducting an overseas concert tour entitled "A.C.E. World Tour (To Be An ACE)." They only had moderate success in the local music scene to hold such a grand undertaking, however, due to social media and video sharing sites, the group established an international following; other K-Pop groups also experienced the same odd occurrence.
Jun and the boys benefited from the global interest in Korean Entertainment, and their strong vocals and synchronized dance choreography attracted many international fans.
From November to December, they were busy performing in major cities in Latin America and the US – the tour kicked off in Buenos Aires, then Mexico City, and Santiago in Chile. The group flew to the US and performed in eight cities including Chicago, Los Angeles, Miami and New York.
Further Success – Breaking it to the Top 10
Joining the reality TV series proved to be the right decision for the group, evident in the sales result of their second EP. They released the EP, "Under Cover" on 17 May 2019, and were able to break into the Top 10 on the Gaon Album Chart peaking at No.8.
This time the group also charted on Billboard's World Album Chart and peaked at No.9 – the boys were happy that they also debuted on Billboard's Social 50 Chart. The EP has five songs including "If You Heard," "Mr. Bass," "5TAR" (available on CD version only), and the title track with the same name. While it was way more successful compared to their previous releases, it still couldn't compete with the top songs on the charts. Jun knew that he and the boys would have to work twice as hard to reach the top.
Their third EP was released on 29 October 2019 entitled "Under Cover: The Mad Squad." It consists of six songs headlined by "Savage", and included "So Sick" and "Take Me Higher." More units were sold compared to its predecessor, and it charted one position higher by peaking at No.7 on the local album chart. They were on the right track as shown by the 12 million views garnered by the official music video of the lead track on YouTube, having spent two months promoting the EP on popular music shows in South Korea.
World Concert Tour 2019
After performing in a series of shows in Asia, including Indonesia, Singapore and China, the group got even busier. They made their first European tour in March, performing in Berlin, London, Moscow and Paris. Jun and the boys continued to enjoy the demand for concerts in the US, as they partnered with MyMusicTaste event organizer once again for "Undercover: Area US", and performed in nine venues including Los Angeles, New York, Atlanta and Miami in December. They were able to insert a concert in Puerto Rico in their busy schedule, which the boys said was unforgettable.
2020 Activities – Oscars Afterparty, Released of new EP and Tattoos
When "Parasite" won Best Picture at the Academy Awards, the Oscars afterparty guests were treated with some great performances from A.C.E. The boys performed some of their songs as well as other popular K-Pop hits during the party.
junhee being a vocal legend #박준희 #에이스 #parkjunhee pic.twitter.com/4ll7TDOj1a

— seungwoo loops (@seungwooloops) March 31, 2020
Due to the Covid19 pandemic, travel restrictions and social distancing prevented most artists including Jun and his group from doing promotional activities with a live audience in South Korea as well as in other countries. When they released their latest EP entitled "HZJM: The Butterfly Phantasy" last 2 September 2020, they performed it in music shows, but without a live audience. The EP consists of five songs including "Baby Tonight," "Golden Goose," "Stand by You," and "Clover," for which Park wrote the lyrics as a thank you note for their loyal fans. The MV of the title track on YouTube already has over two million views and counting.
During the live performances on music shows of the lead track, "Goblin (Favorite Boys)," Jun and the boys were seen sporting tattoos, but they weren't permanent ones.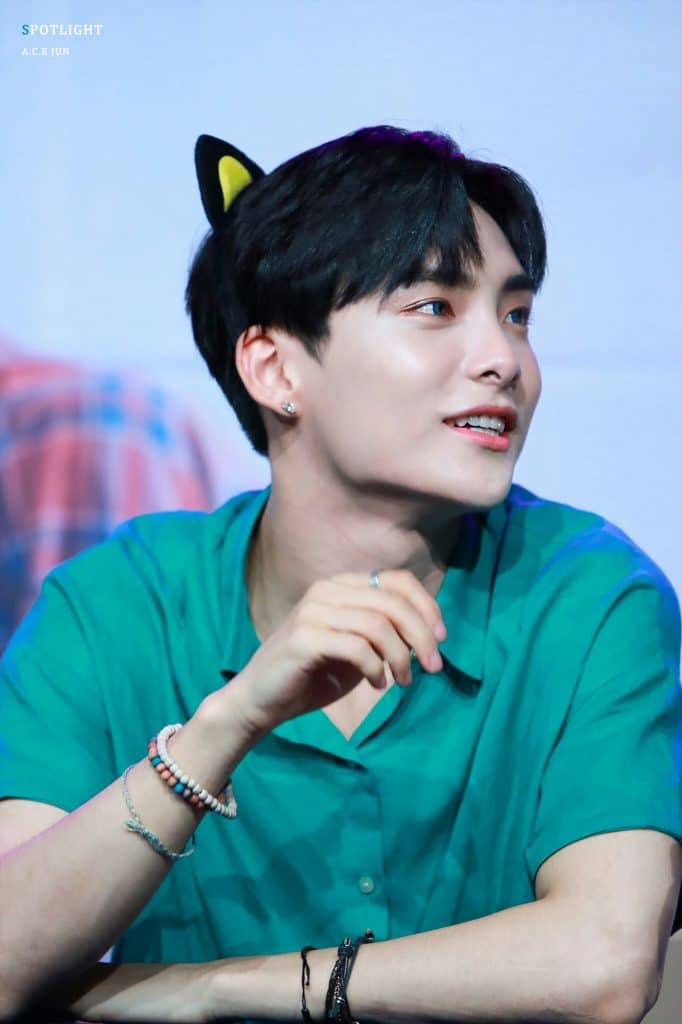 As an Actor
Before his debut as a singer and dancer, Jun acted in minor roles in a couple of South Korean dramas, such as "I Need Romance" (2014) with Kim So-yeon and Namkoong Min, and "Persevere, Goo Hae-Ra" (2015) with Min Hyo-Rin and Kwak Si-Yang.  After debut, he made cameo appearances in OCN's "Melocholic" (2017) with Jung Yun-ho and Kyung Soo-jin, and SBS' "Big Issue" (2019) with Joo Jin-mo and Han Ye-seul.
Awards and Recognition
Since their debut, the group has only received two awards; the first was the 2017 Rookie of the Year Award from SBS Pop Asia Awards, and the second in 2019 when Soribada Best K-Music Awards gave them the Next Artist Award.
Personal life
Jun is currently single as he is not allowed to date during the first three to five years after debut. This is common practice with talent management agencies in South Korea, as they include the 'no-dating' clause in contracts. Even the artists' parents would agree to this as most of the trainees would debut quite young, and having these restrictions would ensure that the artists would focus on their careers. It is also difficult for K-Pop idols to openly date anyone, as most of the South Korean fans are quite possessive and would leave the fandom if they saw their favorite artists dating.
He still lives in the company dormitory in Seoul, where he shares a room with Chan.
Hobbies, favorites, rumors, and interesting facts
Park had two nicknames while growing up – "Suncheon's Kangta" as he has an uncanny resemblance to the first generation popular idol, Kangta, from the boyband, H.O.T. The second was "Disney Prince" as some people thought he projected a princely vibe with his poses.
Watching his favorite anime and playing soccer are his hobbies.
He appeared in Season 4 of the show entitled "I Can See Your Voice" as a skilled vocalist in 2017, before his debut.
Favorites: Blue and Red (Colors), Strawberry Yogurt (Dessert), "Attack on Titan" (Anime)
Actor Kim Min Jae ("Joseon Marriage Agency," "Romantic Doctor Teacher Kim 2") is a close friend of Jun as Min Jae spent some training years with him and other A.C.E. members.
He is one of the idols with the longest training periods, as nine years is considered quite long in the music industry, although other idols have trained longer than him.
Jun accidentally drank a lot of water in the tank when the group filmed for long hours for their latest MV for the song, "Goblin (Favorite Boys)."
Fans became curious if Jun was annoyed at YG's former CEO Yang Hyun Suk, when Mr. Yang told Byeongkwan during an episode of "MixNine" that he should have been the leader of their group. Mr. Yang was quite impressed with his skills during the competition. Jun said that he wasn't mad, and that if only Mr. Yang had met him and saw his skills, he wouldn't have made those remarks.
"Choice" is the name of the group's fandom, and the inspiration for the lyrics of the songs "5Star" and "Clover," which were co-written by Jun and Donghun.
Appearance
He is 5ft 9ins (1.75m) tall, weighs 130lbs (59kgs), and has a lean ripped frame. His natural hair color is black, but he can be seen sporting other colors during promotional activities. Jun was known to have dyed his hair in blue, blond, brown, and pink. His natural eye color is dark brown, but due to the strong and unique concepts that his group has been known for, you would see him wearing colored contact lenses, especially during live performances.
Net worth
Jun has an estimated net worth of over $100,000 million as of September 2020, according to sources.