Kwon Eunbin is a South Korean singer, rapper, actress and model, born on 6 January 2000 in Gangdong-gu, Seoul South Korea. She's known for being a contestant in "Produce 101", and a member of the girl K-pop group CLC.
Just a simple reminder that article is created and owned only by kpopwiki.org. Article cannot be re-published in any other pages or documents. Copyright is protected by DMCA. All found copies will be reported.
Original source: https://kpopwiki.org/kwon-eunbin-clc-age-height-body-boyfriend-family-bio/
Early Life
Although the identity of Kwon's parents is undisclosed, it's known that her mother is a housewife, and her father is an awarded journalist, as Cube Entertainment revealed in a press release: 'Kwon Eunbin's father is a broadcast reporter. Eunbin has always been proud of her father's occupation. Thank you for showing interest in even this kind of news'.
Eunbin – who doesn't have any siblings – has the support of her family in her journey to become a singer.
Kwon studied both in Wonmyong and Yangji Elementary Schools, and. for her secondary education she attended Onham Middle School, then enrolled in Hanlim Multi Art School, from where she presumably matriculated in 2017.
Career
Produce 101
Eunbin joined Cube Entertainment as a trainee in 2014 while still in high school. Although she was scheduled to join the girl group CLC in 2016, problems regarding the release of their first album postponed her debut, so the agency decided Eunbin along (G)I-DLE Jeon Soyeon's and former trainee Lee Yoon-Seo, would be representing the company in the first season of "Produce 101", a survival TV show in which contestants prove their dancing and singing skills in order to be selected to join a K-pop group.
During the first episode of the show, Eunbin performed a song alongside her label mates, and placed in tenth position in the popularity poll. In the second episode, the contestants were informed of an upcoming performance of the song "Pick Me" in the music show "M Countdown" . However, Eunbin had various problems remembering the choreography, and her voice cracked during her vocal practice.
She also obtained negative reviews regarding her video practicing the song, which distressed her deeply: 'Nobody was applauding. It was honestly a scary situation'. Due to her poor presentation, she was placed in the D group.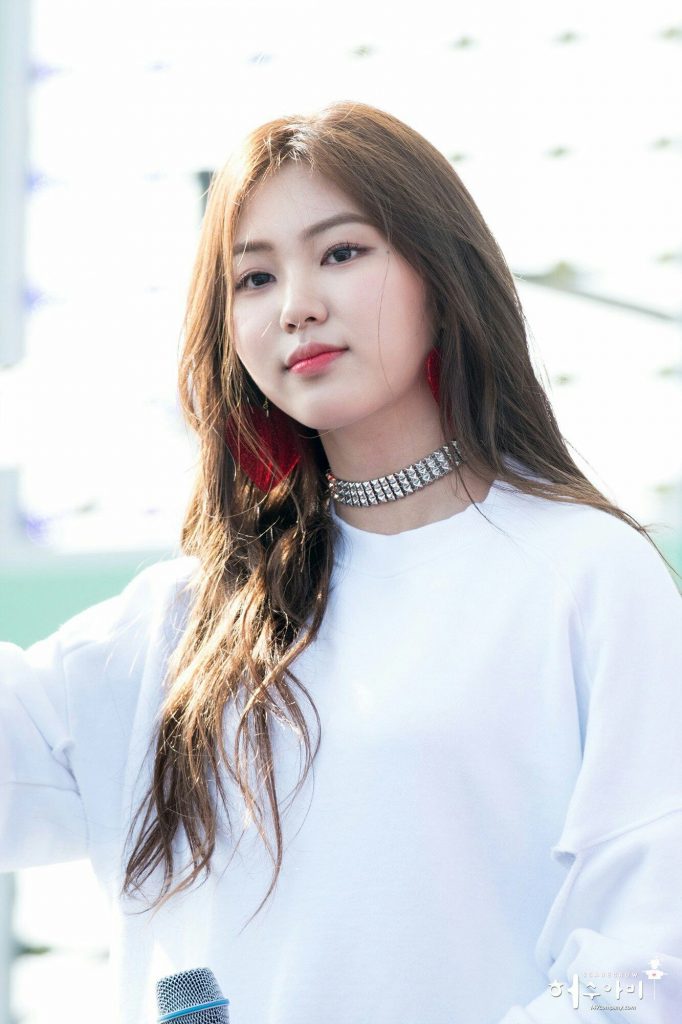 In the third episode, each group – A, B, C and D – were given various songs to perform, and members' positions were assigned. Although Eunbin was meant to take the center role during the performance of the song "I Don't Know" by A-pink, she was unable to do it as she was shadowed by another contestant: 'From the start, the atmosphere had shown that Pinky was the center'.
The fifth episode showcased the biggest elimination round of the show. Fortunately, Eunbin continued in the program, as she was in 16th place in the voting polls: 'I haven't really shown anything yet, but I promise to work harder and aim to sit on the high ranking seats. Thank you'.
Kwon performance of Jessie J's song "Bang Bang" in the episode gained her the approval of judges and fans of the show. In episode eight, she obtained position number 25 out of the 35 remaining contestants.
a new voting system was introduced in the tenth episode of the show, which resulted in various changes in the popularity rankings. Though Eunbin took the rapper position during the performance of the song "Don't Matter", she was eliminated despite her efforts.
CLC
Following an official statement made by the company, they had planned Eunbin to participate in the promotions of the group's single "High Heels". However, as she was still a contestant of "Produce 101", she was unable to attend said events. The agency also stated if Eunbin had won the show, her activities with CLC would have been postponed indefinitely.
So Eunbin then resumed her activities with Cube Entertainment, and officially made her debut as a new member of CLC. Her first activity as an official member of CLC was on 12 May 2016, when she appeared in a live video with the other six members of the group.
CLC released their extended play (EP) "Nu Clear" on 30 May that year, marking Eunbin's debut. The following EP "Chamisma" was CLC's second album in Japanese and charted at the ninth position in Oricon.
Unfortunately, Eunbin's activities with CLC were temporarily halted due to health problems. In a press release, Cube Entertainment revealed that she was hospitalized: 'Kwon Eunbin starting vomiting and had migraines at the same time on June 17, so she immediately went to a hospital to receive an examination and treatment'.
Due to her health problems, she wouldn't appear with the rest of the group in the show "Music Bank" of KBS: 'it has been determined she will not be performing due to her poor stamina. After discussing it with her, she has been hospitalized and is receiving treatment.'
2017 – Present
In January 2017 Eunbin returned to her activities with CLC for the release of the hip-hop oriented EP "Crystyle", which charted as number six at the Billboard Worldwide list. The single "Hobgoblin" marked CLC's change of style, taking a more mature route than their previous works, followed by the release of the group's next EP entitled "Free'sm" in August.
"Black Dress" was released in February 2018 and was celebrated with an anniversary-charity concert in April that year.
The EP "No.1" peaked at Billboard's number five position, followed by singles "Me" and "Devil".
After a long hiatus, CLC's comeback was announced in August 2020 with the upcoming single "Helicopter".
Debut As Actress
In June 2018 Eunbin debuted as an actress in the drama "Bad Papa", playing the role of Kim Sang-ah. Then she appeared briefly in the YouTube series "Top Management", and in 2019 she was cast as Kim Yeon-ah in KBS2's drama "Beautiful Love Wonderful Life".
Recently it was announced she would appear as herself in "Somehow Family" on TV Chosun. She commented on the experience to Soompi: 'There were a lot of difficult and frustrating moments because I'm someone who usually has a lot to say, but it was a good experience to learn from great senior actors."
She also expressed her desire to appear in an action series: 'I want to try parkour the most, fighting on the streets and jumping from building to building'.
Personal Life
Romantic Life
Eunbin's romantic life is undisclosed, including possible partners, as dictated by her management, so avoiding any chance of controversy affecting her or the group..
Relationship with Family
Despite being busy with her idol activities and career, Eunbin manages to spend time with her loved ones and family, as she revealed in September 2020 during a radio broadcast in the program "Cultwo Show".
Net Worth
As a result of her career as an actress and as a member of girl group CLC, Kwon Eunbin has an estimated net worth of over $100,000.
Physical Appearance
Thanks to Eunbin's gorgeous facial features, long hair and youthful appearance, she was voted eighth in the poll of the most beautiful contestants of "Produce 101". She is 5fts 5ins (1.69m) tall and weighs around 105lbs (48kgs).
Interesting Facts
Her favorite color is red.
She's a fan of singer I.U (Lee Ji-Eun).
Although she couldn't participate in CLC'S promotional tour for "High Heels", she later appeared in the music video for the full version of the song, released in 21 March 2016.
Her zodiac sign is Capricorn.
She partially composed CLC's song "I Like That" in 2018.