Giant Pink is a South Korean singer-rapper, whose claim to fame is bagging the top prize of Mnet's reality television hip-hop competition series, "Unpretty Rapstar 3," in 2016. She is one of the top female rappers being managed by SM Entertainment, and produces music under its hip-hop label, AIKM or All I Know Music.
Just a simple reminder that article is created and owned only by kpopwiki.org. Article cannot be re-published in any other pages or documents. Copyright is protected by DMCA. All found copies will be reported.
Original source: https://kpopwiki.org/kpop-rapper-giant-pinks-biography-age-height-boyfriend/
Early Life and Family
Giant Pink was born Park Yoon Ha on 23 April 1991, in Busan, South Korea. She was raised in a comfortable home with his father, Park Yeonghwan, making fairly good money from being a casino pit manager. When she was in grade school, she loved to treat her classmates to fast foods and buy them items in stationery shops, as she was well-provided for, and would carry more than enough money in her wallet. While she didn't remember doing all that as she was very young, her childhood friends and former classmates told her of her generosity toward people around her.
She even went to the casino where her father worked, just to ask for more money, but the guard told her to leave as Koreans are not allowed to be in the casino premises unless they are part of the working crew. The casinos in South Korea are only for foreigners, as gambling is illegal there. She was quite a brat back then and demanded to see her father, haughtily informing the guard who her father was, so she was able to meet him.
Educational Background
There is no detailed information about her educational attainment, but she said in one interview that she wasn't so keen on studying, and would rather spend time making music. However, in another interview, she shared that she initially enrolled in a university and majored in Applied Music, but dropped out, although later re-enrolling and graduating with a Bachelor's degree in Casino Management.
Career
Giant Pink, when she was still Park Yoon Ha, used to sing R&B songs when she first aspired to become a singer, as she likes that music genre. She was even encouraged by her vocal coach in Seoul, who touted that she could be the heir apparent to Baek Ji Young, one of South Korea's most successful solo artists, and known for her unique husky voice. However, she developed some vocal nodules and went back to Busan embarrassed that she was unable to fulfill her dream of being a professional singer. Since she couldn't fully use her voice to sing, she started rapping while listening to hip-hop music back home, and was encouraged by other people to pursue rap as her voice is perfect for the genre.
Her interest in rapping led her to write her verses, which makes her cringe today whenever she remembers her initial compositions.
She also naively believed in the past that she had to say bad words, and to swear at people whenever she's angry at someone or something, just to show everyone that she had the hip-hop vibe. When her mother asked her why she likes to use bad words, she would justify it by saying, 'That's swag.'
Giant Pink had a conflict with some of her friends in her hometown, and her initial reaction when hurt was to leave. For the second time she moved to Seoul, but with no friends in the city, she spent most of her time writing songs that were mostly depressing, as she was quite lonely.
First Steps – Reality TV Hip Hop Survival Series
Her hometown friends continued to say bad things about her, and it eventually pushed her to post a video on Facebook performing a rap song, inspired by the emotional pain she felt from those harsh words she received.
It drew a lot of attention, and she became an almost instant online star, and it didn't take long for the right people from several entertainment companies to offer her a spot on their hip hop team. From then on, she took Giant Pink as her stage name – Giant refers to her height and also for her badass personality ,while Pink was chosen to remind everyone that she also has her feminine side, even while dishing out powerful rap verses.
Giant Pink was first seen on national TV in May 2016, when she joined the reality hip-hop survival series "Show Me The Money 5"; it was a male-dominated competition, and she was unfortunately eliminated in Round 4.
Two months later, she was next seen in the reality TV rap competition series "Unpretty Rapstar", the spin-off series from the series "Show Me The Money." This time the competitors were all female rappers, but the battles were pretty much the same, with just a few tweaks here and there.
Many known rappers from past and present K-Pop girl groups joined the show as contestants, including Miryo (Brown-Eyed Girls), Jooyeon (Jewelry), Huihyeon (DIA), and Seoyeon of (G)I-DLE.
After many rounds of competition, Giant Pink was declared the winner, with Nada of Wa$$up as the runner-up. Her victory was controversial and much talked about on various social media platforms, as people were questioning how she won since she kept messing up her lyrics. Another theory came out that it was probably arranged that she was to win it, regardless of which contestant was better, to provide a great narrative for the show, as she was eliminated from the other competition. Many speculations came out because the two survival series were produced by the same people, however, all rumors died down after a while, as the show was discontinued. Some said it was the low ratings, while other people said it was hard to convince underground rappers to join the competition.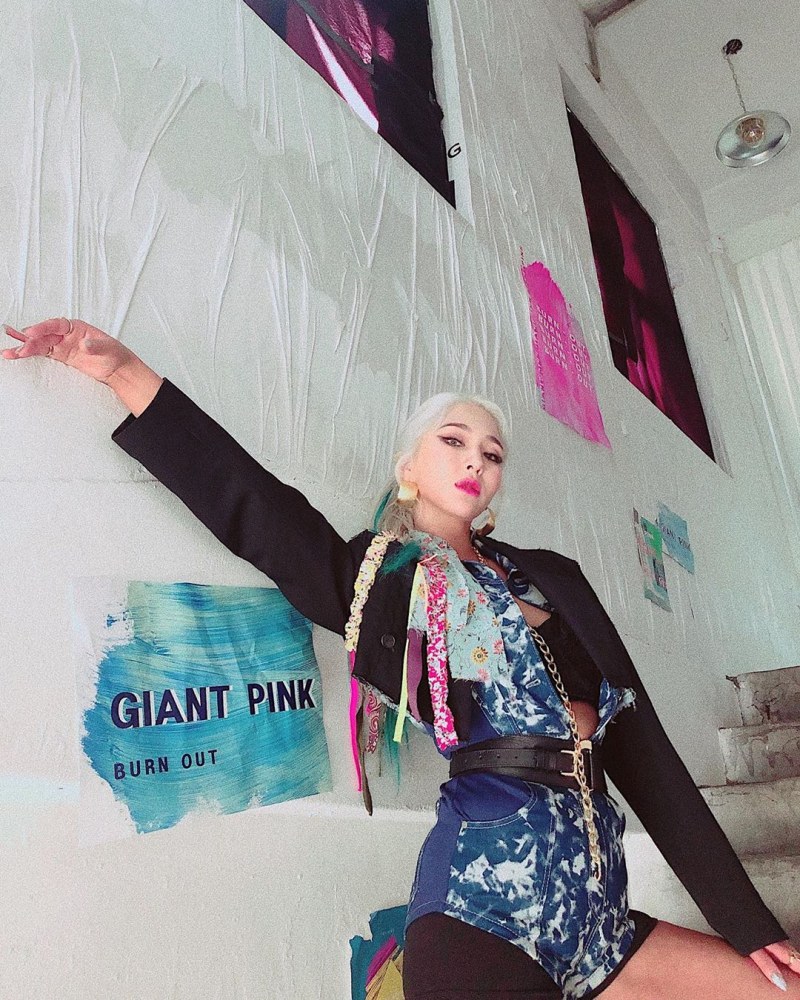 Collaborations Before Her Solo Debut (2016-2017)
A few months after she won "Unpretty Rapstar," fellow contestant Miryo collaborated with her to release a single album with the lead track, "Rock-Scissors-Paper." Two solo tracks were included – "The Day of a Loser" by Miryo and "Making Money" by Giant Pink. She also released collaboration tracks with rappers/judges from her stint in the survival series, including the songs "Beauty" with Dok2, "Bub" with MyunDo, and "Ego" with Sanchez and Boi B.
In 2017, Giant Pink was featured in Teen Top member Niel's lead track, "Love Affair," from his second EP released on the 16th January. She provided the rap parts of the song, and was also seen in the official music video. Later, she collaborated with hip-hop artists Jane Jang and PERC%NT to released the song "Dumb Dumb" on the 18th of August, a cover of Red Velvet's popular song given a different vibe and treatment. It was part of a series of collaboration projects between SM Entertainment and Mystic Entertainment, which they called the "Snowball Project."
Giant Pink belonged to a hip-hop crew, along with Miryo, Bray, Duckbae, and DJ Drev, which was under the tutelage of K Jun, head of the hip-hop label AIKM. She signed up with the hip-hop label in 2016 under Mystic Story, previously known as Mystic Entertainment, which was founded by successful singer-songwriter Yoon Jong Shin in 2011. Sometime in 2017, it was acquired by the biggest entertainment company in South Korea, SM Entertainment, as it became its largest shareholder. By 2019, the label AIKM officially became a sub-label of SM Entertainment, and was separated from Mystic Story.
Debut Year as a Solo Artist
On 19 March 2018, she made her official debut as a solo artist with the release of the digital single "I Don't Think I Love You," featuring Kassy, with the B-side entitled "Goodbye" featuring Jung In.
She performed the songs with the featured artists in popular music shows such as SBS MTV's "The Show," MBC's "Show Champion," KBS' "Music Bank," and Mnet's "M Countdown."
She was also part of the music and variety show called "Blooming Melody 2", with South Club's Nam Tae Hyun, April's Chaekyung, and rapper Kanto. It was filmed in the Chuncheon part of Gangwon Province where these artists bond through music, while they travel and explore the region. The show was aired weekly in November 2018.
Giant Pink had a busy debut year, performing in concerts and festivals such as the "Nice Concert," "Korea Polytechnic V Gimje Festival," "Phantom Concert," and "Morphyn Year-End Party." She was also invited to throw the first pitch at one of the Lotte Giants games in Busan Sajik Baseball Stadium.
More Digital Singles Releases, Music Festivals (2019)
The female rappers in South Korea who aren't part of any girl group often take a less-traveled and lonely path.
However, it didn't deter Giant Pink from releasing new music in 2019, despite the tough competition. On 25 February 2019, her second digital single entitled "Mirror, Mirror" was released, and she made her comeback performance in SBS MTV's "The Show" the day after that, and went on a two-month promotional run on popular music shows, both in mainstream and cable channels. The MV of the song had over 1.3 million views.
On 29 May 2019, Giant Pink released her third digital single entitled "Tuesday is Better Than Monday" – Yeri of Red Velvet featured in the song, and was also included in the official MV, which garnered close to 1.5 million views. For some undisclosed reason, she didn't promote in music shows as she normally did in the past each time she released a song. However, she still had a busy year, performing in many music festivals in Seoul and other parts of South Korea. She even attended the Seoul Fashion Week for two fashion houses such as SONGZIO and D-ANTIDOTE.
"Burn Out" Single, On-Tact Live Series (2020)
For a time especially during the early part of the Covid19 outbreak, the world stopped doing public events with large gatherings of people. However, when it was partly controlled, Korean artists started to release music again, and Giant Pink was one of them. On 15 July 2020, she released her fourth digital single entitled "Burn Out," which featured Super Junior's Ryeowook. She gained positive feedback from music critics, saying that the delivery and flow of her rapping was quite powerful, and the addition of Ryeowook's voice blended well with the track. A performance video was posted on SM Entertainment's official YouTube channel. Some fans regarded her as underrated, and blamed SM Entertainment for not promoting her well.
Since public gatherings are forbidden to avoid spreading the virus, online concerts became a trend.
From October 12 to 18, fans got to watch several artists performing online in the 2020 On-Tact Series Live Festival, "Let's Play Hongdae"; Giant Pink performed her songs including her latest, "Burn Out," on the 17th.
She also walked the catwalk for the D-ANTIDOTE Fashion House 2021 Spring/Summer Collection, pre-recorded for the online version of the Seoul Fashion Week.
Giant Pink was also seen at the end of October performing "Burn Out" at the Korea Music Drive Festival 2020. She took a brief break afterwards, as she prepared for her wedding that took place in November.
Before 2020 ended, she made a surprise guest appearance in the reality TV series "Ms. Back," and performed the song "Be My Baby" by Wonder Girls with Nada.
Personal Life
Giant Pink is married to her non-celebrity long-time boyfriend; they tied the knot on 22 November 2020. He is an entrepreneur in the restaurant business, who is reportedly a bit younger than her.  The don't have any children.
Hobbies, favorites, rumors, and interesting facts
Her favorite songs are Exo's "Love Shot," BTS' "Fire," and Red Velvet's "Red Flavor."
From her discography, she likes the song, "Are You Okay," which featured Jung In as the song was all about her personal experience.
Make-up, underwear and clothes are the three most important things she would pack whenever she travels.
Back in 2018, in the show SBS Power FM's "Cultwo Show," she publicly confessed her admiration of comedian Lee Yong Jin of tvN's "Comedy Big League," and her desire to meet up with him. She said that she's been a huge fan since she was a kid, and that she fell in love with him by seeing his work ethic in the show. However, she was rejected because the comedian was already in a long-time relationship with his girlfriend, but was honored as he's a huge fan of rap and certainly aware of who she is.
There was one time when Blackpink fans chided her on her social media account for including Pink in her stage name, and accused her of riding on the coattails of the girl group's popularity. She lashes back at them, telling fans that she debuted earlier than Blackpink, and there was another girl group named APink who debuted in 2011 way before Blackpink came onto the K-Pop scene.
Appearance
She is 5ft 8ins (1.72m) tall and weighs 120lbs (55kgs) with a slim body and long legs. She has black hair and dark brown eyes. Fans were quite curious as to why she doesn't often show her arms and loves to wear long-sleeved clothing. She said it was due to a past trauma that happened during the time she was on a diet, and caused her to feel uncomfortable wearing anything with short sleeves.
Net Worth
According to authoritative sources, Giant Pink has an estimated net worth of close to $1 million as of January 2021.