Woosung is a Korean-American singer-songwriter and rapper, who rose to prominence when he became the main vocalist and guitarist of the Korean band called The Rose under the record label J&Star Company. His group started as an indie band busking on the streets of Seoul, but eventually joined the mainstream market with their single entitled "Sorry" in 2017. He participated in the reality-television band survival series "Super Band," aired in JTBC in 2019, and finished in fourth place during the final round. He later debuted as a solo artist, and released his first extended play (EP) called "Wolf" in 2019.
Just a simple reminder that article is created and owned only by kpopwiki.org. Article cannot be re-published in any other pages or documents. Copyright is protected by DMCA. All found copies will be reported.
Original source: https://kpopwiki.org/kim-woosung-the-rose-age-tattoo-height-net-worth-wiki/
Early Life and Family
Kim Woo Sung was born on 25 February 1993, in Los Angeles, California USA – he went by the name Sammy in the US. At age two, his parents divorced and his mother married again. He has a younger half-brother named AJ his mom had with his stepfather. Growing up, he wasn't that interested in music as he was quite focused on sports, particularly football, which he started playing in junior high.
However, he dislocated his left shoulder in high school and needed an operation to get it fixed. His dream of becoming an athlete became impossible after that, so Woosung shifted his attention to music. He lived in New Zealand before eventually going to South Korea,
Educational Background
There isn't much information about his educational background, except that Woosung had his primary and secondary education in the US.
Career
When Woosung arrived in South Korea, he taught the English language to elementary students in Seoul. When he learned of the new reality-TV talent survival series entitled "K-Pop Star" in 2011, he bravely auditioned just for fun. He wasn't seriously planning to pursue a career in the entertainment industry, but as he advanced through each episode in the TV show, it fueled his desire to perform on stage. The TV series became a huge hit with the viewers, as the three resident judges in the program represented the Korean popular, or K-Pop industry's three biggest entertainment agencies. During the audition up to the fourth episode, fans thought Woosung would breeze in easily to the Top 10 picks, but much to their disappointment, he was eliminated during the battle round in that episode.
However, another agency, Polaris Entertainment saw his potential, and signed him up immediately after his "K-Pop Star" stint.
For undisclosed reasons, nothing happened duringWoosung's time in Polaris Entertainment. In 2015, he was then invited by Park Dojoon, whom he met through a mutual friend, to join his indie band called Windfall. Apparently, he felt that they needed another guitarist and vocalist to complete the band. At first, Woosung wasn't that keen on joining any group, as he was planning to pursue a solo career. However, Dojoon was persistent and asked him to just hang out with them for practice. When Woosung met the rest of the band members, he felt positive vibes coming from the group, so he then decided to give it a try, and they immediately clicked; before the year ended, Woosung became the fourth and final member of the band.
They were known to have been busking around the hip places in Seoul, and gained fans from these activities. When they were ready and had plenty of self-composed songs, they looked for a record label to manage their careers as they were already planning to enter the mainstream market.
In 2016, the band signed up with a small agency, J&Star Company.
The Rose Debut, Solo Concert and First Solo Concert (2017)
In consultation with their label, they agreed to ditch the old band name, Windfall, and chose The Rose as their new name. Most K-Pop groups would create color or animal representation for each member, so fans could easily identify with the band. Woosung and the rest of the group found it squirm-worthy as they weren't groomed to be K-Pop idols, but eventually gave in to their label's suggestion. Woosung became the White Rose, which symbolizes purity.
On 3 August 2017, Woosung along with Dojoon, Hajoon, and Jaehyeong debuted with the release of the single entitled "Sorry." While it didn't enter the Gaon Charts, many were surprised that it charted on the US Billboard World Digital Song Sales chart, peaking at No.14. Many popular online music sites praised their debut single, as it offered the soft-rock music genre, which was a great alternative to the usual bop from K-Pop groups, and Woosung's control over his unique raspy voice was recognized as exemplary by music critics.
Within four months of the release of the official music video, it gained three million views, which was a huge accomplishment for them, considering that they were being managed by a small, unknown record label.
They followed it up with the single "Like We Used To," released on 2 November 2017. By the end of the year, their debut single made it to No.7 on the critics' annual list of Billboard's Best 20 Korean Pop songs. It was described as 'intensely evocative vocals and a melancholic brand of instrumentation that rises and falls with the heart-wrenching ballad's emotional tension.'
The band ended their debut year with a solo concert in Seoul on 24 December 2017, with only two officially released singles under their belts. They performed covers of popular songs, as well as unreleased songs that they used to perform during their pre-debut busking period.
Mainstream's Breakout Artist and European Tour/US Tour(2018)
In January 2018, the band shocked local fans as well as the music industry as they announced that they would be going on the European Tour entitled "Paint It Rose", and that the tickets were already sold out. The rookie group might not be that popular in South Korea, but they had amassed international fans who were excited to see them perform live.
When they embarked on their tour in February, Woosung and his band were completely amazed that they performed to sold-out concerts in Budapest, Brussels, London and Moscow.
Woosung and his band started to gradually gain recognition in South Korea, as they were included in the line-up of performers for the 23rd Anniversary Concert of the Rolling Hall along with other indie bands.
The international music community continued to recognize their artistry, as Billboard had them in their list of five Korean break-out artists to watch out for in 2018. Even one of the biggest global K-Pop online communities, Soompi, included them in their yearly nominations for New Artist of the Year. In March, they found themselves traveling to the US to be part of the closing ceremony concert of the 29th Korean-American Student Conference in Chicago, sponsored by ,orthwestern University.
Back in Seoul, the band released their first EP called "Void" on 16 April 2018, consisting of eight tracks, with the song "Baby" as the lead track, "I.L.Y," "Candy," along with previously released singles.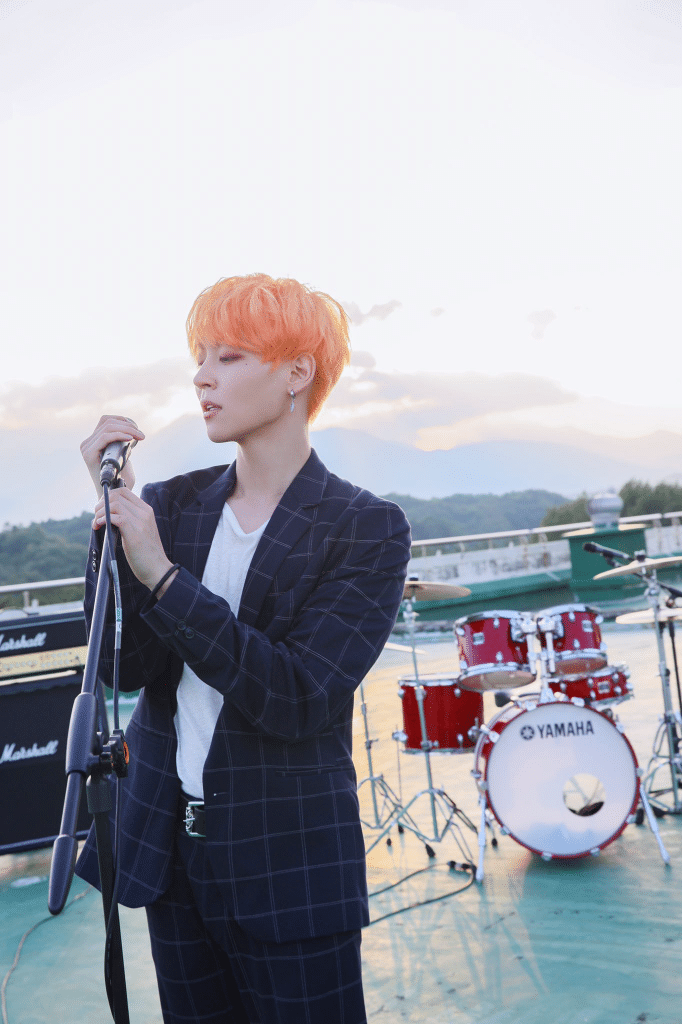 It charted at No.25 on the Gaon Album Chart, while it peaked at No.8 on Billboard's World Album Chart.
Following their successful European Tour and album release, there was a demand from fans in the US for concerts. The "Paint It Rose Tour in USA" happened in the month of May, with performances in seven cities including Seattle, Boston, Chicago and Los Angeles. Additional shows were added for the third leg of the world tour, "Paint It Rose in Mexico and South America"; they traveled to Monterrey, Mexico City, Sao Paolo and Rio de Janeiro in the month of June.
On 4 October 2018 they released another EP entitled "Dawn", with five tracks including "Take Me Down," "Insomnia," "I Don't Know You," and the lead track, "She's In The Rain." Finally, the band made it onto the top 10 list, and peaked at No.8 on the Gaon Album Chart. It also charted at No.5 on Billboard's World Albums Chart.
It was a busy year for Woosung, and when he thought the world tour had ended, the European fans couldn't get enough of them, so they held a second European Tour, this time performing in eight cities including Paris, Stockholm, Milan and Madrid for the whole month of November.
KCON Japan, Super Band TV Show (2019 – 2020)
With a string of successful international concert tours, the organizers of the annual Korean Convention invited them to perform in KCON Japan, held in Chiba in May 2019. The band's international activities didn't stop there, as Woosung and his group became even busier, and embarked on another world tour dubbed "We Rose You Live Tour." It kicked off in Seoul at the MUV Hall on 17 August 2018, followed by the US leg from August to September in which they had nine shows in cities including Los Angeles, New York, Washington DC and Chicago.
They also released the song, "Strangers," which was used as part of the original soundtrack for the mystery-thriller drama series "Hell Is Other People", aired from August to October 2019.
While things were going great for them on the international concert scene, Woosung and the band knew that they had to be visible on local TV to get more people to listen to their music.
They all joined the reality-TV band survival series entitled "Superband", produced by the JTBC network. The coaches were known artists and music producers, including Yoon Jong Shin, Yoon Sang, Lee Suhyun, and Joe Hahn of Linkin Park. They competed using their individual skills, and would form a team with other competitors. However, it was only Woosung who made it to the final round, with his team in fourth place.
After the survival series, the band continued with their world tours, performing again in Europe, and lastly in Asia in Manila and Kuala Lumpur.
As a Solo Artist (2019 – present)
During a break in their group activities, Woosung finally debuted as a solo artist with the release of his debut album "Wolf," on 25 July 2019. It consisted of five tracks, with "Face" chosen as the lead track. The EP peaked at No.19 on the Gaon Album Chart, and the lead track charted at No.21 on the US Billboard World Digital Songs Sales chart. Woosung composed and produced all the songs on the album.
He also became a TV presenter for the show called "After School Club", aired on Arirang TV with Park Jimin and Han Hee Jun. He did the show for nine months, leaving in December 2019 due to his busy schedule.
Woosung became part of two original soundtrack (OST) albums for TV drama series in 2019, such as "Catch the Ghost" with the song "Feel My Heart," and "Psychopath Diary" with the song, "Wanna Be Bad." In 2020, he was again tapped to lend his voice for the huge hit drama series "Itaewon Class," with the song "You Make Me Back."
Filed for Termination of Contract (2020)
In February 2020, Woosung and his bandmates filed a legal request for contract termination from J&Star Company, due to unjust treatment forcing them to follow an unreasonable schedule of activities. There was also a problem with lack of payment, financial transparency, and violation of the exclusive contract. The record label refuted the band's claims, and that they would countersue them.
Except for Woosung, the other members chose to enlist in the military for their mandatory obligation.
Personal Life
Woosung is officially single at the moment, as he has never admitted that he is dating anyone. Most K-Pop artists wouldn't admit to any dating, as it might harm their careers. However, he was embroiled in a dating rumor in November 2019 with actress Lee Yu Bi – fans speculated that they were dating when their posts on their Instagram accounts had similarities. Woosung posted a photo after they finished their concert in Paris, France holding two shopping bags from Chanel, while Yu Bi posted a photo on the same location wearing a Chanel jacket, and on the same day, which further fueled the rumors. Both their agencies denied it, saying that they were just friends, and that they attended the same Halloween party in Paris that was scheduled by their labels. The shopping incident was a group shopping expedition, which the Halloween party event organizer scheduled for them.
Currently, Woosung lives with other members of the band in an apartment provided by his record label.
Hobbies, favorites, rumors, and interesting facts
Woosung's favorites: "Too Good At Goodbyes" by Sam Smith (song), "The Hunger Games" by Suzanne Collins (book), oatmeal cookies (pastry), rice (food), Creed (cologne),
His biggest inspiration is The Beatles.
Woosung's odd talent is that he can fold his tongue.
He is lactose intolerant.
He hates spiders, and is allergic to cats.
Except for winning a Grammy, Woosung has achieved most of the things on his bucket list, including going to Milan in Italy, as well as having a World Tour.
Appearance
Woosung is 5ft 8ins (1.73m) tall and weighs around 145lbs (65kg), with a lean body; he used to be 10 kilos heavier and bulkier. He has black hair and dark brown eyes. He has a scar on his left shoulder courtesy of surgery done to set his dislocated shoulder when he was in high school. Woosung has at least six tattoos, such as the image of Michael the archangel on his right forearm, "1993" in Old English font below his nape, rose below his left collarbone, crown inside right forearm, the word Bonsaintz below the crown, and his mom's birthday in roman numerals on his left upper arm.
Net Worth
According to authoritative sources, Woosung has an estimated net worth of $2.5 million, as of April 2021.