Choi Hyo-jung – better known as Hyojung – is a South Korean singer and dancer, born on 28 July 1994 in Yangyang, South Korea. She's known for being the leader of the Korean pop (K-Pop) group Oh My Girl.
Just a simple reminder that article is created and owned only by kpopwiki.org. Article cannot be re-published in any other pages or documents. Copyright is protected by DMCA. All found copies will be reported.
Original source: https://kpopwiki.org/kim-hyojung-oh-my-girl-age-height-parents-boyfriend-bio/
Early Life
Detailed information about Hyojung's family and childhood is unknown, though she has revealed her family moved to Thailand when she was a baby, living there for six years.
Hyojung matriculated from Inseong Girls High School, and enrolled in the Dong-ah Institute of Media and Arts. Although it was through her talent that she passed the university's entrance test, her personality was a strong factor in the decision: 'the interviewer asked me: 'Why did you apply for this major?'
To answer their question, I replied, 'I wanted to create a K-Pop major myself! But, your institution made it first, so that is why I applied to become a part of it.''
In February 2019 Hyojung graduated with a major in K-Pop, sharing her feelings during that important event of her life through a post on her Twitter account: 'It feels like yesterday that I enrolled in university with all my passion and dreams. It feels strange to be graduating like this. I learned a lot from college and confirmed a lot of feelings about my future dreams. It was a priceless time for me.'
Career
Pre Debut
Hyojung became a trainee for Soul Shop Entertainment during her teens.
Though it's unknown exactly how long she stayed with the agency, she supposedly trained with them for several years. Hyojung attracted negative comments regarding her weight during her trainee years, as she revealed in an interview: 'I heard harsh words when I was a trainee. I was only 20 years old when I was told, 'Hyojung, I think you need to diet'.'
She revealed she was also called an "ahjumma", which is translated as "aunt", and is a term used to describe old-looking women. So Hyojung started a strict routine to lose weight: 'I worked hard on my diet and fitness for three months, so I lost six kgs and came to make my debut.' After her weight loss journey ended, Hyojung auditioned for WM Entertainment, and was signed by the agency as a trainee.
Debut
After being a trainee for WM Entertainment for six months, Hyojung officially debuted as the main vocalist and leader of the K-Pop group Oh My Girl on 20 April 2015, when the extended play (EP) "Cupid" was released. The group's first performance was a day afterwards, debuting in "The Show", a program broadcast by SBS MTV.
In October that year, the group's second EP "Closer" was released with a performance in the music show "M! Countdown".
More Music and JinE's Exit
After some months of inactivity, Oh My Girl released their EP "Pink Ocean" on 28 March 2016. The album included two main singles "Step by Step" and "Liar Liar".
In May 2016, the EP repackage of "Pink Ocean" entitled "Windy Day" was released, including two new songs and an additional version of "Liar Liar" in Chinese. This work was followed on 1 August by the single album "Listen to My Word", which reached the number one position on Gaon's charts. Later in April 2017, Oh My Girl released "Coloring Book".
After Oh My Girl's first solo concert in Seoul, Hyojung's bandmate JinE unfortunately temporarily left the group due to health issues related to anorexia. Although WM Entertainment had previously declared that JinE was recovering, in October that year they announced the termination of her contract.
2020 October 19#HYOJUNG #효정
Avengirls
10:00 PM KST#OHMYGIRLSCHEDULE pic.twitter.com/du9pho1q36

— Miracle Schedule (@OhMySchedule) October 19, 2020
In January 2018 the EP "Secret Garden" was released, followed by Oh My Girl's first music win in "The Show", and a trophy in "Show Champion". To celebrate their rising popularity, the group held various sold out concerts in Seoul, starting on 22 February.
In April the album "Oh My Girl Banhana – Banana Allergy Monkey " was released, introducing as well the sub-unit Oh My Girl Banhana, of which Hyojung is a member along with Binnie and Arin.
Later in June, Oh My Girl was officially signed by Sony Music Japan's label Ariola, which led to a re-release of "Banana Allergy Monkey" in Japanese in August, and the debut of the Banhana sub-unit in that foreign country.
Oh My Girl continued their activities in South Korea with the release of "Remember Me", their sixth EP which included the lead single of the same title, which was celebrated with a concert in October.
Japan Activities and Queendom
In 2019 Oh My Girl embarked on their first Japanese tour, with dates in Osaka, Tokyo and Fukuoka. This event was followed by the release of "Oh My Girl Japan Debut Album", which was not only the whole group's debut album in that country, but also marked the first studio album of their career. In May that year, Hyojung opened her own YouTube channel by sharing the song "Morning Sunlight", composed and written by herself.
After the release of their first full Korean album "The Fifth Season", Oh My Girl Continued their activities in Japan with the release of "Oh My Girl Japan 2nd Album".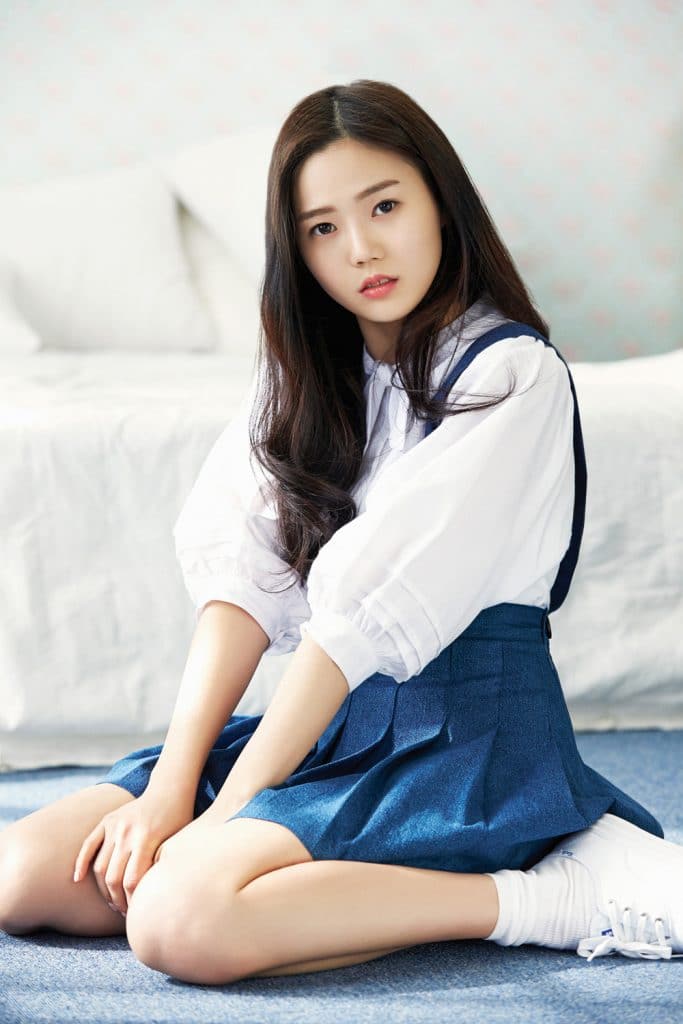 In August 2019, Oh My Girl appeared in the TV show "Queendom", which showcased a battle setting in which various girl groups had to prove their skills in order to win the competition. During the show's first voting round Oh My Girl was placed in last spot. However this unfavorable position wasn't enough to deter the girls, as Hyojung told News1: 'To be honest, we wondered whether the other groups would know our song. When we watched the broadcast, MAMAMOO was singing along to 'Secret Garden.' The other groups recognized our song too. After seeing that, we thought we shouldn't feel intimidated, and should just continue working hard since we have our own power.'
In the second round, the group obtained first place by covering the song "Destiny" by fellow girl group Lovelyz.
This was also Hyojung's favorite performance during the show: 'I think the story, concept, outfits, and choreography all fit together perfectly. Our chemistry was good too. We even did well during parts that didn't go too well during practice.'
During their participation in "Queendom", the group released the single "Guerrilla", which was performed during the show's final episode. However, despite their efforts Oh My Girl was placed second, defeated by MAMAMOO.
Eternally & More
In January 2020 Oh My Girl released the album "Eternally" in Japan, which contained versions of songs such as "Bungee" and "Guerrilla". Then on 27 April 2020, Oh My Girl released the EP "Nonstop", achieving a huge commercial success by peaking at number two on Gaon's chart.
Hyojung expressed her feelings regarding the album's positive reception in an interview with The Star Magazine: 'I still can't believe it, I feel amazed seeing Oh My Girl's name at the top of the music charts.'
The album was later re-released in Japan, along with the singles "Lemonade" and "Tar Rain". Later in August, Oh My Girl won a Bonsang at the Soribada Best K-Music Awards, and collaborated with Pororo the Little Penguin in the song "Supadupa".
Personal Life
Not much is known about Hyojung's personal life, thus details about her romantic partners are unknown. Management normally forbid any dating during the girls' first contract.
Hyojung is very close with Seulgi, a member of K-Pop group Red Velvet. During a VLive stream, the idol shared details about the friendship between the two girls: 'she's a friend that I care for very much.
Among the people I know, she's the most gentle and kind, she works hard, and she's thoughtful. She's just a really great person. She says the same about me, but in my opinion, she's so much more innocent and kind'.
Net Worth
As a result of her work as a member of Oh My Girl, Hyojung has an estimated net worth of closet o $1 million, as of late 2020.
Physical Appearance
Hyojung is a woman of gorgeous features, and is the smallest member of Oh My Girl. She's 5ft 2ins (1.58m) tall and weighs about 95lbs (43kgs).
Interesting Facts
Hyojung's zodiac sign is Leo, and her blood type is AB.
She was nicknamed "candy" and "Win-Hyo" by her bandmates.
She knows how to play the piano.
During her time as a trainee, she had several part time jobs in a variety of fields: 'That wide array of experience has helped me a great deal even in my promotions as a celebrity. I think it's also deepened the emotion in my singing'.
She loves autumn.
She is careful about removing her make-up every night, as it helps her to maintain healthy skin.
She was asked how she deals with her bandmates' problems in her leader's role: 'When I have concerns about our team, I'm the type to talk to everyone. When I'm having a hard time, I first talk to Seunghee. When I tell her my concerns, she thinks from the perspective of each member and shares her thoughts on how I can approach them'.
Hyojung always tries to keep herself physically active, and has been described as a pilates addict by her fellow members of Oh My Girl: 'I do Pilates four times a week in the morning. If I don't do Pilates, I go biking or I go to the gym to lift weights.'