Kei is the main vocalist of the South Korean girl group, Lovelyz, who became well known to the public with their 2015 hit song, "Ah-Choo".
Just a simple reminder that article is created and owned only by kpopwiki.org. Article cannot be re-published in any other pages or documents. Copyright is protected by DMCA. All found copies will be reported.
Original source: https://kpopwiki.org/kei-lovelyz-age-height-boyfriend-parents-net-worth-bio/
Early life and family
Kei was born Kim Ji Yeon on 20 March 1995, in Incheon, South Korea. All that is known about her family is that she has an older sister, who is a professional traditional dancer, and that she received so much love from her parents when growing up that she became an optimistic person.
Educational background
She matriculated from Incheon Youngsun High School in 2013.
Career
First steps
In the first week of November 2014, Woollim Entertainment introduced their debuting Korean Pop (K-Pop) girl group named Lovelyz with a pre-release digital single entitled "Good Night Like Yesterday" along with its music video, which features their label mate Sungkyu from the boyband Infinite. Their debut showcase was held at the Olympic Park in Seoul, and their debut stage was on Mnet's "M Countdown."
Lovelyz is comprised of eight members, with Kei as the main vocalist, lead dancer and the face of the group. Baby Soul is their designated leader and main vocalist, and the rest of the members are Jin (main vocalist), Sujeong (lead vocalist), Jisoo and Mijoo (main dancers), Yein (lead dancer), and Jiae (rapper and visual).
They released their studio album entitled "Girls' Invasion" on the 17th of that month, containing nine tracks including "She's A Flirt" sung by Kei and Baby Soul featuring Infinite's Dong Woo. The music video of the lead track, "Candy Jelly Love," has garnered over 6.5 million views since its release. The album peaked at No.7 (weekly) and No.16 (monthly) on the Gaon Album Chart; a repackaged album entitled "Hi" was released on 3 March 2015 with two additional tracks, and it did better on the charts as it peaked at No.4 (weekly) and No.12 (monthly) on Gaon.
Further steps
As part of their group promotions, they performed in various music shows and events, such as at the music festival or KCON (Korean Wave Convention) in Japan, "21st I Love You Korea Dream Concert" at the Seoul Olympic Stadium, and Korea Brand and Entertainment Expo in Shanghai.
The pre-release digital single, "Shooting Star," hit the online music stores on 14 September 2015. Their first EP (extended play) entitled "Lovelyz8" was digitally released on the 1st of October,and the physical album the following day. It didn't perform well on the music charts at first, but after they were done with their album promotions it climbed, peaking at No.2 on the Gaon Album Chart as the lead track, "Ah-Choo," became a hit among K-Pop fans. Its music video (MV) – with Infinite's Hoya making a cameo appearance – has accumulated more than 11 million views. Infinite is a successful and popular boy group, and the company included the boys in the promotional activities of Lovelyz to create interest and make them well known.
The group was much talked about when they performed an a cappella version of Michael Jackson's "Beat It" on the popular KBS' music program, "Yoo Hee-Yeol's Sketchbook," in November 2015. They were even featured on the American morning show, "Good Day Chicago," and on various online news sites.
They also celebrated their first anniversary with their fans in November through the V Live app in which they performed their songs and announced the official fandom name, "Lovelinus," which stands for "Lovelyz In Us." Before the year ended, they held a sold-out fan meeting and mini-concert, "Lovely Day," in Seoul and released the single album entitled "Lovelinus" with "For You" as the lead track.
"Lovelyz in Wonderland" was her group's first reality show, which aired for eight episodes starting in the first week of February 2016 on SBS MTV channel.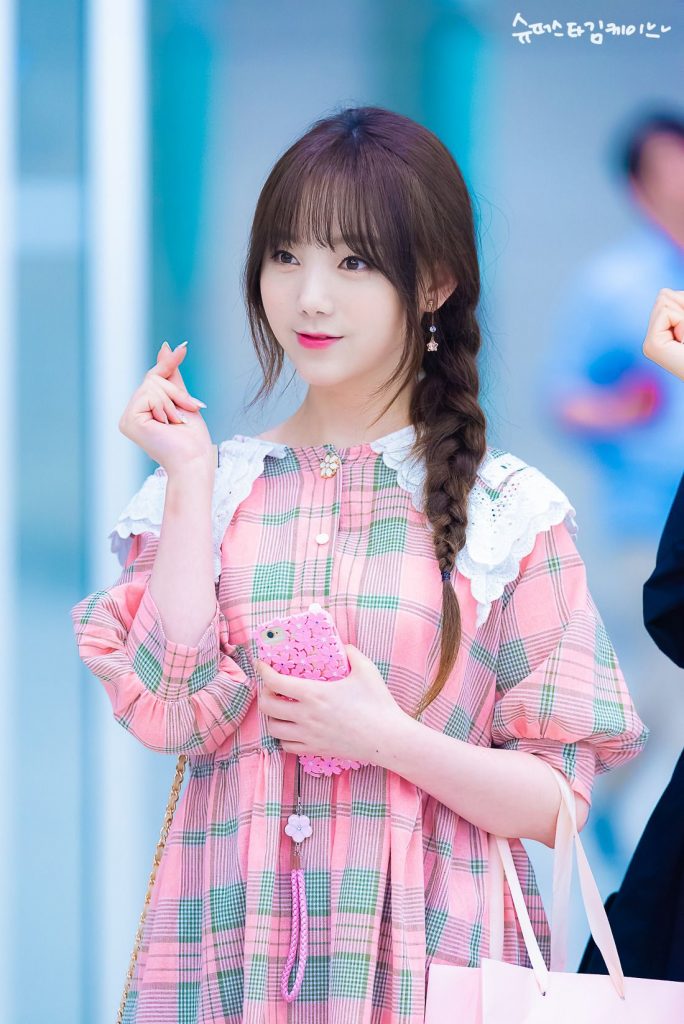 In April they released their second EP entitled "A New Trilogy," which peaked at No.5 on the weekly Gaon Album Chart, and was No.83 on the year-end chart. The official MV for the lead track "Destiny" has been viewed seven million times.
In August, they were chosen as anti-smoking ambassadors by the Ministry of National Defense, as part of their campaign to encourage South Korean soldiers to quit smoking.
In 2017, they held their concert "Lovelyz in Winterland," for three consecutive days in January, in Seoul. They released their second studio album entitled "R U Ready?" with 11 tracks in February, peaking at No.2 on the Gaon Album Weekly Chart. A re-packaged album, "Now, We," was released in May, and it has two new songs. It topped the weekly chart on Gaon, and the title track gave them their first win on a music show – SBS MTV's "The Show" in May.
The group members were in tears as they accepted their trophy, and it was Kei who led the group in thanking their CEO and fans.
A two-day sold-out concert, "Lovelyz 2017 Summer Concert (Alwayz)," was held in July at the Olympic Hall in Olympic Park, with more than two thousand attendees each day. In November, they released the seven-track EP, "Fall in Lovelyz," with the lead track, "Twinkle," which reached No.4 on the Gaon Album Chart.
The group held a three-day concert, "Lovelyz in Winterland 2," in February 2018 at the Blue Square Samsung Card Hall in Seoul, with a seating capacity of over a thousand. They released their fourth EP, "Heal," in April on the same day they held their comeback showcase. It has six tracks including "Watercolor", and the lead track, "That Day" which they performed on music shows. The EP peaked at No.2 on Gaon, No.43 on Oricon (Japan), and No.10 on Five Music (Taiwan) charts.
Also in 2018, they released the digital single, "Wag-Zak"; a compilation album, "Muse on Music," which has 33 instrumental versions of their songs previously released; and their fifth EP entitled "Sanctuary", with the lead track, "Lost N Found."
They held a series of concerts, "Lovelyz in Winterland 3," in Seoul, Singapore, Hong Kong and Taiwan from February to March of 2019. Their sixth EP entitled "Once Upon A Time" was released in May 2019, and it peaked at No.6 on the Gaon chart. It has six tracks including "Beautiful Days (When We Are Us)," and its official MV has more than two million views.
Lovelyz participated in Mnet's reality program, "Queendom," which was aired from the 29th of August to the 31st of October, in competition against the K-Pop artist, Park Bom, and four other girl groups, namely Mamamoo, AOA, (G)I-DLE, and Oh My Girl.
They performed their hit song, "Ah-Choo," a cover of Brown‑Eyed Girls' "Sixth Sense," and other songs that were given different arrangements. Kei formed a duo with Hwasa of Mamamoo, and performed "Wish You Were Gay" by Billie Eilish, which won them the vocal unit round. The group was fifth in the final ranking with Mamamoo winning first place.
On 1 September 2020, they released their seventh EP entitled "Unforgettable", with six tracks that include "Memories," "Dream in a Dream," and the lead track, "Obliviate," which they performed on "M Countdown," "Inkigayo," and "Music Bank." Its MV has more than six million views.
Even as they were busy with "Queendom" and album promotions, they managed to hold concerts – "Lovelyz 2019 Summer Concert (Alwayz 2)" – from August to September in Seoul, Osaka, and Tokyo.
[PICS] 201001 KEI instagram update https://t.co/zW79HheoTM#러블리즈 #Lovelyz #케이 #KEI @Official_LVLZ pic.twitter.com/ulgPBwcOtQ

— Lovelyz Global (@Lovelyz_Global) October 1, 2020
Out of more than 40 nominations they've received from various award-giving bodies, they only bagged three of them – the K-Pop Top 10 Artists (2015) from the Korea Culture and Entertainment Awards, the Popular Star Award (2019) from Asia Model Awards, and the New Korean Wave Artist Award (2019) from Soribada Best K-Music Awards.
Solo activities
Because of her sweet and rich voice, Kei was often given opportunities to sing original soundtracks of various television drama series, including "Love Moves On" from "Oh My Venus" (2015), "Star and Sun" from "The Emperor: Owner of The Mask" (2017), "If I May Convey My Heart" from "Last Empress" (2018), and "My Absolute Boyfriend" from the series of the same name in 2019.
She also joined singing competitions such as JTBC's "Girl Spirit" (2016) in which vocalists from 12 less well-known girl groups competed, MBC's "King of Mask Singer" (2017) disguised as the "Mouse Jerry" from the Tom and Jerry animation, and "Duet Song Festival" (2017) in which she sang with a non-celebrity partner.
Although she didn't win, she was able to display her singing ability to a wider audience. Because of the kind of songs that idol groups usually perform, with each member getting just a few lines to sing, most people are unaware of just how good a singing member of an idol group is until they perform solo or appear in this type of show.
Kei played the lead role in JTBC's web drama series, "Matching! Boys Archery Club," in 2016 and the musical play, "At the Age of 30," in 2017.
As the face of the group, Kei is usually the one who appears in Korean variety shows such as "Running Man" and "Knowing Brothers." In these shows, she showed an overabundance of charm and "aegyo" – the Korean word for talking and acting cute like a baby, to appeal to someone or to flirt.
On 8 October 2019, Kei released her solo EP entitled "Over and Over", which has six tracks including the lead single, "I Go." It didn't enter the digital charts, but it peaked at No.113 on Gaon Download Chart. Its MV has over half a million views.
Personal life
Kei is 25 years old and currently single. She revealed in a 2019 interview that she has never been in a relationship, and has never dated. She said that it was only when she's singing that she's able to feel love. There is still no news of her dating or seeing anyone since then. Her ideal type is someone who can lead her and whom she can be comfortable with. She is attracted to the bad boy type, who might seem cold to everyone else but takes good care of her.
She still lives in the dormitory provided by her agency, and shares her room with Mijoo.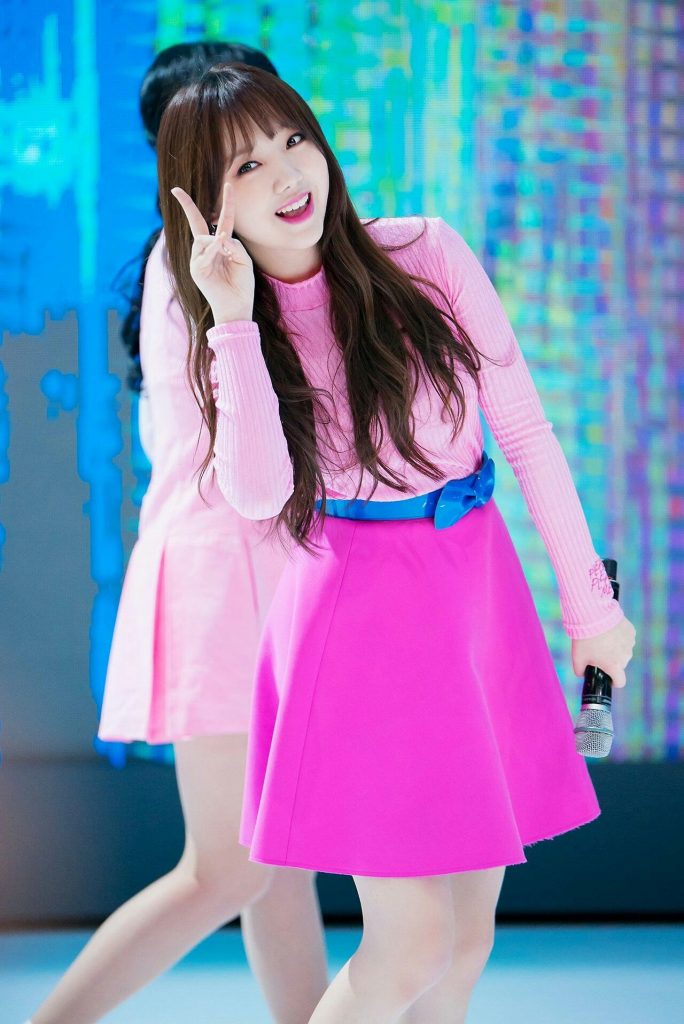 Hobbies, favorites, rumors, and interesting facts
Cooking is one of her hobbies.
She swims regularly.
Favorites: pastel colors particularly pastel pink and mint (color); chicken, samgyeopsal or pork belly, and jokbal or pig trotters (food).
She doesn't like pickles or any food with vinegar in it, or food with a strong smell that includes cinnamon and mint.
Her legs are the most attractive part of her body.
She is a huge fan of the South Korean actor, Kim Soo-Hyun, and considers him as her ideal type of guy.
Kei slipped on stage as she was performing during the last day of their "Lovelyz in Winter Wonderland 2" concert in Seoul, and had to sing while sitting in a chair for the rest of the performances. She was taken to hospital after the show, and was said to have sustained a knee injury. She still participated in their concerts in Japan, but was unable to do the dance choreography with the group.
Her older sister, Kim Min Ji, joined her in the "Idol National Singing Competition", as they performed Girl's Generation's breakthrough song, "Gee." Min Ji also danced as Kei sang for her mother in a special edition of "Girl Spirit."
She can imitate the singing voice of Bada (S.E.S.).
Her dream is for her group to win first place in a major music show. When she co-hosted KBS' "Music Bank" in June 2018, she wished that she could announce her group as the winner.
While she was recording, the sound engineer kept on saying that he hears rumbling noises. Urban legends usually attribute these sounds to ghosts in the recording studio, however, it turned out that the noises were coming from her empty stomach, as she prefers to record without eating anything.
There is no dating scandal involving Kei but even a rumor on April Fool's Day in 2017 of her going out on a date with BTS' Jimin at Gangnam District caused a major reaction from fans, who said that Jimin's a traitor for dating and that he could do better. Some even called her an ugly bitch.
She became close to Mamamoo's Hwasa due to their collaborative stage, and is still keeping in touch with her. Kei gave her a mobile gift card, and Hwasa sent her a Korean beef package.
One of their performances in "Queendom" was criticized for being too sexy, which attracted malicious comments and personal attacks. Apparently, some fans didn't like the deviation from their innocent concept. The members said that they wanted to show a new side of the group only during the show, but they have no plans of doing a sexy concept for their future promotions.
Appearance
Kei is 5ft 3ins (1.62 m) tall, weighs 105lbs (47kgs), and has a slim build. She has black hair and black eyes.
Net worth
Kei has an estimated net worth of close to $100,000 as of September 2020, according to sources.