Jang Gyuri – known by her stage name simply as Gyuri – is a South Korean singer, dancer and actress, born on 27 December 1997, in Yeosu, South Korea. She's known for being a member of the Korean pop (K-Pop) girl group Fromis_9 and for appearing in the TV show "Produce 48".
Just a simple reminder that article is created and owned only by kpopwiki.org. Article cannot be re-published in any other pages or documents. Copyright is protected by DMCA. All found copies will be reported.
Original source: https://kpopwiki.org/jang-gyuri-fromis_9-age-height-produce-48-parents-bio/
Early Life
Gyuri has a brother two years older than herself. Due to her father's career – he's am army Colonel – Gyuri's family moved various times during her childhood, but she started getting interested in music due to the influence of her mother, who is a music teacher. As a result of this, Gyuri learned to play the piano, guitar, violin and drums at an early age.
There's no information about her early education, however, during her teens Gyuri moved to Virginia, US and studied there for a year. This led her to improve her knowledge and skills in the English language.
Gyuri has always been an adventure fan, thus during her teens she traveled to various other countries, including Malaysia, Thailand and Japan. Nowadays Gyuri is studying acting at the University of Seoul.
Career
Idol School
Gyuri was a contestant in the reality show "Idol School", which premiered on 13 July 2017. In this survival program produced by Mnet, participants had to pass several elimination rounds in order to be a member of a soon-to-debut idol group. The show's concept was focused on creating a school setting, in which the contestants attended various classes and improved their skills through it.
Although the majority of girls who appeared in the show were independent trainees, Gyuri didn't have previous training.
During the show's finale on 29 September, it was revealed that Gyuri obtained more than 50,000 votes in her favor, and was placed number seven in the overall ranking, thus becoming an official member of Fromis_9.
Debut
A month after graduating from "Idol School", the nine members of Fromis_9 appeared in the show "Fromis' Room", which showcased their journey to debut, and daily life in their dorm.
Fromis_9 made their first public appearance at the Mnet Music Awards' on 29 November in Japan, during which they performed the not-yet-released song "Glass Shoes". Later in December, the group made their second performance, this time in the TV show "Music Bank".
Produce 48
Fromis_9 officially debuted on 27 January 2018 with the extended play (EP) "To Heart", which peaked on Gaon's album chart at number four. Fromis_9's second EP "To. Day" was released in June 2018, though it was announced Gyuri would be absent from promotions due to her participation in "Produce 48", a TV show which follows a concept similar to "Idol School", though in this program experienced idols were allowed to participate.
Fromis_9's fans were curious about Gyuri's participation in the show, as her debut had been very recent. She answered various questions regarding the situation: 'I think that even I would question, 'Why did she appear,' if I were a viewer. However, unlike the others, I was lucky and was gratefully able to debut without going through a training period. Maybe that's why, but I, myself, was lacking in so many ways after I debuted I especially (feel this way) when we're learning choreography.'
Her consciousness about her abilities was somewhat stopping her fellow Fromis_9 members from showing their full potential, as she revealed: 'Everyone kept being held back because of me, so I kept feeling like I was inconveniencing them and that was really difficult. That's why I think I practiced two, three times more than the others, because that was the only way I could keep up.'
Gyuri was finally placed number 25th in the overall rank, resuming her activities with Fromis_9 after her elimination from the show.
New Label & Album
Fromis_9 was initially signed by Stone Music Entertainment, however, in September 2018 the agency announced the group would be placed under the management of the newly created label Off The Record Entertainment. This company was founded exclusively for Fromis_9 and fellow idol group IZ*ONE.
https://t.co/jbPD2OSUru !! pic.twitter.com/lBEIkrNArQ

— gyuri pics! (@gyuriarchives) July 4, 2020
In October Fromis_9 released their album "From.9", including the song "Love Bomb". Gyuri explained the title of the album in an interview: 'it means it's an invitation from then nine of us and that we are beginning things again as a nine member group.'
After this reléase, the group premiered their web drama series entitled "Welcome To Heal Inn". However, Gyuri didn't appear in it as the show was filmed during her participation in "Produce 48". Despite this, in February 2019 Fromis_9 announced a second season of "Welcome To Heal Inn" was going to be premiered in November, though this time Gyuri would appear in the show.
In May 2019 Gyuri was cast in the drama "Compulsory Dating Education", marking her solitary acting debut.
New Album & More Acting
Fromis_9 made their comeback with the release of the album "Fun Factory" on 4 June 2019. The album achieved a huge commercial success, and placed number two on the Gaon chart. Then in September the group released "My Little Society", their first EP after more than a year of inactivity.
In July 2020 it was announced that Gyuri was cast as Sun Byul in the drama "It's Okay To Not Be Okay". Although Gyuri's role in the series is minor, her appearance has been deemed as positive, and is expected to give her a bigger spotlight, not only as an actress but as an idol.
Personal Life
Not much is known about Gyuri's personal life, thus details about her friends and romantic relationships are unknown, the latter normal for first contract idols who are banned from dating by management.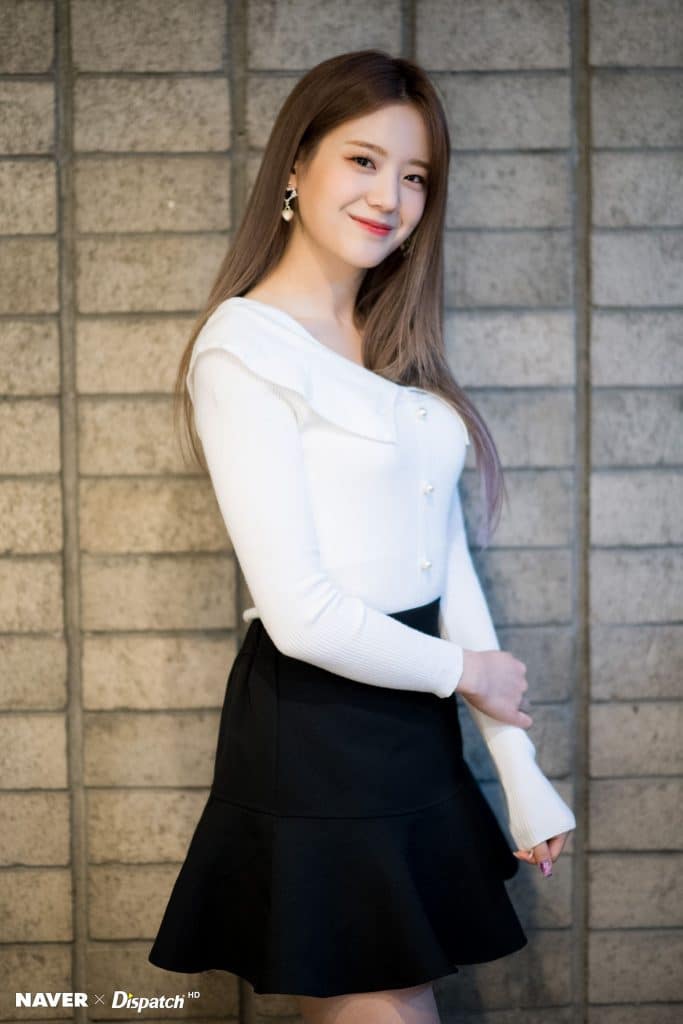 Beauty Care
Gyuri has been praised for her slender appearance and gorgeous features. When asked about her beauty routine in an interview with Girlswalker, she said: 'This is a habit I've continued for over a year now, but leave 14 hours in between my daily meals. For example if I were to eat dinner at 7pm I won't eat anything till 9am the next morning. Through that I take vitamins and supplements to make up for the deficiency of nutrients.'
Net Worth
As a result of her work as an actress and member of Fromis_9, Gyuri has an estimated net worth of closet o $100,000, as of late 2020.
Physical Appearance
Gyuri is a gorgeous woman who is widely recognized by her bright smile. She is 5ft 6ins (1.68m) tall and weighs around 11lbs (50kgs).
Interesting Facts
Gyuri's zodiac sign is Capricorn.
Her blood type is B.
She doesn't like to act cute, and has been nicknamed as the "father" or "general" of the group by her bandmates. However, she's also known as "puppy eyes" and "Gaejook".
Fans have said she looks like BLACKPINK's Jisoo, and resembles label mate Wonyough of IZ*ONE.
Besides improving her acting skills, she's interested in learning to play the flute, and in working as a radio DJ.
She made a brief appearance in the MBC's "King of The Masked Singer".
She thinks she inherited her father's personality and way of talking.
Autumn is her favorite season.
Her favorite movie genres are romance and horror.
Gyuri likes to eat pork, and peaches. She likes to drink red bean tea for beauty purposes.
Her family is currently living in Pangyo, though in the past they have lived in various cities such as Uijeongbu, Gyeryeong and Busan.
She practiced figure skating during her childhood.
Despite her strong character, she cries easily.
She doesn't like mathematics.