Yoo Yeonjung is a South Korean vocalist, who achieved popularity when she participated in the first season of Mnet's reality show, "Produce 101". She then debuted as a member of I.O.I. as well as being a current member of the Korean-Chinese girl group, Cosmic Girls, also known as WJSN (Wonder, Joy, Sweet, and Natural).
Just a simple reminder that article is created and owned only by kpopwiki.org. Article cannot be re-published in any other pages or documents. Copyright is protected by DMCA. All found copies will be reported.
Original source: https://kpopwiki.org/yoo-yeonjung-wjsn-i-o-i-age-height-boyfriend-wealth/
Early life and family
Yoo Yeonjung was born on 3 August 1999, in Gwangmyung, Gyeonggi, South Korea. The surname, Yoo, is sometimes spelled as Yu. All that is known about her family is that she has a younger brother.
Education background
She matriculated from Hanlim Multi Art School, then attended Dankook University and majored in musical theatre in 2017.
Career
First steps
She is a former trainee of SM Entertainment before she signed up with Starship Entertainment. It has not been long since she became a trainee, when she was given the chance to compete for a spot in the debuting group that Mnet was planning.
 "Produce 101"
In 2016, Yeonjung and two of her co-trainees from Starship Entertainment joined the survival reality show, "Produce 101", aired on Mnet from the 22nd of January to the first of April for 11 episodes. Out of 101 trainees from 46 entertainment companies, only 11 were chosen to become members of the girl group, IOI, which stands for the Ideal of Idol. The participants received training from the show's coaches for singing, dancing, and rapping, and took lessons in English, speech, and makeup, as well as receiving therapy sessions. They were grouped and given missions that would show their talents and skills as they competed against each other for the viewers' affection.
The winners were determined through a live audience, text, and online voting; they received additional votes as the prize. The competition gets tougher, as those who received the least number of votes were eliminated during the first and second elimination rounds. In the last episode, the final votes were cast, and the top 11 members with the most number of votes would form the debuting group.
Despite Yeonjung's singing prowess, she received hate from some viewers during her stint in the reality show – some were quite vocal, even calling her "too ugly" and "too fat" to be an idol. She was actually identified as one of the trainees who needed to go on a diet by their physical fitness trainer, as she weighed 120lbs (55kg) at that time, so she became embarrassed by it.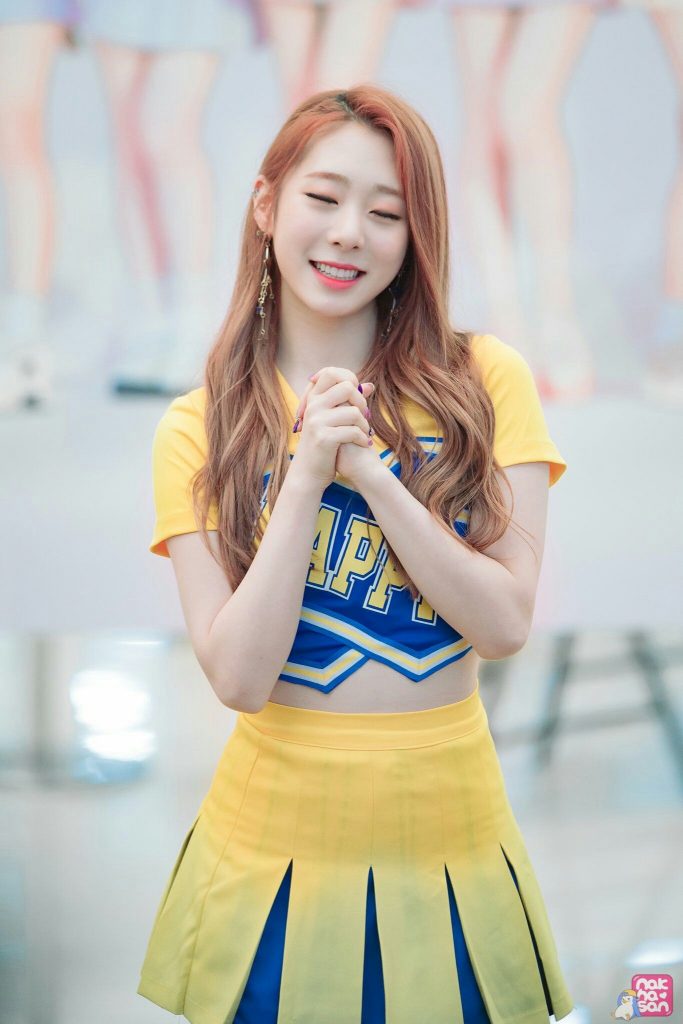 While she was often praised by their vocal coaches and was given the parts with high notes to sing as she can deliver them well, she still received hate and malicious comments from fans of other trainees who were outshone by her; she was accused of being greedy or for "stealing" those parts. She was aware of this which was why she refused to become the main vocalist at one point, as she didn't want to receive more hate mail. However, she was still voted on by her co-members to take on the role, as she was undoubtedly the best vocalist in their team.
Fortunately, there were more people who liked her than those who did not, so she made the cut and became the 11th and last member of the debuting group with almost 137,000 votes during the last episode. The winners would promote as a group for one year under YMC Entertainment, but each one is still under contract with their original agency.
Prior to debut, Yeonjung and her co-members starred in their own reality program entitled "Standby I.O.I.", that documented their preparations for their debut that included recording music, practicing their dance choreographies, and filming their music video. All this was shown in two episodes that aired on the 22nd and 29th of April.
Her debut as a member of I.O.I
All members of a K-Pop (Korean Pop) group can sing and dance, while a few of them can rap. Even so, each one is given a specific role in the group, and this is how they are introduced when they appear in various television shows. Yeonjung was one of the main vocalists of the group.
The digital release of the group's debut extended play (EP), "Chrysalis," was on 4 May 2016, followed by a debut showcase held the next day at the Jangchung Gymnasium in Seoul.
During the show, the other members showed their support of Yeonjung, and praised her for being a kind friend, who has a bright personality and the ability to make them laugh.
The physical release was on 9 May 2016, and it contains seven tracks including "Pick Me," the official theme song of their reality show that became a hit; "Crush" and "When Cherry Blossoms Fade," which they previously performed during the said show; and the title track, "Dream Girls." They performed a couple of songs on Mnet's "M Countdown" and SBS cable channel's "The Show," but they were unable to do it in the music shows of the three major networks in Korea, namely SBS, MBC, and KBS as they were a group that was basically created and produced by another network, Mnet (Music Network), owned by CJ E&M. It peaked at No.4 on Gaon weekly and monthly charts, with almost 75,000 physical copies sold by the end of the year.
Her debut as a member of Cosmic Girls
I.O.I. formed a seven-member sub-unit when they released the single "Whatta Man (Good Man)," on 9 August 2016. Yeonjung was not part of that, as she debuted as the 13th member of her management agency's girl group, Cosmic Girls, which officially made their debut with 12 members back in February 2016. The group is comprised of Korean and Chinese members who are divided into four sub-units, namely Wonder, Joy, Sweet, and Natural; hence the group's other name, WJSN.
When she joined them, she became one of their main vocalists as well, and she did the recording for their second EP, "The Secret," which was released digitally on the 17th August and physically on the 19th.  It peaked at No.6 on the Gaon Album Chart with close to 15,000 copies sold, and reached No.49 on the Gaon Digital Chart, with more than 135,000 downloads by September.
After Cosmic Girls' promotional activities, she joined I.O.I. as they released their second EP entitled "Miss Me?" on 17 October. It was a commercial success having reached the No.2 spot on the Gaon Album Weekly Chart and No.28 on the year-end chart with close to 94,000 copies sold. All five tracks entered the Gaon Digital Chart, with the title track, "Very, Very, Very" topping the Gaon Digital Chart, and winning first place in three music shows; it was composed, written, and arranged by Park Jinyoung, the founder of JYP Entertainment.
January 2019 was a busy month for Yeonjung, as she had to divide her time between the activities of the two girl groups. Cosmic Girls released their third EP, "From WJSN," on the 4th of January; it contains six tracks that include "Baby Come To Me," "Say Yes," "Hug U," and the lead track, "I Wish," which reached No.49 on the Gaon Digital Chart. It peaked at No.4 on the Gaon Album Chart.
I.O.I., on the other hand, released their last single, "Downpour," on 17 January 2017, and then held a three-day concert, "Time Slip – I.O.I." from the 20th to the 22nd of January, in Jangchung Gymnasium. After filming a commercial for a brand of school uniform on the 25th, they officially disbanded on the 29th. Their final song won on SBS' "Inkigayo" on the 31st.
After the disbandment, Yeonjung was free to focus on Cosmic Girls' activities, including recording for more than a dozen variety shows in February. Their first concert entitled, "Would You Like – Happy Moment," was held on the 19th and 20th of May with a total of 2,000 attendees. A little over two weeks later, they released their full-length album entitled "Happy Moment," which topped Hanteo's real-time and daily charts upon release. It has 10 tracks including "Miracle," "Mr. Bad Boy," "Closer To You," and the title track, "Happy."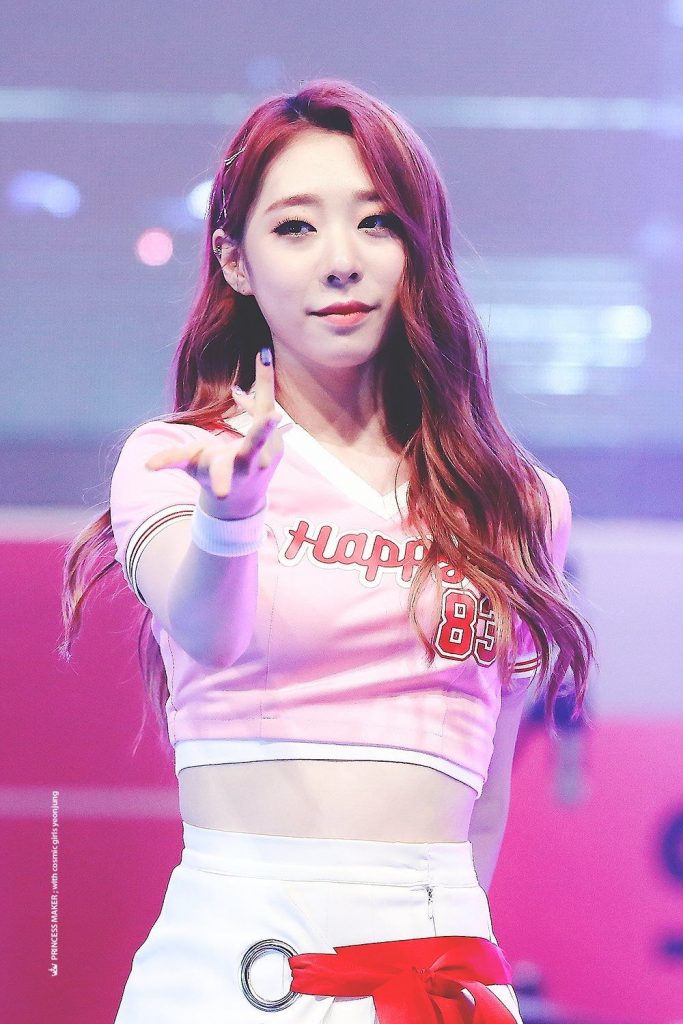 "Dream Your Dream," the group's fourth EP, was released on 27 February 2018, and they first performed the lead track, "Dreams Come True," at their comeback showcase held at the Yes 24 Live Hall, which was broadcast live on the Naver app V-Live that same day. After six months, they released the fifth EP entitled "WJ Please?" with the lead track, "Save Me, Save You" giving them their first win on a music show.
In 2019 they released their sixth EP entitled "WJ Stay?", that peaked at No.2 on the Gaon Album Chart then they released a special album, "For The Summer," which topped the music charts, with the lead track, "Boogie Up" giving them four music show wins. They held a two-day concert in Seoul in March, then went on a Japanese tour in August that started in Tokyo, followed by Osaka and Nagoya. The seventh EP, "As You Wish," released on the 19th of November also performed well, as it reached No.2 on Gaon's weekly chart.
181111
she's sooo cute 😫 pic.twitter.com/jRdpWoN9ST

— yeonjung pics (@archiveyeonjung) November 17, 2018
They held a concert in Seoul entitled "WJSN Concert Obliviate" in February 2020 followed by another in Tokyo, Japan in March. Their eighth EP, "Neverland," was released in June 2020, and was their first EP to sell over 100,000 copies.
Other activities
She appeared in a cameo role in episode one of TvN's fantasy series, "A Korean Odyssey," aired on 23 December 2017.
As a powerful vocalist, it is not surprising that she was given the opportunity to sing the soundtracks for television drama series such as "You're Dazzling" for the KBS' historical drama, "Queen of Seven Days" (2017); "Stay With You" for the SBS' romantic drama, "Where Stars Land" (2018); and "Tell Me, Please", for TvN's fantasy romantic drama "Melting Me Softly" (2019).
She participated in the quest for the Queen of Vocals in TvN's reality program entitled "V-1," which stands for Vocal No.1. Among those who sent their audition clips, only 24 girls from various girl groups were chosen by the production team, and from them only 12 who received the most number of votes from the public made it to the show to compete. The VIP voting squad consists of 101 members who would vote during match-ups. The final winner was Yeonjung.
Personal life
She is 21 years old and currently single. It is unlikely that one would hear news of her dating or seeing anyone, as she is still bound by the no-dating policy spanning three to five years after debut that was imposed by her label as is usual for members of K-Pop idol groups. Should she be allowed to date, it would likely be done in secret while she is still a member of a girl group. This is done to protect not just her career but also the group's image.
Hobbies, favorites, interesting facts, and rumors
She earned the nickname, "Cider Vocals," for managing to hit the high notes when her group in "Produce 101" covered the song, "Into The World," of Girls Generation. Her voice is said to be as refreshing as cider.
She lost six kilos in two months to prepare for one of their comebacks. It took her a while to find the right diet and workout regimen -s he said that doing Pilates was fun, which made it easy for her to lose weight that fast.
Fans of Yeonjung were angered by the omission of her name on one of the photos included in the EP "Chrysalis." According to YMC Entertainment, it was just in that one photo that the mistake was made, and they corrected it; her name was in all the other pages.
Their Best New Artist (Female Group) Award from MAMA (Mnet Asian Music Awards) became controversial because they won against YG Entertainment's Blackpink whose debut year was also quite successful. It was said that MAMA was biased toward I.O.I. because their network was the one that created the group.
"Produce 101" became so popular that even before the finale was broadcast, the debuting group already had several endorsement deals worth more than a million dollars waiting for them.
She went on a temporary hiatus in October 2018 for medical reasons. She was hospitalized and was forced to halt all her activities to regain her health. According to her label, she was suffering from hypoglycemia, low blood pressure, and physical exhaustion.
In 2016, the manager of I.O.I. was fired when his treatment of her was captured on video by a fan, and it became viral after it was posted on the internet. Yeonjung was greeting her fans before boarding the company vehicle when the manager yelled angrily at her to hurry up.
Appearance
She is 5ft 4ins (1.66m) tall, weighs 115lbs (52kg), and has a slim build. She has black hair and brown eyes.
Net worth
According to sources, Yoo Yeonjung has an estimated net worth of close to $1 million, as of September 2020.