Xu Minghao aka The8 (Seventeen) Bio
Xu 'The8' Minghao was born in Anshan, Liaoning, China on 7 November 1997 – his zodiac sign is Scorpio and he holds Chinese nationality. He is a singer, dancer and songwriter, perhaps best known for being a member of the group Seventeen and its sub-unit Performance Unit. '8' is popular in Chinese culture, as when laid out it represents infinity
Just a simple reminder that article is created and owned only by kpopwiki.org. Article cannot be re-published in any other pages or documents. Copyright is protected by DMCA. All found copies will be reported.
Original source: https://kpopwiki.org/xu-minghao-aka-the8-seventeen-age-height-girlfriend-bio/
Early life and education
The8 was raised as an only child in Anshan by his father who is the owner of his own small business, and his mother who is working as a secretary at a local company.
The8 grew up watching a lot of TV, and decided that he wanted to become a superstar just as those he had seen in shows, so started working on his singing skills at the age of seven. He attended his first audition while in third grade, and not passing it only made him work and practice harder. He attended a high school of the performing arts at which he practiced singing, dancing and acting, and upon matriculation in 2015, he enrolled at the Beijing Contemporary Music Academy, from which he graduated with a Bachelor of Arts degree in 2019.
Career as a singer and his band Seventeen
The8 made his debut TV show appearance in 2008 when he appeared in the "CCTV Variety Show" and two years later, he was cast to appear in the Chinese talk show "Day Day Up". He competed in the 6th Shanghai World Dance Competition on 27 April 2012, and ranked among the top eight.
In late 2013, the show "Seventeen TV" began airing on UStream, launched to find the members of the new boy group by Pledis Entertainment – The8 didn't join the show until late 2014. Just before the boys debuted, they starred in their own reality TV show – "Seventeen Project: Big Debut Plan" – which began airing on 2 May 2015 and ended on 26 May,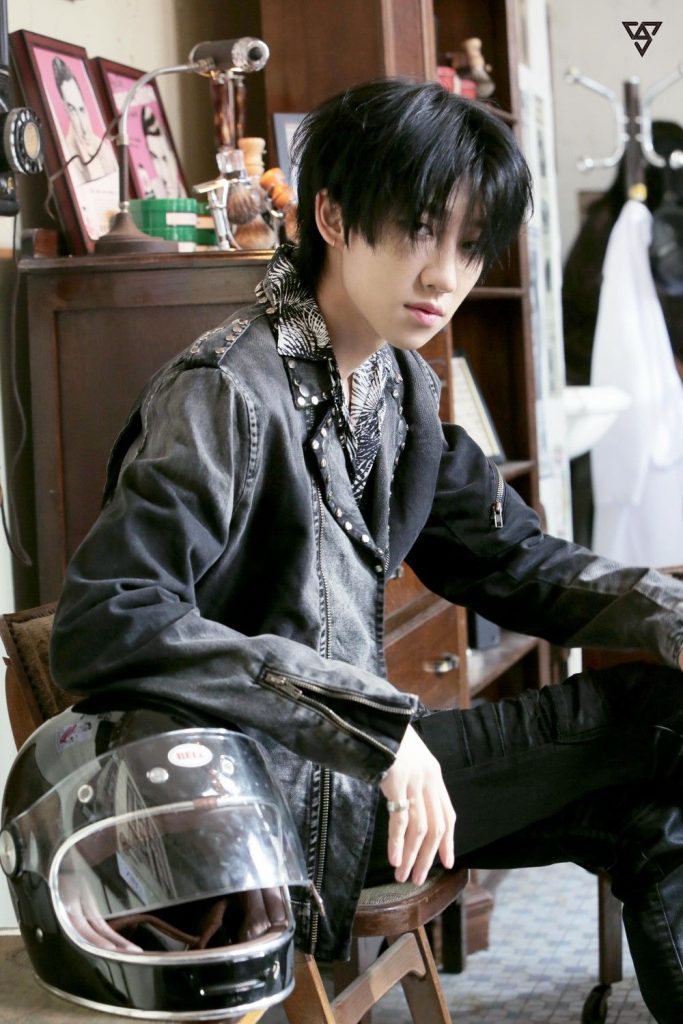 The same day they made their debut when they performed in a live showcase, a show which aired on the MBC network, and thus became the first K-pop group to debut in such a show and be given an hour to perform. On 29 May, they released their debut EP "17 Carat", which found itself on the Billboard 10 Best K-pop Albums of 2015 Chart, the only debut EP on the chart. Seventeen released their new EP "Boys Be" on 15 September, and it won them several awards including a Gaon Chart K-pop and a Golden Disk, while the boys also found themselves in the list 21 Under 21 2015: Music's Hottest Young Stars compiled by Billboard.
They embarked on their first tour on 24 December called "2015 Like Seventeen – Boys Wish", followed by two similar tours in February 2016.
The boys released their debut full-length album, "Love & Letter" on 25 April 2016 which entered several charts, including the Japanese Oricon Weekly Pop Album Chart – following its release, Seventeen won a music show with the album's lead song "Pretty U". The repackaged version of "Love & Letter" came out on 4 July with its lead song "Very Nice", and to promote it the boys went on a tour called "1st Asia Tour 2016 Shining Diamonds", singing in countries such as South Korea, Japan, Australia, Singapore and Indonesia as well as China.
They ended the year 2016 with the release of their third EP – "Going Seventeen" – on 5 December.
On 15 February 2017, Seventeen embarked on their tour "17 Japan Concert: Say The Name #Seventeen", holding six concerts through 24 February. On 22 May, their new EP entitled "Al1" came out, which topped several Chinese charts. They started their first world tour in September called "2017 Seventeen 1st World Tour Diamond Edge" completing it on 6 October after having performed in thirteen Asian and North American cities. Exactly a month later, their second studio album came out called "Teen, Age".
On 5 February 2018, the boys released their special album "Director's Cut", which consisted of songs they had previously released as well as four new songs – the album's lead single "Thanks" topped the iTunes Chart in nearly 30 countries on several continents including Asia, South and North America and Europe. Around this time, the magazine "Time" ranked Seventeen among the best K-pop groups of 2018. On 30 May, the boys released their debut Japanese mini-album called "We Make You", followed by their new EP "You Make My Day" on 16 July, which became their first to be certified platinum.
xu minghao aka the8 of korean boygroup seventeen reportedly went to japan and returned to korea, fully transformed into an anime character pic.twitter.com/o5H6JNLaoe

— ً (@ninefivejeu) April 16, 2018
On 21 January 2019, the boys' sixth EP came out entitled "You Made My Dawn", with its lead song "Home" – the new EP won trophies in four music shows including "M Countdown" and "Show! Music Core", thus helping the boys win two 'triple crowns' and a 'grand slam'. They released their debut Japanese song "Happy Ending" on 29 May, and it topped the Oricon Daily Chart and was certified platinum shortly after. On 5 August, their new digital single was released entitled "Hit", followed by their third full-length album "An Ode" on 16 September.
On 1 April 2020, Seventeen's second original Japanese song came out called "Fallin' Flower", which topped the Billboard Japan Hot 100 Chart.
The boys began starring in their own documentary series "Hit The Road" on 13 May, when its first video was uploaded onto YouTube – the series follows the boys during their tour "Ode to You".
Most recently on 22 June, Seventeen's seventh EP was released entitled "Heng:Garæ", which sold over a million copies in less than a week.
Love life and girlfriend
The8 hasn't talked about any girls he might have dated since he debuted with Seventeen, and the main reason behind this might be the dating ban put on him and his friends from the group by their agency – it is widely known that a huge majority of K-pop agencies don't allow their rookie artists to date because of the negative effect this might have on their groups.
None of the boys from Seventeen have been involved in any dating rumors, but it is known that Dino (Lee Chan) asked his crush, Yang Hyun Suk to go out on a date with him, however, the girl rejected him – the negative response hurt Dino who had prepared for the move several days prior to that.
As of August 2020, The8 is single, hasn't married and doesn't have children.
Hobbies and other interests
The8 is interested in martial arts and has been practicing Chinese Wushu since the age of five – he has competed at the National Children's martial arts tournament since the age of nine, that year marking his first tournament win.
Summer is his favorite season as he enjoys the feeling of the sun on his skin as well as swimming in the ocean and going snorkeling.
The8's favorite number is seven although many believe it is eight because of his stage name.
He is a breakdancer and has been practicing the dance for nearly 10 years now. When he is feeling anxious or is stressed out, The8 usually calms himself by reading a book.
He prefers to eat Chinese food over South Korean.
In his spare time, he likes to watch both American and South Korean movies, and some of his favorites are "The Godfather" trilogy, "12 Angry Men", and "Parasite".
The8 has a driver's license, and likes to drive around in his spare time as well.
Age and height
The8's age is 22. He has brown hair and his eyes are brown as well, while his height is 5ft 10ins (1.79m) and he weighs around 128lbs (58kgs).
As of August 2020, his net worth has been estimated at over $400,000.