Shindong is a South Korean singer, rapper, dancer, radio personality and MC, who rose to fame as a member of one of the most successful boybands in South Korea called Super Junior, under SM Entertainment. They gained international recognition in 2009 with their best-selling single, "Sorry Sorry," earning them the title of "Kings of Hallyu Wave." They continued to reign in the Korean Pop scene with "Miina (Bonamana)," "Mr.Simple," and "Sexy, Free & Single." Shindong also became popular as an exceptional host of radio and television shows.
Just a simple reminder that article is created and owned only by kpopwiki.org. Article cannot be re-published in any other pages or documents. Copyright is protected by DMCA. All found copies will be reported.
Original source: https://kpopwiki.org/who-is-shindong-from-super-junior-weight-loss-wife-bio/
Early life and family
Shin Dong-Hee was born on 28 September 1985, in Suwon, Gyeonggi-do, South Korea. He was raised in Mungyeong in North Gyeongsang, but his parents divorced and he stayed with his father, while his sister, Ahn Dayoung, who is 13 years younger than him and carries his mom's last name, stayed with their mother.
People thought he was an only child as that was indicated in his official profile, and it took him a while to reveal the truth. He decided to be honest about it as he felt bad about his sister not being able to tell her friends that he is her older brother. During vacations, he visited and spent time with her. He also said that he 'practically raised her when she was young.' He wanted to give her everything, but they had financial difficulties that time. When he started earning money, he gave his sister a credit card so that she could buy whatever she wanted.
Educational background
It was said that he went to China for six months when he was six to study. Shindong matriculated from Sewon High School, and graduated from Paekche Junior College with a Major in Dance.
Career
First steps
People were surprised to learn that Shindong was a member of a boyband, as he defied expectations of what an idol should be due to his big size. They thought he must be extremely talented and good at singing, but it turned out that he's actually great at dancing; being chubby wasn't a hindrance for him to realize his dreams.
Shindong's dancing skills won him the grand prize at the Goyangsi Youth Dance Contest in 2002, then the gold the following year. When Mnet held an Epi Contest in 2004, he joined and took home the popularity award and gold prize. At SM Entertainment's Best Youth Contest in 2005, he won the grand prize for Best Comedian, then signed up with the company, and began his training to become an idol.
Debut as Super Junior
He trained for eight months before he was included in the 12-member idol group, Super Junior 05, launched by SM Entertainment in November 2005.
He used Shindong as his stage name, as Dong-Hee, his first name, sounded similar to another member, Donghae. Other members of the group included Leetuk (leader), Eunhyuk, HanGeng, Heechul, Kangin, Kibum, Ryeowook, Siwon, Sungmin, and Yesung.
Lee Sooman, the company founder, formed the group with 12 members who were also good in various fields of entertainment, such as acting, modeling and hosting, making the boyband well-rounded. He called them "The Gateway to Stardom of Asia." His initial concept for the group was similar to that of Morning Musume, a Japanese girl group with a graduation system to keep the group young.
The group officially debuted on the 6th of November, and performed their first single, "Twins (Knock Out)" on SBS' "Popular Songs."
This was a cover of the 2003 rap rock song, "Knockout," by the British pop/rap group called Triple 8. It was also the title track of their digital single album released on 8 November 2005.
Shindong and the boys' first studio album, "Twins," was released on 5 December 2005, which sold 28,500 copies that month, and topped Korea's Hanteo Weekly Chart, and reached No.70 on the Recording Industry Association of Korea (RIAK) year-end chart. It consisted of 11 tracks with the lead single, "Miracle," a bubblegum pop song, and entered Taiwan's and Thailand's music charts. They collaborated with the popular boyband and label mate TVXQ, in "Show Me Your Love," which was released on the 15th and was No.35 on the year-end chart of RIAK, with close to 50,000 copies sold.
Kyuhyun was added to the group in 2006, and they released the single album, "U," in June. It claimed the top spot on the RIAK Chart with over 80,000 CD sales, and its title track had 1.7 million downloads and won them their first music show trophy courtesy of SBS' "Popular Songs."
Shindong's group also won the Rookie of the Year Award from Melon Music, Seoul Music, and Mnet Asian Music Awards.
When the company tried to add Chinese members, namely Henry and Zhoumi in 2007, the group's fandom called ELF (short for EverLasting Friends) held a rally and petitioned the company to not add more members after Kyuhyun. The new members were then launched under the sub-unit, Super Junior-M (M for Mandarin), but not as part of the Super Junior group. The company abandoned their original concept for the boyband, and made the 13 members permanent with the suffix '05 dropped from their name.
It's a pro, a pro!
With Shindong and his professional look~!

Shindong, who got a little time to spare, and his sweet smile✨ pic.twitter.com/8bKUIOB2sa

— reen ✨ (@oreoryeo) March 9, 2021
Further steps
Shindong and five other members formed the sub-unit called Super Junior-T (T for Trot, which is a popular Korean music genre known for the use of "vocal inflections and repetitive rhythm"). They released the single album, "Rokkugo" in February 2007 with almost 46,000 copies sold that year.
"Don't Don" was their second studio album, released in September 2007, and which topped the RIAK chart with almost 165,000 copies sold by the end of the year. The title track had 1.4 million downloads. The album was scheduled to be released in November 2006 but was delayed due to Heechul's car accident in August 2006, and another vehicular accident in April 2007 involving Shindong, Eunhyuk, Leetuk, and Kyuhyun with the latter sustaining the most serious injuries, and was only discharged from the hospital in July.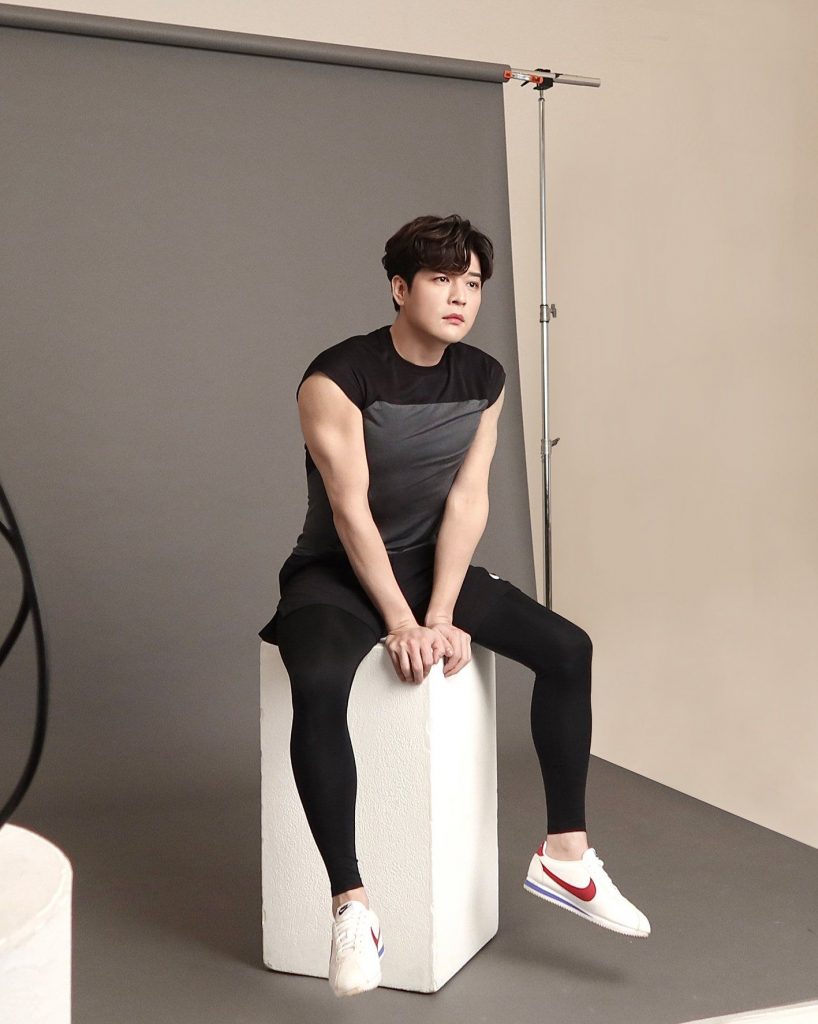 In June 2008, Shindong became part of the sub-unit Super Junior-H (H for Happy) and released their first extended play, "Cooking? Cooking!" Super Junior-T debuted in Japan with the release of "Rock & Go" in November. It reached No.14 on the Oricon's Weekly Albums Chart. Other sub-units were also busy promoting that year.
"Sorry, Sorry"
Without a doubt, Super Junior has become very popular in South Korea and its neighboring countries, however, they reached new heights with the release of their third studio album, "Sorry, Sorry," on 12 March 2009, as it wasn't just the best-selling album of 2009 in Korea but also the best-selling Korean-language album in the Philippines, China, Thailand and Taiwan that year. The album sold 29,000 copies on its first day, with cumulative sales of around 300,000 copies in Korea; it won Album of the Year at the Gaon Chart Awards.
The title track had close to three million downloads, and gave them 10 music show wins for the No.1 Song of the Week. It won the Disk Daesang (Record of the Year) at the Golden Disc Awards, and stayed No.1 in Taiwan's K-Pop Singles Chart for 37 weeks. It became the group's signature song with its addictive chorus and iconic dance moves, and Korean athletes performed the popular dance routine after winning championships or scoring goals; honor guards from the South Korean Air Force performed it during the Air Force Museum's groundbreaking ceremony; even inmates from the Cebu Provincial Detention and Rehabilitation Center in the Philippines danced to the song, and its video went viral after it was uploaded onto YouTube. Various K-Pop groups continued to cover the song in music shows up to 2020.
The album was re-released as "It's You" in May 2009 with the title track having over 1.2 million downloads.
The group was dubbed as the "Kings of Hallyu Wave" as they helped increase the popularity of Korean culture globally through their music.
"Bonamana" was Shindong and the boys' fourth studio album, released in May 2010 and it topped the Gaon Album Chart with cumulative sales of 330,000 copies, peaked at No.15 on Japan's Oricon Chart with 30,500 copies sold, No.1 on Taiwan's G-Music Chart, and No.7 on Billboard's World Albums Chart. The lead single, "Miina (Bonamana)," reached No.8 on the Gaon Digital Chart with over 1.2 million downloads, and No.18 on Billboard's World Digital Song Sales Chart.
"Mr. Simple" was released in August 2011 with cumulative sales of 560,000 copies in South Korea, 55,000 in Japan, and 5,000 in the US.
Its title track peaked at No.4 on the Gaon Digital Chart with almost 1.9 million downloads in Korea, and 48,000 download sales in the US. The album was re-issued in September, and its title track, "A-Cha," had 700,000 downloads.
The sixth studio album, "Sexy, Free & Single" was released in July 2012, and more than half a million copies were sold in Korea and about 70,000 in Japan. The title track had 850,000 download sales.
Shindong's group continued to top the Gaon Album Chart with "Mamacita" (2014) and "Play" (2017), and each one had over 400,000 copies sold. The latter also claimed the No.1 spot on Billboard's World Albums Chart. "Time_Slip" (2019), their ninth studio album, received platinum certification from the Korea Music Content Association (KMCA) as it exceeded 500,000 copies sold.
Their 10th studio album, "The Renaissance,"  is scheduled for release in March 2021.
Concert Tours
Their first concert tour was in from 2008 to 2009 Asia called "Super Show", and was a success. They held the "Super Junior World Tour – Super Show 4" from 2011-2012 in 10 major cities worldwide for six months, with 900,000 attendees. They've continued to hold world tours every year in between album promotions and other activities, with Shindong co-directing many of them.
Despite Shindong and his group's success, they've also had several controversies involving Kibum, HanGeng and Kangin, and they've officially left the group for various reasons. Sungmin was on hiatus from the group starting in 2017, so super Junior currently has nine active members.
Solo activities
Shindong has extensive hosting experience, as he's been doing it since 2005. He co-hosted Mnet's "M Countdown" from November 2005 until March 2008, and was a co-host for a segment in SBS' "Strong Heart" (2009-2012), which won him the Newcomer Award (2010) and Best Entertainer Award for Talk Show (2011) at the SBS Entertainment Awards, and JTBC's "Knowing Brothers" (2019-present).
Most notable among his variety show appearances as a cast member include "Law of the Jungle in Wild New Zealand" (2017), "I Can See Your Voice" (2017-2018), and "Great Escape" (2018-2020).
Shindong hosted the MBC radio show, "Shim Shim Ta Pa (Stop The Boring Time)," from 2008-2014, and won the Excellence and Top Excellence Awards in Radio in 2009 and 2013, respectively, at the MBC Entertainment Awards.
Shindong also worked behind the camera as an MV director and producer for many SM artists since he created Walala Productions with his friends during his military leave. He kept his name from his earlier works because he wanted acknowledgment for his skills first. He directed the MVs of Min Kyunghoon and Kim Heechul's "Falling Blossoms," Red Velvet's "Rebirth," and Donghae and Eunhyuk's "Oppa Oppa."
Some of his other business ventures include PC cafes and restaurants.
His mandatory military enlistment started in March 2015, and he was discharged in December 2016.
⏳D-10 📷🎥#The10thAlbum #TheRenaissance #SUPERJUNIOR_TheRenaissance#슈퍼주니어 #SUPERJUNIOR #SJ @SJofficial
#Shindong #신동 #신동희 @ShinsFriends

Youtube for HD video 🤜🏻 https://t.co/WRNcOw4J3d pic.twitter.com/SqQTWeDJC4

— KCKELFHK (@kckelfhk) March 6, 2021
Personal life
Shindong is 35 and officially single. He had two past relationships that were made public. In an episode of "Strong Heart" in July 2010, he revealed that he had a non-celebrity girlfriend, who went to the same university as him. He saw her photo in his yearbook and asked his assistant professor to help him get in touch with her. After dating for over a year, he told his parents about her, but they opposed the relationship so they broke up; he gained weight after that, then later called up his ex-girlfriend and asked how to get back together with her. She told him to lose weight and he lost 20 kg for her so they dated again. He said the parents were scheduled to meet a week after filming the episode. He proposed marriage to her during the show. However, after it was aired, the other party felt it 'burdensome' and backed out. Shindong said he didn't fully understand the significance of what he said on TV, so many people thought they were getting married when it was just a simple meeting with the parents. The couple broke up in 2013.
On 11 April 2014, he was seen on a date at a popular mall in Seoul with the model Kang Shinae. However, after it was publicized, the couple had a hard time dealing with public scrutiny and decided to go their separate ways that same month.
Appearance
He has black hair and dark brown eyes, and is 5ft 8ins (1.77m) tall.  Shindong had tried various diets in the past, and struggled with yo-yo dieting. However, in 2020, he amazed everyone with his weight loss transformation. Shindong shared that he started a weight loss program called Juvis in October 2019 for health reasons, and already lost 37kgs as of May 2020, weighing just 81kgs. He knew working out would make him lose weight faster, but he didn't want people to be suspicious of his weight loss. Fans started to worry about his health after seeing how much he'd lost, but he assured them that he was healthier after his diet.
Net worth
Shindong has an estimated net worth of $5 million as of February 2021, according to sources.