Kang Daniel is a South Korean singer-songwriter, dancer, and entrepreneur, who first gained notice in 2017 for winning first place in Mnet's reality television survival series, "Produce 101 Season 2," and then debuting as the center of the temporary boyband, Wanna One. He established a one-man agency and debuted as a solo artist in 2019, with platinum-certified albums such as "Color on Me," "Cyan," and "Magenta." He made it onto Forbes Korea 2030 Power Leaders in Entertainment (2018) and Power Celebrity (2019) lists, due to his influence and selling power. He dated Jihyo of Twice for more than a year from 2019.
Just a simple reminder that article is created and owned only by kpopwiki.org. Article cannot be re-published in any other pages or documents. Copyright is protected by DMCA. All found copies will be reported.
Original source: https://kpopwiki.org/the-untold-truth-about-kang-daniel-relationship-with-jihyo/
Early life and family
Kang Daniel was born Kang Euigeon on 10 December 1996, in Yeongdo-gu, Busan, South Korea. He is an only child. His father's business failed, and they moved into a basement and lived there for a week.
It was traumatic for him as he could smell mould and sewerage while eating, as the room was next to the bathroom; he developed the habit of smelling his food after this. His parents subsequently divorced, and he was raised by his mother alone.
When he was young, he was bullied a lot for his looks, as people thought him ugly, but he later gained confidence and realized it had to come from within. His teacher recommended dancing to him for building self-esteem and self-healing.
Many people mispronounced his name, so he legally changed it to Daniel, which he got from the Bible.
His mom was a sports shooter, discus and javelin thrower, who made him train hard from when he was young. Parents usually give an allowance to their children if they do household chores, but in his case his mom told him that if he did 30 push-ups he'd be allowed to go out and play.
He hated studying, but recalled being most scared of his mom when in fifth grade, as she caught him in an internet café instead of attending a special lecture in an academy, which was where he told her he would be. She stared at him for 10 minutes without saying anything, then he did push-ups when they got home.
When he started earning he managed his own money, but gave his mom an allowance and even paid for the security deposit on her house. He's not in touch with his father, but when in 2018 his father contacted him, and told him that he couldn't afford treatment for toothache, he sent him money.
Educational background
Daniel went to Cheonghak Elementary School and Shinseon Middle Schoo,l then enrolled into Peniel High School of the Arts, with modern dance as his major and ballet a minor.
He was rumored to have been expelled from school for beating up other kids, but the truth was that Daniel had to drop out since the tuition was so expensive, and their financial situation was 'really horrible' at that time.
He received his GED certification in 2017, and then attended Kyung Hee Cyber University with a major in Applied Music.
Career
First steps
Daniel was into b-boying since middle school, and later learned street dance and choreography when he enrolled at the Nataraja Academy, a dance school in Busan. He won a dance competition called Busan City Kids Vol.2 in August 2011. He then learned how to breakdance when he became part of the Loups Crew, and was known under the name FLAC.
His passion for dancing drove him to pursue a career as an idol, and moved to Seoul when he was 20, to became a trainee of B2M Entertainment.
𝐒𝐨 𝐡𝐨𝐭 ✨#강다니엘 #KANGDANIEL pic.twitter.com/IChu8pdiDp

— 𝐃𝐀𝐍𝐈𝐄𝐋𝐅𝐈𝐋𝐌 (𝗦𝗹𝗼𝘄) (@danielffilm) March 22, 2021
However, it was a small company lacking in funds, renting a house with the basement used as a practice room, but there were no dance lessons. MMO Entertainment took over the agency, but he felt that nothing had changed, so he acquired a passport and planned to run away to Canada where his aunt lives.
"Produce 101 Season 2"
However, the opportunity came for him to participate in Mnet's reality TV survival series, "Produce 101 Season 2," and he grabbed it. The show, which premiered on 7 April 2017, would launch a male group with 11 members through a voting system, after a series of performances. The trainees were mentored by experts in rap, dance and vocals to help them show well on stage.
Daniel gained some attention due to his pink hair and smile. Although his initial rank was No.23, he rose to No.5 after his team – dubbed as the Justice League by fans – performed "Sorry Sorry" by Super Junior during the Group Battle Evaluation Round, and a video focused only on him went viral on Naver TV.
It was said that aside from his dancing skills, having a baby face with broad shoulders and a manly demeanor, gained him the hearts of not just young fans but also ahjummas (middle-aged women). His "thigh-dance" move during the "Open Up" performance for the Concept Evaluation Round also created a buzz.
For the final voting round, viewers were only allowed to vote for one trainee, and he ranked first with over 1.5 million votes, and so automatically became the center of the Korean Pop group, Wanna One. About 30% of Korea's population cast their votes during the season finale on 16 June 2017, which established the show's popularity.
Debut as Wanna One
Daniel officially debuted with his group on 7 August 2017 at the "Wanna One Premier Show-Con" held at the Gocheok Sky Dome. "1×1=1 (To Be One)" was their first extended play, and it topped South Korea's Gaon Album Chart and peaked at No.3 on Billboard's World Albums Chart.
Its lead single, "Energetic" was No.1 on the Gaon Digital Chart, with 2.5 million downloads, and No.6 on Billboard's Digital Chart with 9,000 downloads in the US. The EP was reissued as "1-1=0 (Nothing Without You)" in November, topped the Gaon Chart and reached No.12 on Billboard's World Albums Chart. Its lead track, "Beautiful," had 2.5 million download sales. The group became a million-seller, as over 1.4 million copies of both albums were sold in Korea, and 3,000 in the US.
Their succeeding releases were all commercially successful; "0+1=1 (Promise You) was certified 3x platinum by the Korea Music Content Association (KMCA) with over 785,000 copies sold. "1÷x=1 (Undivided)" and "1¹¹=1 (Power of Destiny)" were both certified 2x platinum with around 640,000 and 730,000 copies sold, respectively.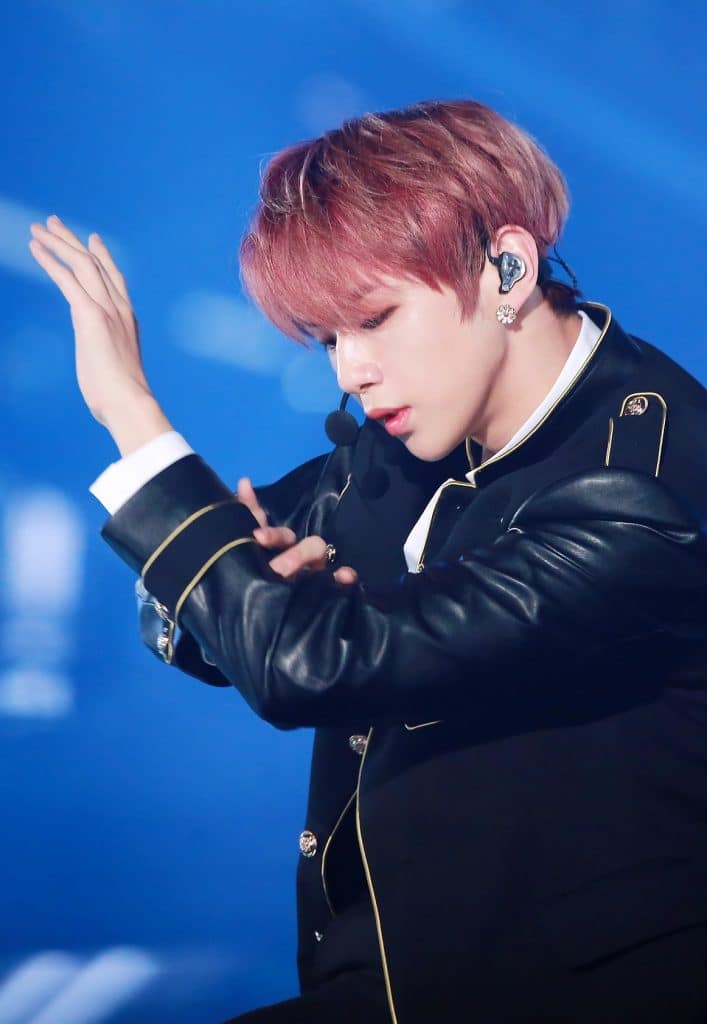 Daniel's group then embarked on a world tour, "One: The World," which kicked-off with a three-day concert in Seoul followed by shows in 13 cities in 10 countries, including the US, Japan and Australia from June to September 2018.
When Wanna One's contract expired on 31 December 2018, they still attended year-end music shows and award ceremonies until January 2019, as agreed upon by all agencies. They held a four-day concert, "Therefore," in January at the Gocheok Sky Dome, to conclude their group activities.
As a solo artist
During his Wanna One days, Daniel also had solo activities. There was so much interest in him that he was invited onto popular variety shows, and cast in new ones. He joined the cast of the game show, "Master Key," and won the Rookie Award at the SBS Entertainment Awards in 2017. He appeared in two seasons of the reality TV show "It's Dangerous Behind The Blankets" (2017-2018), and won the Male Rookie Award at the MBC Entertainment Awards in 2018.
Daniel has graced the cover of various magazines, including InStyle Korea as the first male celebrity to do so, GQ Korea with a 27-page spread, "Elle Korea" with 100,000 copies sold in a week, and the major news and current events magazine "Weekly Chosun". He landed several endorsement deals during this time, and topped the brand reputation ranking for 13 consecutive months since Wanna One's debut, according to the Korea Business Research Institute.
After Wanna One disbanded Daniel went back to his agency, but after a change in management, his activities were taken on by LM Entertainment. However, in March 2019 his lawyers filed for a suspension of his exclusive contract, as LM sold his contract rights to a third party without his knowledge and consent. The Seoul Central District Court ruled in his favor in May, and he could pursue his activities without the agency's interference. His contract with them was officially terminated in September, as agreed upon by both parties.
His one-man agency, "Konnect Entertainment," was established in June 2019, and he became its CEO. He also established KD Corporation Ltd. to handle his other business ventures.
Daniel made his solo debut in July with the release of the EP "Color On Me," on the 25th, which was awarded double platinum by KMCA, as it sold over 500,000 copies, and topping the Gaon Album Chart and iTunes Albums Chart in 15 countries. The lead single, "What Are You Up To," gave him his first music show win as the No.1 Song of the Week through KBS' "Music Bank" on 9 August 2019. Daniel achieved all this despite not performing on music shows, as he went on fan-signing events nationwide, and fan meetings across Asia, obviously just as profitable.
He launched his "Color Series" in 2020, with "Cyan" in March, and "Magenta" in August, which both topped the Gaon Album Chart, and were certified platinum by KMCA as they sold over 265,000 and 335,000 copies, respectively.
All his releases were distributed by Sony Music Korea. He took part in the songwriting process of all his albums.
Daniel then collaborated with MJ Kim, the personal photographer for Paul McCartney, for his first art book entitled "Never Standing Still – It's Time To Shine." His company started accepting pre-orders in November.
Daniel dropped the digital single, "Paranoia" in February 2021, and it was his first entry on Billboard's World Digital Song Sales chart at No.5.
He was offered the male lead role in the upcoming Disney+ Korean original series, "Our Police Class," and his label said he's considering it.
Personal life
Daniel is 24 and known to be single. In February 2018, the rapper Yuk Jidam claimed that she dated Daniel before he joined the survival series; it was revealed through her posts as she said a fanfic writer wrote about her past relationship with the idol in "Daniel's Noona."
She tried to contact Daniel to help her 'figure it out', but he didn't return her calls. She later deleted her posts about the issue. Fans questioned her sanity, and wondered if she was drunk or high. Kasper, her fellow contestant in "Unpretty Rapstar" who knew Daniel since academy days in Busan, confirmed that the two dated and parted ways amicably. Wanna One's agency said they would take legal action against those spreading false rumors based on 'past friendship.' Jidam's father said it was difficult for him to explain why she posted those things, but from what he knew, 'the two had a relationship similar to that which Kasper described.' In August 2019, Dispatch reported that Daniel and Jihyo of Twice were dating, and had been doing so since the start of the year; it was Seulong of 2AM, a senior idol close to the two, who introduced them in 2018. Reportedly, they met at least once a week at Daniel's home in Hannam-dong, or within the exclusive UN Village.
They saw each other before Jihyo left the country for a concert tour in 2019, and the day after she returned to Korea. Jihyo sometimes drove there, or a member of Twice would drive her then picked her up later. Konnect Entertainment and JYP Entertainment confirmed the relationship, stating that 'they are currently meeting with interest in each other.'
Most fans of both artists were supportive of the relationship. However, in November 2020, it was reported that the two called it quits after being together for a year and three months. It was said that the two were unable to meet often as they were more focused on work, particularly when preparing for a comeback, and so they drifted apart. Their agencies confirmed the break-up after checking with their artists.
Daniel now lives alone in Seoul. For two years he would usually eat ramyeon at home but later wanted a home-cooked meal so he started cooking. He says he's good at making beef and radish soup.
#KangDaniel Shares What's In Store Ahead Of His 3rd Mini Album "YELLOW" https://t.co/ygaHlB2fSc pic.twitter.com/xDakIjNMV7

— Soompi (@soompi) March 23, 2021
Hobbies, favorites, rumors, and interesting facts
He's a homebody, so during his free time he writes lyrics, getting inspiration from characters in dramas and movies.
Daniel raised four cats (Ori, Peter, Rooney, and Jjanga). When he was just doing part-time work, he would buy himself a $3-beef rice soup but would buy $12-cat food for his pets.
He is allergic to shellfish.
His former agency refused to transfer his social media accounts to him, so he opened a new one, @daniel.k.here, in 2019. It only took him 11 hours and 36 minutes to reach one million followers, which made him the fastest person in history to have done so, breaking Pope Francis record of 12 hours in 2016. However, Prince Harry and Meghan beat his record at five hours and 45 minutes in April.
He is known to be generous with his time and money for various causes and charities.
Daniel owns some land on the moon. During a fan-signing event, a fan gave him documents of land ownership, which he refused. However, when he realized it was on the moon, he gladly accepted them, as he believes in aliens.
Appearance
He is 5ft 9ins (1.8m) tall and weighs 150lbs (68kgs) with broad shoulders and toned abs, which fans said were heart-shaped. He has black hair and brown eyes. His shoe size is 280mm.
Net worth
Daniel has a net worth estimated at $5 million as of March 2021, according to sources.