Taka Moriuchi may claim to be a reckless and impulsive spender, but this is not the persona he is known and loved for. Coming from a family deeply entrenched in the music industry, Taka's unique sound and ability have earned the right to be mentioned amongst the greatest and most influential rock singers around today. The Japanese singer's path to success has not always been so clear, with multiple mishaps along the way, amongst which was the arrest of a close friend and fellow bandmate. He has produced music with several bands, but seems to have finally hit his stride with One Ok Rock.
Just a simple reminder that article is created and owned only by kpopwiki.org. Article cannot be re-published in any other pages or documents. Copyright is protected by DMCA. All found copies will be reported.
Original source: https://kpopwiki.org/taka-moriuchi-one-ok-rock-girlfriend-wife-net-worth-wiki/
Early Life and Family
Taka was born as Takahiro Moriuchi on 17 April 1988, in Tokyo, Japan to mother Masako Mori, and father Shinichi Moro.
Taka is the eldest of three children, with two younger brothers named Tomhiro and Hiroki. With both his parents being well-known singers, it is unsurprising that all three of the boys ended up working in the entertainment industry – Tomhiro working for TV Tokyo, and Hiroki is the lead singer for MY FIRST STORY.
However, being the son of two famous singers was far from easy for Taka. To begin with, he was among the smaller kids at school, and was often the victim of bullying and harassment. This translated in him perpetuating some of the same behavior on his younger brothers, and ultimately facing his father. Shinichi was a strict father, with an idea of what an ideal family should be. Taka shared that "I was scared of my father. My mother was kind. And I loved my grandma." The wealth that came along with his parents' fame also took a toll on Taka, as he wasn't allowed to eat out and do what he deemed to be normal youthful activities.
Perhaps the most painful part of his childhood for Taka to recount was the period prior to the divorce of his parents in 2005. Taka was already trying to make headway in the industry, but was failing miserably in both his pursuits and academia. The Moriuchi name began to haunt him and he was eager to discard it and take his mother's surname, Morita, after the divorce. Since then he has regressed to using his old surname, but the path hasn't been easy.
Education
Taka attended the Keio schools all the way from childhood. After Keio Elementary school, in March 2001 he was able to progress into Keio Middle School, and after that he was granted entry into the Junior High School. However, Taka revealed that this was through no aptitude of his own, but was likely only a product of his parents' prestigious position in the community.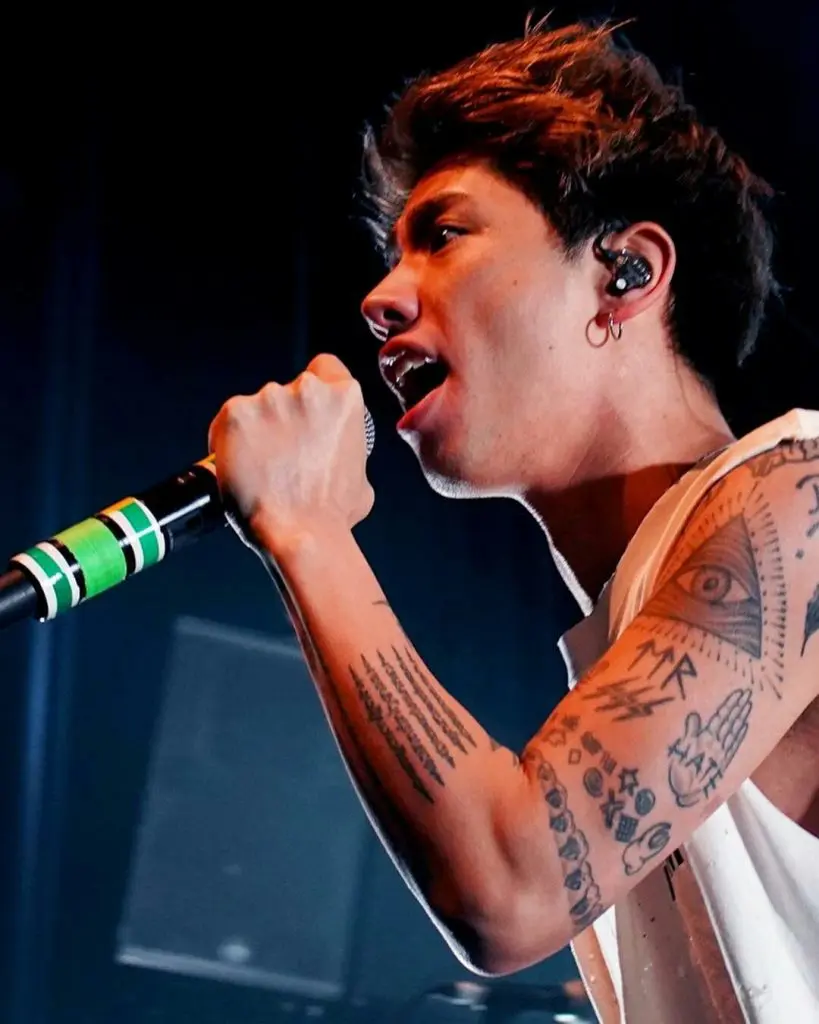 He told Rockin'On Japan that "Honestly, I didn't pass the exam anywhere. In elementary school, everything completely fell. I think I was quite stupid. It didn't suit me at all. I didn't like school."
At this stage, Taka had been facing bullies for years, who claimed that his success in the industry was only due to his parents' machinations. Resentful of school, he started skipping classes and acting out. Eventually, he dropped out of high school in 2005, a mere month before his parents' divorce. He briefly attempted to re-engage with his schooling at a second-high school, but was simply too far behind to make sense of the work. Eventually, Taka's father intervened to halt Taka's self-destructive spiral, and arranged for him to attend music school in Osaka, where Taka began to learn to play instruments, and finally got his life on track.
Career
Auditions and Inauspicious Beginnings
Taka's father was not impressed when his son wanted to enter the music industry. He knew the impact it had had on himself, and consequently his family, but on Taka's insistence, he agreed to allow him to try. While his parents arranged for him to join a Jimusho, a training institution, Taka had his own plans. Wanting to become a star in his own right, out from under the shadow of his parents, Taka began going to auditions on his own, and using a pseudonym. When his parents eventually found out, they were furious and began to distribute his resume behind his back. Eventually he was contacted by Johnny's Entertainment in 2002, and his career began in earnest.
NEWS
The boy band NEWS was supposed to debut as a nine-member band in 2003. However, soon after the band released their promotional single "News Nippin", Taka was asked to leave the group.
While the formal reason given to the public was that Taka was taking time to focus on his studies, there were many more sordid factors at play. While it was true that Johnny's Entertainment had laid off Taka until he could successfully matriculate school, this came out around the same time that some telling photographs hit the tabloids.
In November of 2003, an unnamed acquaintance of the star leaked photos to the press of Taka engaged in drinking, smoking, and even in bed with a girl. Not only was this bad press for the school and NEWS, but Taka was 15 at the time. This led to his expulsion from the group, and an intense argument with his parents which culminated in him being disowned by them.
The Next Stage
Taka was beginning to realize just how much of a shambles his life was in, and took on a part-time job working at a restaurant.
His father also stepped in at this point and secured him a place in a music school in Osaka in 2004. While there, Taka joined a band called "Chivalry of Music"; meanwhile, Toru and the other member of what would become One Ok Rock were searching for a voice to complete their band. After hearing Taka perform on multiple occasions, Toru several times invited Taka to join the group, until he eventually capitulated.
One Ok Rock
A high school student at the time of the band's inception, Toru Yamashita was the driving force behind the band. Toru had long dreamed of being in a band, and made it his mission to locate and recruit members, managing everything from the roles of the members to the rehearsal times. At the time, they could only afford minimal rent, and were forced to rehearse at one o'clock in the morning – the situation from which the band ultimately derived their name.
The band released their debut single, "Naihishinsh" in 2007, which met with moderate success, but improved with the release of their second single, "Yume Yume". Without being conceived or promoted by a label, the band had a difficult time at first finding their genre and style. While they produced some punk music, they also played with western music and rock.
In 2009, the band hit another roadblock when member Alex Onizawa was arrested for sexual harassment after touching the leg of a 21-year-old student on a train. While he confessed to the allegations, he was ousted from the group and was no longer affiliated with them. The group experienced difficulty in the wake of this, forced to delay the release of "Around the World Shounen", and reconfigure their entire musical dynamic.
However, since then the group has reached new highs on both the national and international stage, releasing nine full-length albums and undertaking dozens of tours across the world. They have won 12 prestigious awards, including MTV Europe Music Award's Best Japanese Act (2016), MTV Video Awards Japan's Artist of the year (2019), and Rock Sound's Best Live Performance (2018). They've also been nominated for multiple other industry awards.
Taka himself has also made a notable way in the industry as an individual artist, and was listed in Rock Sound's "50 Most Influential Figures in Rock", and also ranked 27 on Kerrang! Magazines list of "50 Greatest Rock Stars in the World".
Personal Life
Taka has not lived an easy life and has had to fend for himself most of the time.
After his parents disowned him in the wake of the NEWS fiasco, Taka spent a year living with his grandmother, with whom he has a very close relationship. After that, however, he decided to assert his independence, and rented his own apartment. He was not shy with the money he had saved during his early career and rented an apartment that cost him 180,000 Yen. Although this would take a financial toll on him, he was seen refusing money his father offered him, and expressed to Musica that "I left home and somehow or other started living alone, and the joy and fun of being able to break away won. So I think I was really able to run at full speed."
Father
With all his tales of his strained relationship with his father, it is surprising to know that they have a civil relationship.
Shinichi Mori has attended various One Ok Rock concerts, and expresses extreme pride in his son's talents and the man he has become. He shares that when he once reached out to his son after a concert, Taka sent him a message saying "Thanks for today. I was raised by wonderful parents. I'm thankful to you."
Relationships
The first relationship that we know Taka to have been involved in spiked much controversy. Taka was only in his third year of high school when he fell in love for the first time. Due to spending most of his time skiving off school, he did not meet his girlfriend within the usual framework, and while he was still young, she was already 18. Although she eventually dumped him, he claims that what he felt for her was genuine and natural.
Since then, Taka has been rumored to be involved with various celebrities, including Japanese model Suzuki Emi, Japanese Moel Rola, and the figure skater Mai Asado was even spotted leaving his house after spending the night. However, nothing is confirmed, and he officially remains single.
Appearance
Taka is easily recognizable for his multiple tattoos and piercings, both products of his rebellious youth. When he first began to experiment with bold hair colors and piercings in high school, it drew a lot of negative attention from his classmates, but it is now what sets him apart from the crown. He has a slim and lanky figure, is 5ft 6ins (1.68m) tall and weighs 135lbs (62kgs).
Net Worth and Salary
With One Ok Rock doing better than ever, it is likely that the star's income is reflecting those changes. Although he says he is a reckless spender, he is still able to maintain his lifestyle without any real financial difficulty. As of late-2020, his net worth is estimated at over $500,000.