Olivia Hye is a South Korean singer and dancer, who became famous when she debuted as the 12th member of the K-Pop (Korean pop) female idol group Loona, under BlockBerry Creative.
Just a simple reminder that article is created and owned only by kpopwiki.org. Article cannot be re-published in any other pages or documents. Copyright is protected by DMCA. All found copies will be reported.
Original source: https://kpopwiki.org/olivia-hye-loo%cf%80%ce%b4-loona-age-height-eyes-dating-profile/
Early life and family
Olivia Hye was born Son Hyejoo on 13 November 2001, in Uijeongbu, Gyeonggi Proince, South Korea. All that is known about her family is that her father's name is Ok-seong, and she has an older sister.
Education
Olivia went to Sungshin Girls' High School but it's not known if she matriculated.
Career
First steps
Olivia has been receiving voice lessons for seven years at the FNC Academy. She transferred to BlockBerry Creative and according to Olivia in an interview on MBC radio broadcast "Ji Suk Jin's 2 o'clock Date," she debuted only a day after she officially became a trainee of her current agency. She was introduced as the 12th member of Loona on 17 March 2018, but her self-titled single album had its digital release on 30 March, and physical release on 2 April. It contains two tracks, namely "Egoist" featuring JinSoul, and "Rosy," a duet with Go Won, featuring Heejin. The album peaked at No.11 on South Korea's Gaon Album chart. The music video (MV) for "Egoist" was the fastest to reach half a million views among all the Loona MVs at that time; it has more than 8.5 million views at present.
Her debut marked the end of the Idarui Sonyeo (Girl of the Month) pre-debut project of BlockBerry Creative, a subsidiary of Polaris Entertainment, which started in October 2016 with the release of a promotional single of the first member, Heejin, followed by the rest of the members in the same pattern to form their first girl group. It took them 18 months, the longest in the history of K-Pop, to introduce all 12 of them.
Considering that Olivia was a one-day trainee, it seems that she did not undergo the same selection process as the other members – each one had to compete with over four dozen hopefuls under the name Loonation, to earn a spot in the group. The girl who ranked first gets to debut then another round of competition takes place to choose the next one, and the process is repeated until the last girl of the month is chosen. It hasn't been disclosed why or how Olivia was chosen.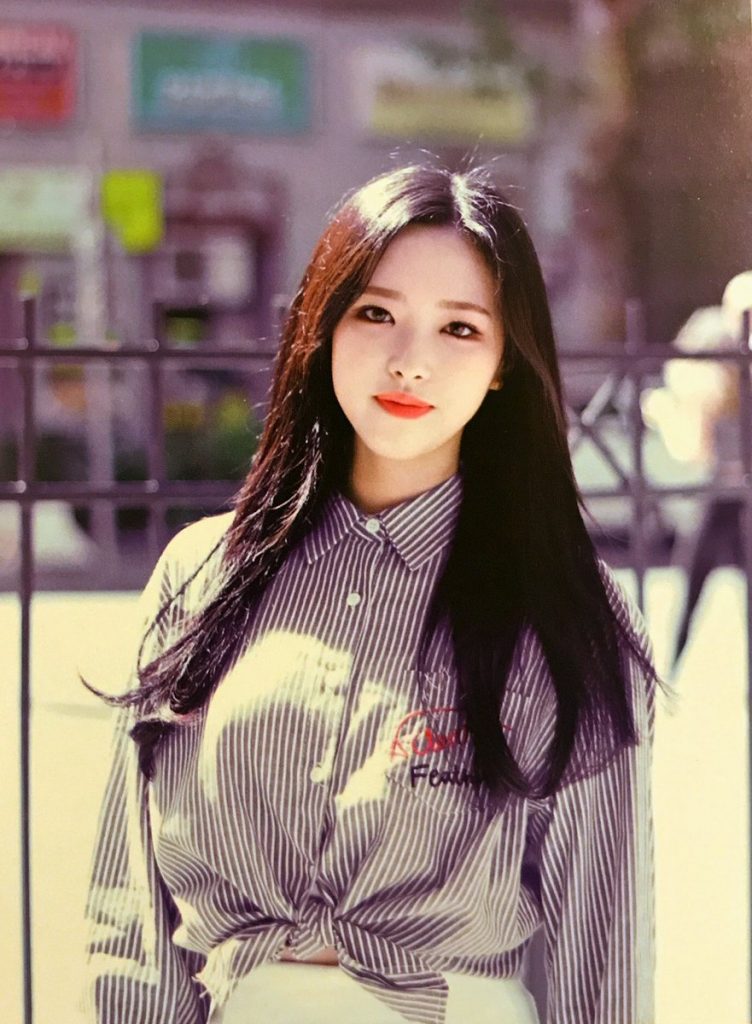 The name of the girl group was taken from the initial letter of each syllabic blocks of Idarui Sonyeo when it's written in Hangul (Korean alphabet), and rearranged to form the word that looks like LOONA in the English alphabet. The group has three sub-units, with Loona 1/3 the first one formed, followed by Loona Odd Eye Circle, and the last one that Olivia became part of is called Loona yyxy (youth youth by young), pronounced as "yy by y" or "wai-wai-bai-wai."
Olivia had three fan meetings in the month of April, and then she along with her co-members in her sub-unit, namely Yves, Chuu and GoWon, released their debut EP (extended play), "Beauty & the Beat," on 30 May 2018 consisting of five tracks including "Dal Segno," "Frozen," "One Way," and "Rendezvous 18.6y." The album made it to the Gaon Album chart at No.4 and the US Billboard World Albums at No.6.
The Canadian singer-songwriter Grimes was featured on the second track, "Love4eva," and its music video (MV) was released that same day; it currently has more than 11 million views. They performed it live at the "Loona Premier Greeting – Line & Up" event on the 2nd of June, and it was also where all 12 members were officially introduced to their fans. It was unusual for an idol group not to have their debut staged on a live music show, but this was in line with their then creative director's vision for the group.
Olivia on "Loona TV"
Loona has their own reality show called "Loona TV", that features the members in short clips uploaded daily onto their YouTube channel, "loonatheworld." It started in October 2016 following Heejin's debut, and every time someone debuts, the episodes shown are dedicated to or focused on that member's activities, which gives fans an insight to her personality and how she interacts with other members.
Olivia first appeared in episode 310, but the episodes dedicated to her were from 316 to 335 (April-May), which showed behind-the-scenes footage of her doing photoshoot, filming the music video with Heejin and JinSoul, and other activities – Yves, Chuu and GoWon were there to support her. Yves said that Olivia had bruises on her shoulders, arms and legs after filming some scenes for her solo MV. The succeeding episodes featured the activities of the sub-units, and group as a whole.
Further steps
Loona with all 12 members released their pre-debut digital single, "Favorite," on 7 August 2018. It peaked at No.4 on the US Billboard World Digital Song Sales chart with the MV having over 10 million views. They performed it on music shows such as MBC Music's "Show Champion" and Mnet's "M Countdown," and held a concert in Seoul entitled "Loonabirth" for an audience of 3,000.
On 20 August 2018, they officially debuted with the release of the EP "[++]" (plus plus), which entered the Gaon Album chart at No.2. It also debuted on the US Billboard World Albums and Billboard HeatSeekers Album at No.4. Its title track, "Hi High," peaked at No.11 on the US Billboard World Digital Song Sales chart; the MV reached 26 million views. They promoted in various music shows for seven weeks, and also appeared on Korean variety shows such as KBS' "Golden Bell Challenge" and JTBC's "Idol Room."
The group held a concert in Seoul on February 16-17, then made a comeback with a repackaged album, "xx" (multiply multiply), released on 19 February 2019 that contains six additional songs including the lead single, "Butterfly." Although it charted at No.6 on Billboard's World Digital Songs chart and its MV reached 35 million views, it was not as successful as the previous one.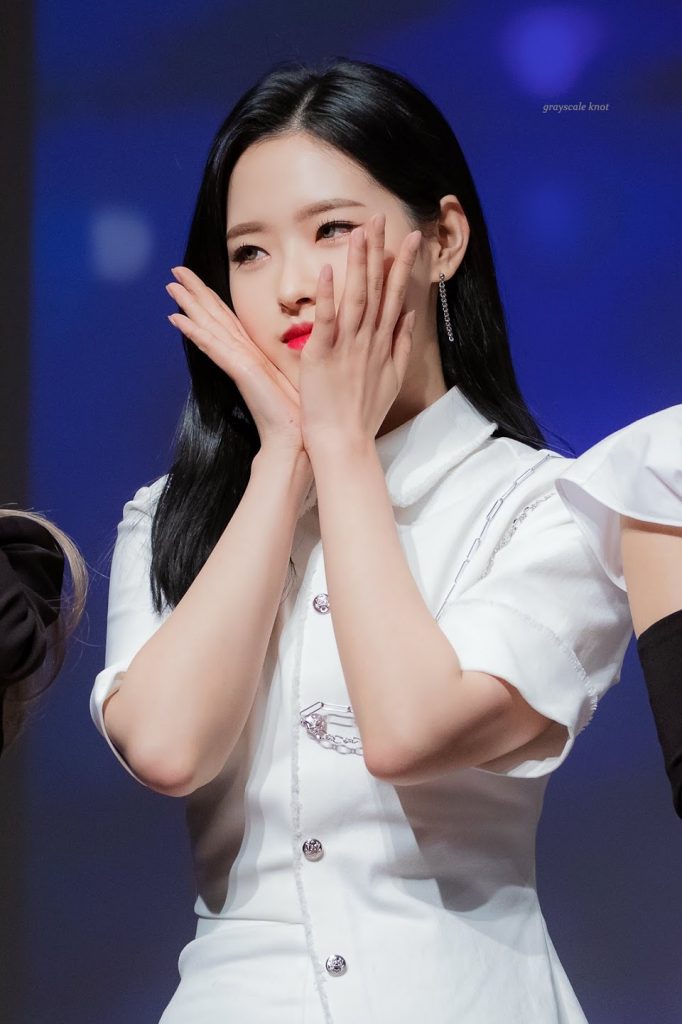 The members performed for the first time at the annual Korean wave convention, popularly known as KCON in Los Angeles on 17 August 2019, organized by CJ E&M. She also participated in the "Idol Star Athletics Championships – 2019 Chuseok Special."
Blockberry Creative Financial Crisis
It was reported on 17 October 2019 that BlockBerry Creative is more than $300,000 in debt to a Japanese IT company, which sparked rumors of the group's possible disbandment. The hashtag #SaveLOONA even trended on Twitter. It is said that the reasons behind the low revenues include the albums not being available on iTunes, and although you can purchase it on Spotify, it was listed under the wrong name. There was also a printing shortage problem that affected physical album production.
With Loona on hiatus, the fans began feeling anxious as they become uncertain of their idol group's future.
To show their support, the fans actively promoted them on social media with the "Stan Loona" phrase, to the point of bombarding even non-K-Pop fans with this tweet campaign, which was met with mixed reactions – some admired the tenacity of the fandom while others found it distasteful. Whatever the reaction may be, one thing's for sure – more people know about the existence of Loona than before.
Help from Lee Soo Man, Founder of SM Entertainment
On December 13, the group came up with the pre-release single "365," which they said was dedicated to their fans. It topped the US iTunes chart and US Billboard World Digital Song Sales chart. Forbes reported that BlockBerry collaborated with Lee Soo-Man, the founder of SM Entertainment, on Loona's second EP entitled "#" (Hash) which was released on 5 February.
The group performed a dance cover of NCT 127's "Cherry Bomb", and uploaded it onto their YouTube channel which caught the attention of Lee Soo-Man, who said that they showed potential, so he decided to work with them on their album as one of the producers. The EP contains six tracks, and made it to the Billboard's World Albums chart at No.4, topped the iTunes Album chart in 56 countries, and debuted on the Gaon Album chart at No.2. The album's limited edition included the song, "Day & Night." Its title track, "So What," gave them their first win at the music show, "M Countdown," on 12 March 2020.
Personal life
Olivia is 18 and currently single. There were no reports of her dating anyone – it's not allowed for K-Pop artists to date during their first few years after debut. She lives along with all the other members of Loona in a dormitory in Seoul provided by her agency; she shares a room with her sub-unit.
Hyejoo's cuteness just peaked at the sight of bread 🍞#loona #이달의소녀 #oliviahye pic.twitter.com/fui1CA1d2D

— loonasobit (@loonasobit) August 16, 2020
Hobbies, favorites, rumors, and interesting facts
Nicknames: Olive, Olihye, Liv, Olly, Olivia Colombia, Olivia Hussey, Goddess, and Marceline. She said she prefers to be called by her real name, Hyejoo.
Orbit is the name of Loona's fandom, which means that their fans will make a path where their idol group can flourish. When written in Hangul (Korean alphabet), it translates to "Oh! Light" pertaining to Loona as their light. Their Korean fans are called Hanbits (Han stands for Korean) while international fans are called Wuebits (Wue stands for foreign).
On the day of her debut, the hashtag #WelcomeLastGirl trended worldwide.
She loves to eat food with kimchi (fermented vegetables) as the side dish. It goes without saying that she is also into kimchi stew and kimchi fried rice.
She sleeps on the bunk bed above Yves, and jokingly said that she shakes the bed all the time because her goal is to cause it to collapse; one day, part of the bed broke.
Loona members consider Olivia the scariest and toughest among them even, if she is the second youngest, because of her stare, facial expression, and her reactions; this led to her fans calling her Boss Baby.
She remembered the time her classmate told her that Choerry, who's in the same school as them, debuted as a member of Loona, and she pretended not to know who she is because she was unable to disclose that she is also a member, as her teaser image is yet to be released at that time.
When she was a kid, she wanted to become a pro-gamer and a pool player.
Her dog's name is Gooreum, which means "cloud."
The colors red, black, white, and grey are her favorite.
Her role model is the Korean singer Hyuna, who is a former member of the K-Pop girl group Four Minute. She wanted to do something similar to Hyuna's hit single, "Bubble Pop!"… one day.
Her hobbies include cooking and gaming. She loves to play League of Legends and her favorite character is Miss Fortune. A fan gave her Bloodborne, so she started playing it on PS4 as well.
Olivia and Heejin helped with the design of the group's light stick.
Loona's pre-debut project cost the company close to $9 million, to which one of the members jokingly said was spent mostly on feeding them. Apparently, they eat a lot; one member can consume one whole chicken plus one serving of tteokbokki (spicy rice cake) in one sitting. There was also a time when they ate a total of 40 servings of meat.
It was said that then Creative Director of BlockBerry, Jaden Jeong, demanded that 16‑year-old Olivia lose weight before debut.
All the songs and MVs released by the members as a solo, sub-unit, and group are part of a continuing story of some kind of lore depicting what they call the Loonaverse, which is said to be an alternate universe where the members live.
Appearance
Olivia has black hair and black eyes, is 5ft 5ins (1.66m) tall, weighs around 100lbs (46kgs), and her vital statistics are 34-30-39. Her shoe size is 9.5 inches.
Net worth
Olivia Hye has an estimated net worth of $90,000 as of July 2020 according to sources. Loona's net worth is estimated at $20 million.