Mia is a South Korean singer and dancer, who caught the eye of Korean Pop (K-Pop) fans when she debuted as the main vocalist of the girl group Everglow, in 2019. Her group has become one of the rising stars in the K-Pop music industry, with the continued commercial success of their songs. In 2020, the song "La Di Da," the lead track of their second extended play, "-77.82X-78.29," was Billboard's No.1 critic's pick for its annual list of "The 20 Best K-Pop Songs of 2020."
Just a simple reminder that article is created and owned only by kpopwiki.org. Article cannot be re-published in any other pages or documents. Copyright is protected by DMCA. All found copies will be reported.
Original source: https://kpopwiki.org/mia-everglow-age-height-boyfriend-family-biography/
Early Life and Family
Mia was born Han Eunji on 13 January 2000, in Gimhae, South Gyeongsang Province, South Korea. She belongs to a family of five, with an older brother and sister.
Educational Background
She attended Korea Arts High School.
Career
At the time when Yuehua Entertainment, a Chinese entertainment company based in China, announced that they will launch a new girl group in South Korea, Mia has been one of the hopefuls with the longest training experience among the girls in the agency's training pool. However, unlike the other trainees, she wasn't given the chance to join any reality television competition shows, such as "Produce 101" and "Idol School." She was thrust into the limelight from the training room to the debut performance stage, just like they did back then, before joining a talent competition became a craze for K-Pop trainees.
First Steps – Debut Single Album, "Arrival of Everglow" (2019)
Yuehua Entertainment might be a small agency compared to most successful South Korean entertainment companies, but they were able to plan and execute a proper introduction strategy for their newest girl group.
In February 2019, a month before the official debut, the agency released a series of individual "Crank in Film" videos of the girls on YouTube. Mia was the second member of the group to be revealed. It was followed by a series of concept photos, released ten days before the debut, and drumming up more interest in the girls.
Finally, on 18 March 2019, Mia, Aisha, E:U, Onda, Sihyeon and Yiren debuted as the girl group Everglow, with the release of the single album entitled "Arrival of Everglow." It had three tracks including "D+1," "Moon," and the lead track "Bon Bon Chocolat," which was composed by Melanie Fontana, an American EDM artist. The EP peaked at No.6 with close to 26,000 units sold in South Korea, and the lead track reached No.5 on Billboard's World Digital Song Sales chart with around 5,000 units sold in the US. Music critics agree that the girls may not have the usual massive hype that groups from big companies often have during releases, but their music would help them grow bigger in the industry.
Their debut live TV performance was on Mnet's "M Countdown", three days after the release of the EP. To date, the official music video (MV) posted on YouTube has over 85 million views and counting. It was considered a strong debut with moderate success, which some K-Pop fans believed to be just a stroke of beginner's luck, considering that they are being managed by a foreign company.
Second Single Album – "Hush" with lead track "Adios"
Due to the success they received from their debut single, on 19 August 2019 Mia and the girls released another single album, entitled "Hush", with both digital and physical versions, and consisting of three tracks including the lead track "Adios," "You Don't Know Me," and "Hush." All the songs charted on Billboard's World Digital Song Sales chart, at No.2, No.10 and No.8, respectively, while the single album peaked at No.5 on the Gaon Album Chart, with over 25,000 units sold.
The girls proved that their debut single success wasn't a fluke. The lead track also gave them their first music show win as the top song of the week courtesy of the SBS MTV's "The Show," on 24 September 2019. Reaching this milestone was a reflection of their increasing popularity in South Korea, as it entailed scoring high in downloads, streaming, album sales, MV views, and votes to beat other artists who were also promoting their newly released singles. The "Adios" MV has now accumulated more than 130 million views.
Mia suffered an injury while she was filming the MV, and it bothered her during the promotion run of the single album. The other members shared that Mia would practice more during her free time to push through the injury she sustained, and make sure it wouldn't affect her performances.
Her agency decided to let her rest along with another member, Aisha who had health problems due to the busy schedule they had maintained since their debut. She was noticeably absent during guest appearances made by the group in variety shows at that time.
Cameo Role in a Korean Drama Series
To give Mia and the girls a chance to experience how it is to be in a filming set, her agency accepted a cameo role for them in the K-drama series, "When the Devil Calls Your Name." At first the girls were apprehensive, but when told that they would be playing themselves, they settled down. They were briefly shown in the eighth episode of the drama series aired on 22 August 2019 on tvN in which they performed their debut single, and were introduced as the main lead character's girl group.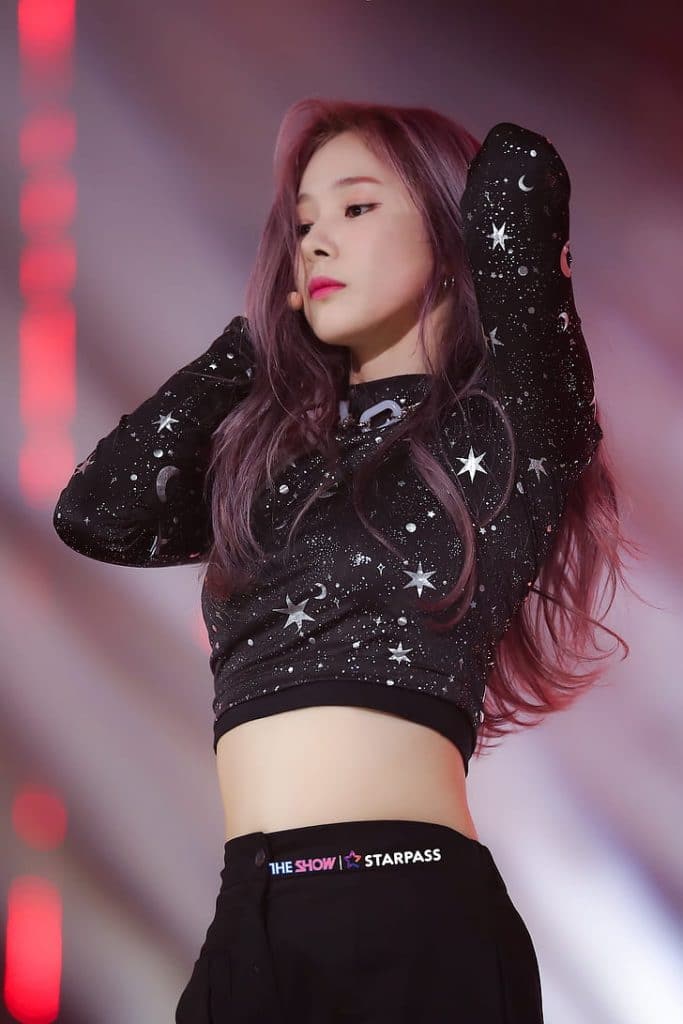 KCON Thailand Stage
Mia and the girls were invited to one of the global stages of the annual Korean Convention gala concert, commonly known as KCON, held in September of 2019 at IMPACT Muang Thong Thani in Bangkok, Thailand. They performed their major hits such as "Bon Bon Chocolat" and "Adios" on the first day of the music festival. Their inclusion in the line-up of performers was another strong indication that Everglow has started to become well-known in the K-Pop scene.
Accolades and Nominations
Mia and her group's performances drew positive feedback from music insiders, especially the music producers. They received many award nominations at the end of 2019 in several categories, including Best New Female Artist, Artist of the Year, and Worldwide Fans' Choice from Mnet Asian Music Awards as well as The Top Artist, Global Popularity Award, and The Female New Artist Award from Genie Music Awards.
Mia dance break. This deserves its own recognition. #EVERGLOW #에버글로우 #EVERGLOW_DUNDUN #EVERGLOW_MIA pic.twitter.com/HI51xGF3P4

— nix 🥺 (@yenaesthetic) February 5, 2020
The girls didn't bag any of these awards, but were inspired to do better and work harder.
Rising Popularity, First EP, and US Tour (2020)
The group's first extended play (EP) entitled "Reminiscence" was released on 3 February 2020, with four tracks including "No Lie," "Player," "Salute," and the lead track "Dun Dun." It peaked at No.4 on the Gaon Albums Chart and No.14 on Billboard's World Albums Chart. Mia and the girls were surprised that it charted at No.48 on the Japanese Oricon Album Chart, as they hadn't promoted there yet.
They performed the lead track on TV shows without a live audience – it only charted at No.85 on the Korea K-Pop 100, but peaked at No.3 on Billboard's World Digital Songs Sales chart. The official MV has become the group's most viewed, with over 180 million.
Due to the sales result of their releases, it has been quite evident that Everglow is more popular internationally than in South Korea. They've developed a sizeably solid fan base in the US, and it shocked many local K-Pop fans that Mia and the girls embarked on a US Tour before even holding a solo concert in South Korea. Some even said it was way too early for them to do something like this, however, their first US Tour entitled "Everglow: Everlasting Tour in USA" was quite successful. The tour started in Dallas on the 6th of March, and was supposed to end in a sold-out concert in Los Angeles, but due to the Covid19 virus outbreak, that last show was canceled. Fortunately, their concert pushed through in Atlanta, Chicago and Jersey City, and fans were treated to a great set-list, such that the girls reportedly accumulated more dedicated fans.
Billboard's No.1 Critic's Choice for The Best K-Pop Songs and KCOn:TACT 2020
On 21 September 2020, Everglow released their second EP entitled "77.82X-78.29." It consisted of four tracks, including "Untouchables," "No Good Reason," "Gxxd Boy," and the lead track "La Di Da." Mia and the girls performed the lead track and "Untouchable" during their live showcase online, followed by the usual promotional performances in major music shows, such as SBS's "Inkigayo," KBS's "Music Bank," MBC's "Music Core," and Mnet's "M Countdown."
The EP peaked at the No.4 position on the Gaon Album Chart, while the song "La Di Da" ranked No.5 on Billboard's World Digital Song Sales Chart. It received positive reviews from music critics, who said that the lead track was way better than their previous releases. Billboard chose it as their No.1 pick for their year-end list of "The 20 Best K-Pop Songs," Dazed ranked the song No.4 on their list of "The 40 Best K-Pop Song of 2020," and Time Magazine included it in their list of "The Songs and Albums That Defined K-Pop's Monumental Year in 2020."
Due to the restrictions caused by the Covid19 pandemic, all their TV appearances to promote their music were without a live audience. Virtual concerts became the top choice for K-Pop artists to continue with their scheduled concerts and music festivals in 2020. The first-ever online Korean Culture Festival was created by KCON to carry on promoting Korean Arts even during the era of social distancing. Mia and her group participated in the KCON:TACT event held in October 2020. They held their live premiere on the 12th, and also performed on the first night of the online concert on the 16th.
Covid19 Scare 2020
The K-Pop entertainment industry was quite strict in implementing safety protocols during the filming of TV shows. Mia and the girls were in such a scary situation when they all needed to undergo Covid19 testing, because one of the members had come in contact with a friend who tested positive for the virus.
It became such a huge deal since the group made a guest appearance in the music show "Yoo Hee Yeol's Sketchbook," two days after Yiren supposedly had an interaction with the virus carrier. The whole staff and crew as well as the other guest artists who were present during the filming of the show had to be tested and quarantined.
Fortunately, Mia along with the crew of the show and guests tested negative, but unfortunately two of their members, Yiren and Si Hyeon tested positive. They halted all their activities so that proper treatment and quarantine were observed, and changes in protocols were made to prevent it from happening again.
Most Streamed 4th Gen K-Pop Songs in Spotify 2020 and Most Liked Youtube MV
In the K-Pop industry, Everglow belonged in the fourth generation of K-Pop groups, and in the year-end list of Spotify's most-streamed groups, their song "Dun Dun" ranked at No.3, with 66 million streams in 2020.
The official MV of the song also ranked at No.75 for having the most likes on YouTube, with close to 2.9 million since its release on 3 February 2020.
Personal Life
Mia is not officially dating anyone right now as there is no news about it. Basically, with the way K-Pop stars are being handled, even if she wanted to date someone, she wouldn't be able to. Most K-Pop artists are under a legal obligation to follow a no-dating clause in their contracts that usually lasts for the first three to five years after debut. This is to ensure that they would focus their time on training and performing. Also, most South Korean fans are known to be possessive of their favorite idols, and wouldn't tolerate any dating scenarios.
Mia lives in a dormitory with the other Everglow members provided by her agency, located in Seoul. She and Onda are currently roommates.
Hobbies, favorites, rumors, and interesting facts
She earned many nicknames throughout her training days including Miji, Mya, Han Mia, and Haneunji Maneunji.
Due to a past unfortunate incident, Mia doesn't like going to the hospitals, and anything related to them.
Her favorites: chocolate (dessert), sweet and spicy tteokbokki or rice cake (snack), Tangerine (ice cream flavor), pastel shades (colors), Indie Pop (music genre).
Mia's role models when it comes to her singing career are Ailee, BoA, Park Hyo Shin, and Hyorin of Sistar.
During her free days, Mia would either spent them sleeping all day, or play with pets.
She doesn't like rainy days, especially if there's thunder, nor dark places.
Mia loves to watch movies and drama series, but not with a horror or thriller theme.
Appearance
Mia is 5ft 4ins (1.63m) tall and weighs 92lbs (42kgs), with a slim sexy body. She has black hair but has since dyed it after her debut with lighter colors, such as blond, gray, pink, and brown. She has dark brown eyes
Net Worth
According to authoritative sources, Mia has an estimated net worth of over $100,000, as of January 2021.