Kai is a successful Korean Pop (K-Pop) idol, who rose to fame when he debuted in 2012 as the main dancer, vocalist and rapper of SM Entertainment's million-seller boyband EXO, that topped Forbes Korea Power Celebrity list in 2015 and 2016. He was launched again in 2019 as part of Super M, dubbed as the "Avengers of K-Pop," formed in partnership with Capitol Music Group for their US promotions. They are the first Asian act to enter the Billboard 200 at No.1 with their debut release. Kai debuted as a solo artist in November 2020 with his self-titled extended play (EP).
Just a simple reminder that article is created and owned only by kpopwiki.org. Article cannot be re-published in any other pages or documents. Copyright is protected by DMCA. All found copies will be reported.
Original source: https://kpopwiki.org/kai-exo-aka-kim-jongins-biography-age-height-dating/
Early life and family
Kai was born Kim Jongin on 14 January 1994, in Suncheon, South Jeolla Province, South Korea. When he was a little kid, he saw someone dancing on television and told his father he wanted to do that, so his dad took him to a dance studio the following day.
He was in middle school when he along with his mom and sisters moved to Seoul so that he could pursue dancing properly. His father chose to remain in their hometown, so he would have the means to pay for his dance class fees. According to Kai, his father wanted to become an artist when he was young as he loved painting and drawing, but his parents were against it, so his dad made sure that when he had Kai, he wouldn't stand in the way of his dreams and would fully support him. His mother paid attention to his grades in case dancing didn't work out.
His father passed away in May 2018 due to chronic illness. During his group's concert in Seoul that year, he was emotional as he shared with the audience how his parents became instrumental for him in discovering the joy of dancing and learning the meaning of happiness. He expressed his love for his father, and said it was all the more meaningful to say it on stage as it's thanks to him and his mother that he's able to perform in front of everyone.
His eldest sister is nine years older than him, but not much else is known about her except that she married in January 2013, and has two kids, namely Ra-hee and Rae-on whom Kai adores and posts photos of them on his Instagram account. The kids' nickname for him is "Kaichon," a combination of his name and "samchon" (uncle). He enjoys spending time with them and doesn't mind babysitting for an hour or two whenever he can. The funny thing is, they love to tease him saying he's no fun at all but would later tell their mom that they had a great time playing with him. They even said they find his performances on television boring, as their grandmother had watched them a thousand times already. When his family would go out, they would leave their family pet dog named monggu with him.
He has another sister named Jung-ah who is five years older than him, who he helped open a café called Kamong near Gangnam Station in Seocho, Seoul. He drew the design on some of the items in the coffee shop, including the cups and napkins.
Kai considers his family as his life mentors saying that he learned a lot while observing his mom and sisters.
Educational background
He attended Suncheonnam Elementary School and Goriwool Elementary School, then went to Seonggok Middle School and Yangdong Middle School. Kai studied at Youngil High School and matriculated from the School of Performing Arts, Seoul with a major in dance in 2012.
Career
First steps
Kai was in second grade when he started dancing. He was into jazz dance at first, but after watching "The Nutcracker" he became interested in ballet, and enrolled in a ballet class when he was in third or fourth grade. His dad sent a video of him performing ballet to SM Entertainment, and encouraged him to audition when he was in sixth grade, saying that should he pass he would get a Nintendo game console.
However, it wasn't until he was in eighth grade in 2007 when he officially became a trainee, after winning the best dancer award and most popular award at SM Best Youth/Teen Contest. He also moved into the dorm provided by the agency as he underwent vocal, rap, and dance training.
After five years of training, he finally debuted at the age of 18 on 8 April 2012 as a member of EXO. The 12-member boyband was originally divided into Exo-M (Chen, Kris as the leader, Lay, Luhan, Tao, and Xiumin) and Exo-K (Baekhyun, Chanyeol, D.O., Kai, Sehun, and Suho as the leader) as they planned to release Mandarin and Korean albums, and promote in China and Korea simultaneously.
The digital release of the title track "Mama," was on the 8th and the EP the following day. The Korean version topped South Korea's Gaon Album Chart, and reached No.8 on Billboard's World Albums Chart.
Its Mandarin version topped China's Sina Chart, and made it to No.12 on Billboard's World Albums Chart; both versions had over half a million copies sold.
Exo-K won the New Artist of the Year Award at the Golden Disc Awards and Seoul Music Awards.
Further success
Kai's group became a million-seller with their first studio album entitled "XOXO" and its repackaged version "Growl", both released in 2013 and topping the Gaon Album Chart with cumulative sales of close to 1.3 million copies combined. It also claimed the No.1 spot on Billboard's World Albums Chart, with over 6,000 copies sold in the US.
"Wolf" – the lead single with over half a million digital downloads in Korea – gave them their first music show win as the No.1 Song of the Week on 14 June 2013. The title track, "Growl" became their signature hit song with 14 music show wins, selling more than two million digital downloads in Korea, and over 60,000 in the US.
🎉 KAI NAVER TALK PARTY 🎉

Let's chat!

Join us on 👉🏻 https://t.co/fw9NcaHKTj now!
Always include 엑소 카이

Current Chats: 118k
Goal 🔜 150k #엑소카이 #KAI @weareoneEXO pic.twitter.com/lqTKfGkQKt

— Kai Naver Blogs (@KaiNaverOnline) February 11, 2021
Most of their succeeding EPs such as "Miracles in December" (2013), "Overdose" (2014), "Sing For You" (2015), and "Universe" (2017) topped the Gaon Album Chart, with each one selling over 500,000 copies.
Kai and the boys released five studio albums along with their repackaged albums that became million-sellers, with three of them making it onto the Billboard 200, namely "Exodus" (2015) at No.95, "The War" (2017) at No.87, and "Don't Mess Up My Tempo" (2018) at No.23. "Obsession" (2019), which peaked at No.182 on Billboard 200, only exceeded 800,000 copies sold, but Exo still holds the record for having the most number of best-selling albums in K-Pop history from 2013 to 2017. Singles with digital downloads surpassing one million include "Overdose," "Call Me Baby," "Love Me Right," and "Ko Ko Bop."
Exo made it into the top ten of Forbes Korea Powerful Celebrities from 2014 to 2019, topping the list in 2015 and 2016.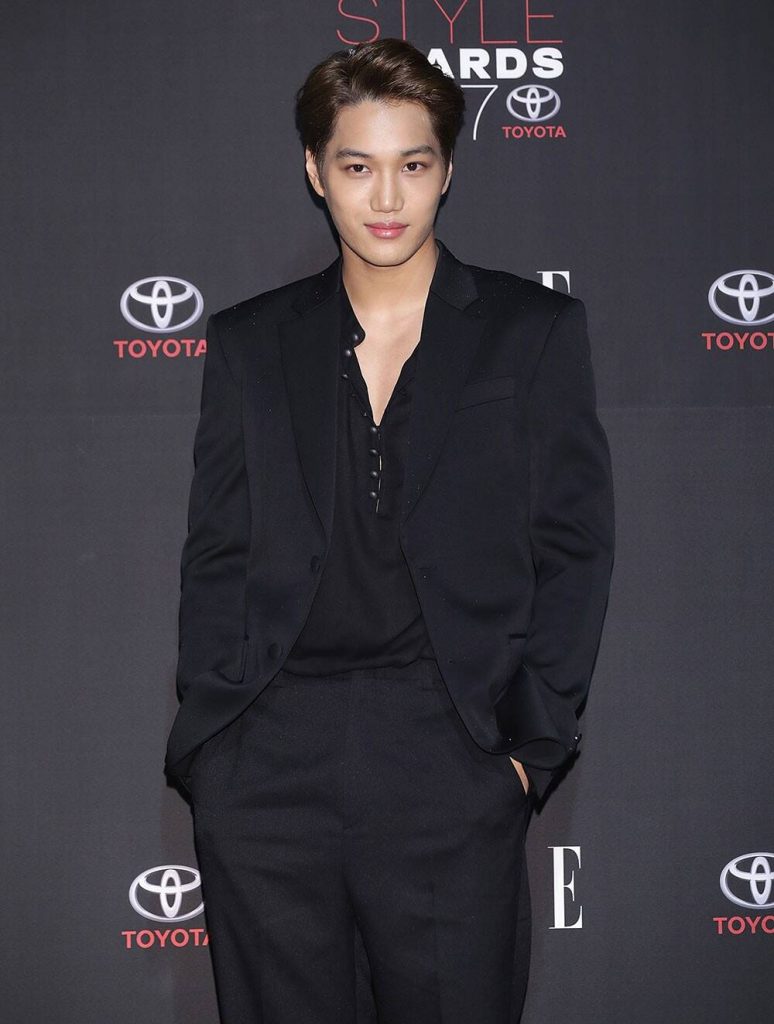 Super M debut
SM Entertainment formed Super M with members from existing boybands such as Shinee's Taemin, Exo's Kai and Baekhyun, NCT 127's Mark and Taeyong, and WayV's Lucas and Ten. Kai debuted with the new group on 4 October 2019, with their self-titled EP and its lead single "Jopping." It entered the Billboard 200 at No.1, making them the first Asian act to do so with their debut release – it also topped Billboard's World Albums Chart with over 225,000 copies sold in the US. They held their debut concert on the 5th of October at the Capitol Records Building in Los Angeles, and made their US TV debut the following day on "The Ellen DeGeneres Show." They embarked on a tour called "We Are The Future Live" in North America, and extended it to Europe and Latin America.
Their first studio album entitled "Super One" released on 25 September 2020 entered the Billboard 200 at No.2, and topped Billboard's World Albums Chart with over 100,000 copies sold in the US. It reached the No.1 spot on the Gaon Album chart, selling half a million copies.
Solo Activities
Kai's experience as an actor started in 2012, with a cameo role as an Exo member in SBS' romantic comedy series "To The Beautiful You," based on the Japanese manga series for teens entitled "Hana-Kimi." His next project was the web series "Exo Next Door" (2015), playing a recurring role as a fictionalized version of himself.
In the web drama "Choco Bank" (2016), created for South Korea's Financial Services Commission for an awareness campaign on managing finances when starting a business, Kai portrayed the main role of a college graduate named Kim Eunhaeng, who struggles as he starts working for the first time. He also appeared in the promotional web series for Lotte Duty-Free Shop entitled "7 Kisses" in 2016.
He was tapped to play the lead role in the 16-episode South Korean coming-of-age series "Andante" (2017-2018), and the Japanese five-episode series "Spring Has Come" (2018).
In KBS2's romantic fantasy series "The Miracle We Met" (2018), he portrayed the supporting role of a god named Ato, and was nominated for Best New Actor at the 32nd KBS Drama Awards.
In 2020, he became the Gucci Brand Ambassador, as well as the first male muse of the Bobbi Brown cosmetics brand.
He made his debut as a solo artist on 30 November 2020 with the release of his self-titled EP, which consisted of six R&B pop/alternative tracks that he picked, based on how they best matched his vocals, and the kind of performance he wanted to deliver on stage. It peaked at No.3 on the Gaon Album Chart with over 235,000 copies sold by the end of the year, and cumulative sales of more than 344,000 copies. It also entered Billboard Heatseekers Albums Chart and World Albums Chart at No.7 and No.11, respectively. The music video of the lead single, "Mmmh," garnered over 45.5 million views with 2.4 million likes. He also released the "Film: Kai," which was a compilation of performance videos of all the tracks on his EP.
Personal life
Kai is 27 and single – he's had two past relationships that the public was aware of. In April 2016, Kai and Krystal Jung, an actress and former f(x) band member, were confirmed to be dating – they had known each other since 2007 when they met as trainees of SM Entertainment. News first broke out when Dispatch, the source of information and photos of Korean celebrities dating in secret, captured photos of the couple meeting up and eating at restaurants. However, after only a year and two months, their agency announced that the two had broken-up because they were unable to meet often, due to their busy schedules.
On 1 January 2019, it was revealed that Kai was dating Blackpink's Jennie. Dispatch first reported that the couple was secretly dating after they followed Kai one night in November picking Jennie up from her home, then drove to Sky Park where they went for a stroll while holding hands.
SM Entertainment confirmed the relationship, saying that the two had become fond of each other, although Jennie's agency, YG Entertainment neither confirmed nor denied the relationship. However, on 25 January 2019, it was reported that the two went their separate ways, to focus on their respective careers.
When he started living alone, he chose a place that's across the street from where all his family members live. The interior is mostly white with black accents, and the doors blend in to look like they are part of the wall. His home also has secret passages so that the rooms are interconnected. He loves clothes, and has two dressing rooms just to accommodate all his possessions as he doesn't throw anything away. When he turned 20 he stopped removing the tags on his clothes, and keeps them in mint condition. They were pricey so whenever he urgently needed cash, he thought that he could sell them.
He doesn't have much free time, so whenever he goes out even just for a walk or going to an internet café with his friends, he would dress up wearing his clothes as opposed to outfits that were sponsored or given by his stylist.
Jongin did that with just a debut album🤩✊🏼 #RecordBreakerKai #KAI #EXO @weareoneEXO pic.twitter.com/1ISc680Ckl

— tinaloey (@zzexolove) February 10, 2021
Interesting facts and rumors
He was mistaken for a girl when he was young, as his mom liked him with long hair.
During his free time, he enjoys walking around the park looking for rabbits, as watching them makes him feel relaxed.
Favorites: "Pirates of the Caribbean" and "Billy Elliot" (movies), R&B and hip hop (music genres), roast duck and fried chicken (food), one (number), sky blue, red, and black (colors)
He likes bears because his fans said he looks like one.
Kai watches horror movies before he goes to bed.
Appearance
He is 5ft 9ins (1.8m) tall and weighs around 150lbs (67kg) with a lean build. When preparing for his solo debut, he went on a diet and lost 5kgs in four months, to deliver great stages. Kai has black hair and dark brown eyes – he wears prescription glasses when he's at home, and contact lenses when going out.
He has never considered getting a permanent tattoo, but he would use his father's art designs as temporary tattoos. His dad's drawings were said to be part of a storybook that he planned to make for his grandchildren.
Net worth
Kai has an estimated net worth of $7 million, according to sources as of January 2021. In an interview in December 2019, he admitted to being one of Exo's members who 'makes the least amount of money', although not significantly.