Im Nayeon is a South Korean singer and dancer, who rose to fame when she participated in JYP Entertainment's reality television survival series, "Sixteen," and then debuted as a member of the Korean Pop (K-Pop) group called Twice.
Just a simple reminder that article is created and owned only by kpopwiki.org. Article cannot be re-published in any other pages or documents. Copyright is protected by DMCA. All found copies will be reported.
Original source: https://kpopwiki.org/im-nayeon-twice-age-height-plastic-surgery-boyfriend/
Early life and family
Im Nayeon was born on 22 September 1995, in Sangil-dong, Seoul, South Korea. Her father, Yoo Chang-joon, who is a professional chef, and her mother, Cheon Se-Ah, raised her and her sister, who is three years younger than her, in a Christian household.
She hurt her left leg in a car accident when she was young, which caused her an inability to stay balanced sometimes.
Education background
She matriculated from Apgujeong High School, and enrolled in Konkuk University with a film major. She stopped her studies when she became busy pursuing a career in the K‑Pop industry.
Career
First steps
Nayeon entered a modeling contest for children at the age of five, and this was where she was first seen by JYP Entertainment's talent scouts who then tried to cast her. However, her mother felt she was too young to start training to become a K-pop idol. In September 2010, she auditioned at age 15 without informing her parents, and was successful, however, she regretted that decision on her first day as a trainee at JYPE, as singing alone in front of other people stressed her out. She also didn't want to take vocal lessons at first, as she didn't want to be scolded.
She was once disappointed at herself for thinking it's enough that she only had to do her part in the group, and nothing more. One of her coaches noticed it, and told her that she stopped growing as an artist and stayed at the same level as before. She cried after hearing this, and worked hard on improving her skills.
Prior to debut, she appeared in music videos of various artists managed by the company, and made a cameo appearance in KBS' teen drama, "Dream High 2," in 2012.
She came close to debuting in 2014 as a member of 6mix, along with other trainees such as Jihyo, Jeongyeon, Minyoung, Lena, and Cecilia, but the debut was delayed and eventually scrapped due to line‑up changes, as Lena, and Cecilia left the company for unknown reasons.
JYPE then decided to form a girl group from his pool of talent through Mnet's reality television survival series called "Sixteen", which aired for 10 episodes from May to July 2015. Out of 16 participants, only seven would be chosen to be part of the K-Pop group called Twice that would be launched. Company founder and owner, Park Jin‑young (JYP), chose the name as the group would aim to touch people's hearts – once through the ears and once through the eyes. Nayeon was the first to secure a spot in the debuting group.
when she gets so happy and smiley and goes full 😆😆😆 im going to love her for forever
♡︎ #NAYEON #나연 ♡︎
[@JYPETWICE] pic.twitter.com/C2xIRqV7cv

— hourly sanayeon ♡︎ (@hourlynayeon) December 2, 2020
The rest of the girls who made the cut were Chaeyoung, Dahyun, Jeongyeon, Jihyo, Mina, and Sana.
In a surprising twist in the finale of the show, it was announced that Momo and Tzuyu would be included in the final line-up. Some fans were upset by this, as they deemed it unfair to the other participants. JYP apologized and explained that the first seven went through the show's selection process, which was based on the votes they received from the studio audience and viewers. However, his team felt that adding Momo (JYP's choice) and Tzuyu (viewers' choice) would make the group more satisfactory.
Debut as Twice
Nayeon made her debut as the lead vocalist, lead dancer, and center of Twice, with the release of their first extended play (EP) "The Story Begins" on 20 October 2015. The six-track EP peaked at No.3 on the South Korean Gaon Album Chart in its third week, and has sold close to 200,000 copies as of 2020.
The lead track, "Like Ooh-Aah," reached No.10 on the Gaon Digital Chart, and its music video has accumulated more than 380 million views as of late-2020.
Six months later, they released another EP entitled "Page Two", with its lead single "Cheer Up," which established them as phenomenal rookies. The song became the best-performing single in South Korea that year, as it topped the Gaon Digital weekly chart and year-end chart, with over 1.8 million digital sales and more than 110 million streams. It gave them their first music show win and the Song of the Year Award from the 18th Mnet Asian Music Awards and 31st Golden Disc Awards. The single also peaked at No.3 on the Billboard World Digital Song Sales Chart, and No.23 on the Billboard Japan Hot 100.
Further success
To mark the beginning of Nayeon and the girls' second year in the K-Pop industry, they released their third EP, "Twicecoaster: Lane 1," on 24 October 2016, and it was a big hit as well. It claimed the top spot on the Gaon Album Chart, and sold over 350,000 copies by the end of the year. It also peaked at No.3 on the Billboard World Albums Chart and No.10 on Japan's Oricon Chart.
The lead track, "TT," (emoticon for crying) has a catchy melody and dance choreography, featuring the "TT pose" that became viral. For four consecutive weeks, it topped the Gaon Digital Chart and gave the group more than a dozen music show wins. It peaked at No.2 on Billboard's World Digital Song Sales Chart, sold over 30,000 copies in the US, and Billboard staff ranked it at No.18 on their list of "The 100 Greatest K-Pop Songs of the 2010s."
It made waves in Japan as well, with 100,000 downloads and 30 million streams, earning them gold and silver certifications respectively, from the Recording Industry Association of Japan (RIAJ).
JYPE released the repackaged EP, "Twicecoaster: Lane 2," on 20 February 2017, debuting at No.1 on the Gaon Chart and No.4 on the World Albums Chart with over 265,000 units sold. Its lead single, "Knock Knock," topped the digital chart on Gaon with close to 320,000 downloads and over seven million streams in its first week.
From February to June 2017, Nayeon and the girls held the concert "Twice 1st Tour: Twiceland – The Opening," which started in Seoul, with stops in Bangkok and Singapore then back to Seoul again, garnering a total of 22,000 attendees.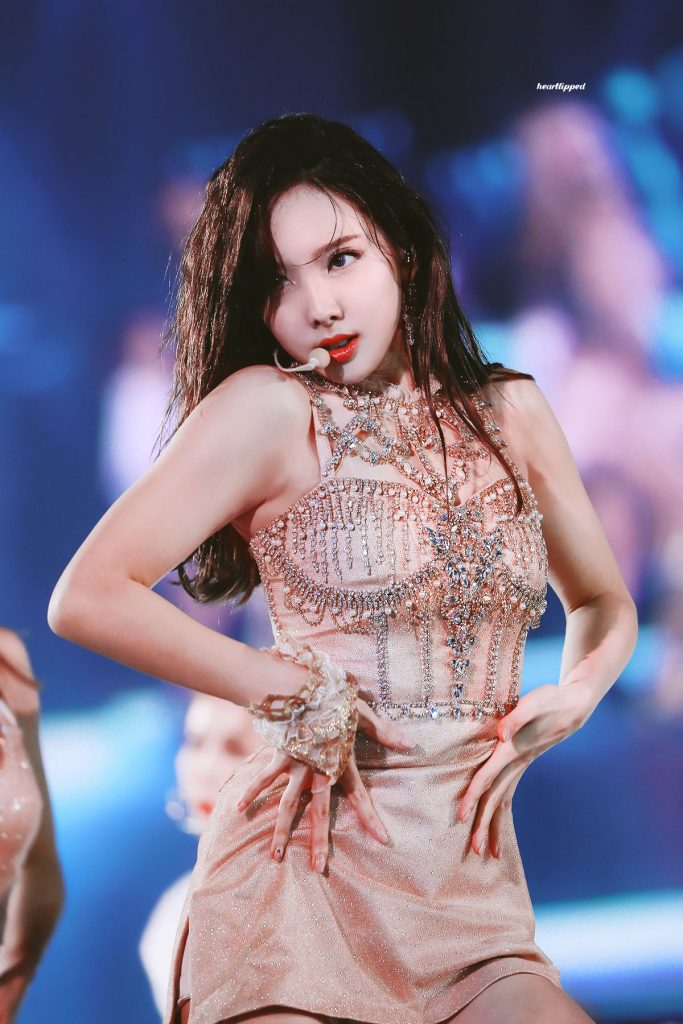 In June 2017, the group released their first Japanese album, "#Twice," which contains Korean and Japanese versions of their hit singles. It peaked at No.2 on the Oricon Album Chart and No.1 on the Oricon Digital Album Chart. It received platinum certification from RIAJ for selling over 260,000 copies. They actively promoted in Japan, as they appeared on the TV show "Music Station;" held a debut showcase, "Touchdown," with 15,000 fans in attendance; and attended the "Hi-Touch" event, in which 10,000 fans were able to do high-fives and handshakes with Nayeon and the girls.
Back in Korea, they released their first studio album entitled "Twicetagram," which was included on Billboard's list of "20 Best K-Pop Albums of 2017" as it reached the No.1 spot on the World Albums Chart and No.10 on the Heatseekers Albums Chart. It topped the weekly album chart, and reached No.15 on the year-end chart of Gaon, with over 350,000 copies sold.
The lead single, "Likey," made it to the top of the Gaon Digital Chart and Billboard's World Digital Song Sales Chart. Nayeon co-wrote the lyrics of the seventh track, "24/7."
Twice was included in the list of Forbes Korea's "Top 40 Power Celebrities of 2017" as they ranked in third place with the actors, Song Joong Ki and Park Bogum, claiming the second and first place, respectively.
Nayeon and the girls kept a busy schedule in 2018, with concerts and album promotions. They visited several cities in Japan from 19 January to 1 February for their showcase tour, attracting 20,000 fans, and then released the Japanese single, "Candy Pop," on 7 February. It topped the Oricon Album Chart and Billboard Japan Hot 100 with over 250,000 units sold, earning them platinum certification from RIAJ.
With over 335,000 copies sold, their fifth EP entitled "What is Love?", released in April, gave them their first platinum certification from Korea Music Content Association (KMCA).
Their Japanese single, "Wake Me Up," released in May sold more than 500,000 copies and was certified double platinum by RIAJ. Nayeon and the girls then held their second concert tour called "Twiceland Zone 2: Fantasy Park", filling big venues in Seoul, Saitama, Bangkok and Jakarta from May to August, which attracted 116,000 fans.
Their success continued with the release of "Summer Nights," "Yes or Yes," "BDZ," and "#Twice2", with the first two receiving platinum certification from KMCA, and the last two from RIAJ for their outstanding sales. They held an arena tour in Japan from September to October 2018, performing to 70,000 attendees. Japanese fans couldn't seem to get enough of Twice, as they continued to flock to their concerts, and a total of 220,000 people were in attendance during their Japan dome tour called "#Dreamday" from March to April 2019.
Their Korean EPs, "Fancy You" and "Feel Special," as well as their Japanese studio album, "&Twice," performed well on the music charts. Nayeon wrote the lyrics of the second track, "Rainbow," and co-wrote the sixth track, "21:29," of their 8th EP.
The group held their first world tour called "Twicelights" from May 2019 to February 2020. They had four more concert dates in Seoul and Tokyo scheduled in March and April, but they were canceled due to the restrictions caused by the COVID-19 pandemic.
JYPE made a documentary series on Nayeon and the girls, entitled "Twice Seize The Light," which was released on YouTube on 29 April 2020.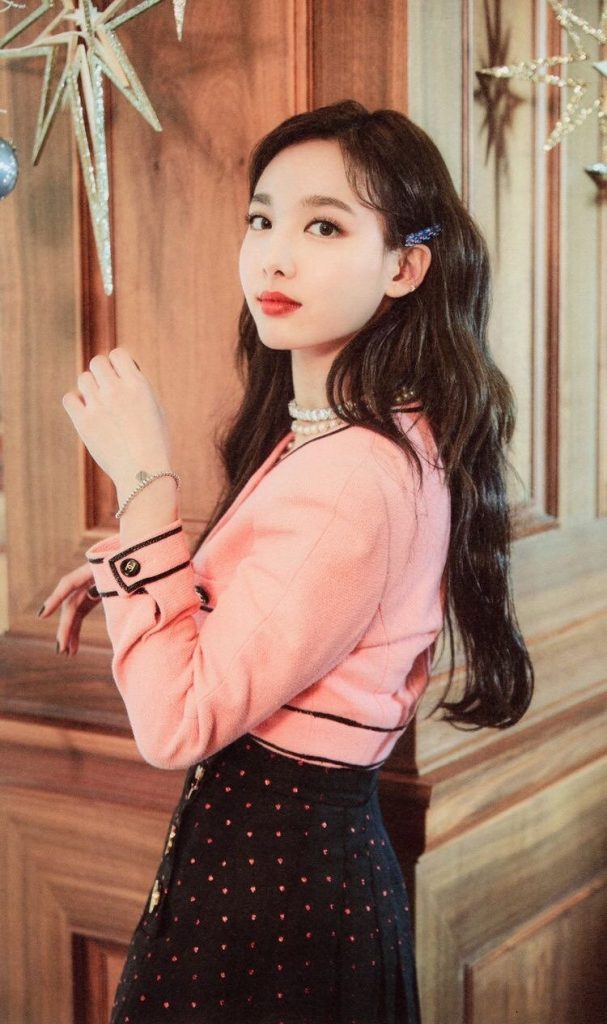 They also released their ninth EP, "More & More," after a month, and with over 550,000 copies sold, it was certified double platinum by KMCA. It became the third best-selling album in South Korea by a girl group, and marked their entry to Billboard 200 at No.200. Nayeon wrote the fourth track, "Make Me Go." She also wrote the 11th track, "Depend on You," of their second studio album, "Eyes Wide Open," which was released in October.
Personal life
She is 25 years old and single. Although she is no longer bound by the no-dating policy imposed by the company for the first three years after her debut, there is still no news of her dating anyone. Her ideal type is someone trustworthy, and who can take care of her well.
She lives in the dormitory provided by the agency, and shares the biggest room with Jihyo, Mina, and Sana.
Hobbies, favorites, rumors, and interesting facts
Nicknames include "Nabongs" and "MC Rail."
Favorites: purple (color), nine (number), badminton (sport), grapefruit ade (beverage), IU (K-Pop artist)
She considers her lips as her charm.
She is scared of the sea, and fireworks.
Rumors of Nayeon having her nose fixed have circulated online. According to her fans, it's only a matter of lighting, angles, and make-up that made it seem that she underwent plastic surgery based on old and new photos.
In 2016, she posted a photo of Taeyeon's (Girls Generation) "Secret" being streamed on her phone. It became controversial as it used SoundCloud, meaning it was illegal as the song is not for free distribution. She apologized and said she would be more careful in the future.
In 2019, Nayeon was targeted by far right-wing nationalists for holding hands and linking arms with Sana, a Japanese co-member, who was criticized for her post about the ending of the Hesei era in Japan. Some knetizens (Korean online users) felt Sana had no remorse about the atrocities committed by Japan in Korea during that era, and Nayeon was said to be ignorant about their history.
Nayeon has a stalker named "Josh," presumed to be German, who boarded the same flight as Twice in December 2019, and approached her to give her love letters – he shouted professing his love for her as the managers separated him from her. He said that he's disappointed with Nayeon for not protecting him. JYPE filed a restraining order against him but had to withdraw it due to difficulty in delivering it. The company said they would file it again should he come to Korea. They tightened their security after that incident to protect Nayeon. Josh kept on using social media to say that he's not a stalker and he truly loves Nayeon. He said that should the COVID-19 restrictions be lifted, he would go to Korea as he wanted to talk to Nayeon about his feelings. A screenshot of text messages and audio recording allegedly of Josh circulated online, saying that if Nayeon dated in secret while ignoring him, he would be forced to kill her because it's considered cruelty and a crime to betray him that way.
Appearance
She is 5ft 4ins (1.63m) tall, weighs 105lbs (47kgs), and has a slim build with vital statistics of 34-26-39. She has black hair and brown eyes.
Net worth
Im Nayeon has an estimated net worth of $2 million as of November 2020, according to sources.