Hendery is a Chinese singer-songwriter, rapper and dancer, who rose to fame when he debuted as a member of WayV (WeiShenV), the fourth sub-unit of NCT (Neo Culture Technology), under SM Entertainment's Chinese agency, Label V.
Just a simple reminder that article is created and owned only by kpopwiki.org. Article cannot be re-published in any other pages or documents. Copyright is protected by DMCA. All found copies will be reported.
Original source: https://kpopwiki.org/hendery-nct-wayv-age-height-real-name-profile-2020/
Early life and family
Hendery was born Huang Guanheng (Mandarin)/Won Kunhang (Cantonese) on 28 September 1999, in Macau, People's Republic of China. His Korean name is Hwang Kwan Hyung. All that is known about his family is that he has three older sisters, and he remembers his grandmother picking him up from school when he was four and taking him home. When he was young, his dream was to build a really big machine.
Education
There is no information on his formal education, but he took acting classes in Beijing, in the hope of becoming a comedian who makes everyone happy.
Career
First steps
Hendery was shopping when someone approached him, and asked if he wanted to come to the company. He was given a business card and saw that it was SM Entertainment and said, 'Okay, why not?' He became an official member of SM's pre-debut training program, SM Rookies, on 17 July 2018.
On 12 August 2018, SM Entertainment announced its plans to launch the fourth sub-unit of NCT – Neo Culture Technology to be based in China, with its tentative name NCT China.
Before the year ended, WayV (Weishen V) was introduced via its official Weibo account, a microblogging site known as the Chinese version of Twitter. The group is comprised of seven members, four of whom were previously seen in NCT promotions – Kun, Ten, Lucas, and Winwin. The other three who would complete the male idol group were Hendery, Xiaojun and Yangyang.
According to Chris Lee, the SM Entertainment Head of A&R and CEO of CTGA (Culture Technology Group Asia) Europe, they recruited the members from China and Asian markets, and are managed by SM's Chinese label, Label V.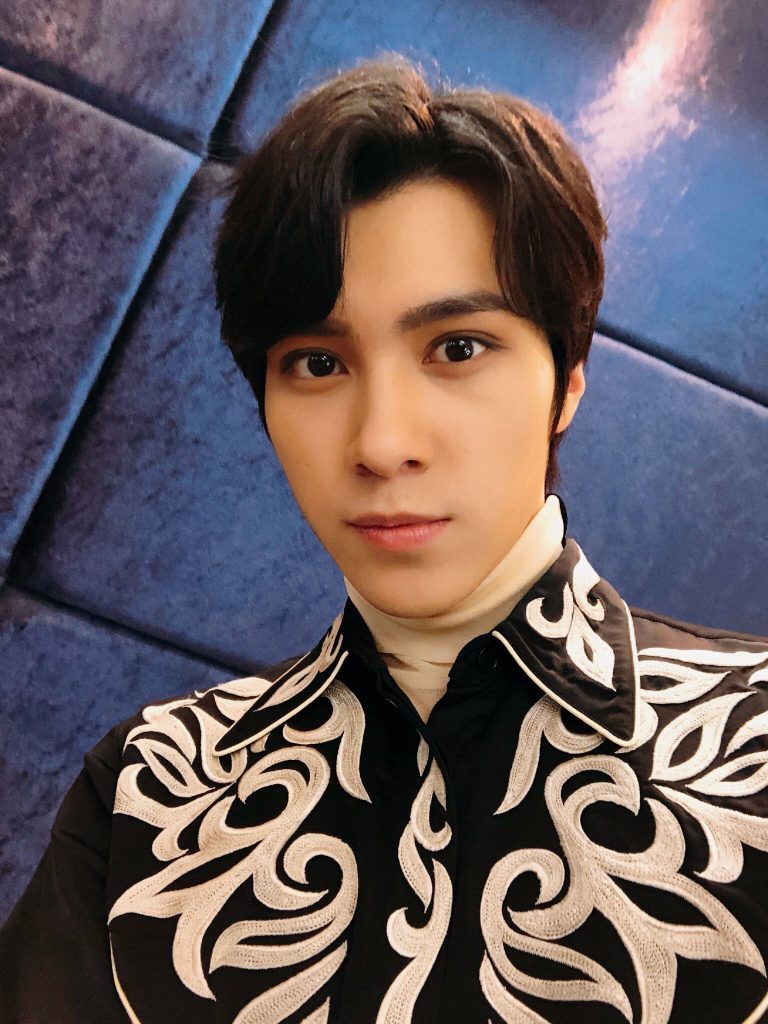 Some reports about the group were a bit confusing to some K‑Pop fans, when it was said that WayV wouldn't be promoted as an NCT group, although they are said to be the NCT China-based sub-unit, and that they would also participate in their future activities. This distancing from NCT is said to be because of tense relations between South Korea-China at that time. They would conduct their promotions in several countries but mainly in China.
Hendery and the other members were trained by SM. He is the lead rapper, lead dancer and vocalist of the group. Kun is the leader, Lucas is the center and face of the group, Xiaojun is the main vocalist, Ten is the main dancer, Winwin is a lead dancer, and Yangyang is the main rapper and maknae, or youngest.
Hendery made his debut on 17 January 2019 on the release of the digital album "The Vision," with "Regular" as the lead track, and peaked at No.9 on the QQ chart in China, with its music video (MV) having more than 15 million views. It was previously released along with "Come Back" by NCT 127, so the only original song is entitled "Dream Launch." WayV debuted on the Billboard Social 50 with all three songs in their EP sung in Mandarin making it to the top ten of the Billboard World Digital Song Sales chart.
On 9 May, they released their EP (extended play) "Take Off" with six tracks – its lead single, "Take Off," peaked at No.1 on the QQ chart. Their EP included all songs from their digital singles, debuting on the Billboard Albums chart at No.7 and topping the iTunes album chart in 30 countries.
As part of their promo, they released not just the music video which has 22 million views, but also performance and dance practice videos.
Further steps
In 2019 Hendery appeared on the reality show "Dream Plan", consisting of 12 episodes (August-September) released on YouTube and Youko, the Chinese version of YouTube. It is a way for his fans to get to know him and his members better, as they go on daily adventures.
His group's second EP, "Take Over the Moon," had its digital and physical release on 29 October, topping the iTunes chart in 16 countries, peaking at No.5 on South Korea's Gaon Album chart, and No.12 on the US Billboard World Albums.
He co-wrote two tracks, the "King of Hearts" and "We Go Nanana." "Love Talk" has an English version which was released digitally and made it to the top 3 on the Billboard Digital Song Sales chart and no.2 on QQ Weekly Digital Sales chart.
On October 30, he performed for the Korean audience for the first time on the "Show Champion" of the MBC Music Channel, as they promoted the lead single, "Moonwalk," then appeared on SBS MTV's "The Show" a few days later. To further promote their group and newly released album, he with his co-members went on a fan-meeting tour between November and December in five cities, including Seoul, Bangkok and Wuhan, entitled "Section#1_We Are Your Vision."
WayV won the Best New Artist Award at the 21st Mnet Asian Music Awards held in Nagoya Dome, Japan on 4 December 2019.
In March 2020, they released a physical album of "Take Over the Moon – Sequel", with the original six tracks plus two others, namely "Love Talk" English version, and a narration track of their message to their fans.
Their first concert entitled "WayV – Beyond the Vision", organized by SM Entertainment and South Korea's No.1 search engine site, Naver, was held on May 3. It was the second of the "Beyond Live" online concert series by SM artists. They also performed a mashup of "Bad Alive" and "Turn Back Time," which were yet to be released.
To heighten the anticipation of their fans for their upcoming album, they came up with an interactive game that could be played on a mobile 'phone, in which you can 'find clues from WayV and rescue them' – there would be bonus images if you succeed. Their first full-length album, "Awaken The World," had its digital release on 9 June, and its physical release was delayed to 18 June to make some changes on the album cover, due to the accessories such as the "Agent Orange" patch and the "F*ckn Cool Jap" badge on two of the members' outfits being brought to management's attention by fans, that were deemed insensitive when they saw the teaser images.
Its title track "Turn Back Time" which is in Mandarin, has a Korean version that was digitally released; both versions have a music video. It was commercially successful, peaking at No.3 on the Gaon Album chart, No.9 at the U.S. Billboard World Albums chart, and No.19 on the Oricon Weekly Albums chart; It also topped the iTunes chart in 21 countries. It has 10 tracks, and Hendery co-wrote the lyrics for three of them, namely "Only Human," "Electric Hearts" and "Stand By Me."
Because of the COVID-19 pandemic, they were unable to travel, and only promoted in South Korean music shows, including KBS' "Music Bank," MBC's "Show! Music Core," and SBS' "The Show." They were also seen on 17 June 17 on V Live for a live broadcast, "Awaken WayVs World."
Personal life
He is 20 years old and currently single. There is no news of him being in a relationship or dating.
#HENDERY: let me kiss u <3 pic.twitter.com/70qWq4fB5g

— 📌 (@69BAEKS) August 18, 2020
Hendery's hobbies, favorites, interesting facts and rumors
His nicknames are Prince Eric, Donkey, and cucumber.
He teaches the Chinese language to his co-member and roommate, Ten, who is Thai.
Some fans are wondering about his relationship with Yangyang because of the "One‑China Policy", as he is from China and the latter is from Taiwan.
Favorites: Cactus plant, color pink, basketball and billiards, the number four, the sound of a cat's belly, and popping the bubbles on the bubble wrap.
There are some international fans who speculated that Hendery is half-Filipino, because they said that his features were more Filipino than Chinese.
He is often seen listening to music and dancing while walking.
His motto is 'to work hard to create the future.'
He loves to eat braised chicken feet; he also likes spicy food, but can't eat it. He drinks banana milk after every practice.
He is afraid of heights, and can't stand to look at frogs.
Hendery was once stuck in an elevator with his group, and they decided to document it on film; everyone reacted differently, and he just found it amusing when Winwin looked at the camera in a slight panic and asked for help. It didn't take long though before they were able to get out.
He is learning to play the drums.
Their fandom is called WayZenNi; the only sub-unit of NCT not having NCTzen as the fandom. They have their own lightstick, called "leekbong."
He rarely posts on his verified personal Instagram account @i_m_hendery, that has more than a million followers, but when he does, it is all about his pets and co-members.
His fans also get to see him and be updated through WayV's official YouTube channel, @WayV_official twitter account, and @wayvofficial Instagram account.
Appearance
He is 5ft 8ins (1.77m) tall. He has black hair and black eyes. During promotional activities, his hair color and hairstyle change depending on the concept of the album.
Net worth
Hendery as a singer-songwriter of a successful group, has an estimated net worth of about $1 million as of July 2020, according to sources.