Wendy is the main vocalist of the South Korean girl group called Red Velvet, under SM Entertainment, who rose to prominence with the successful debut single, "Happiness." Her group became one of the top girl groups in the country, with million-selling digital singles such as "Ice Cream Cake," "Red Flavor," "Bad Boy," and "Psycho." She sustained serious injuries after a fall during her solo rehearsal for the 2019 SBS Gayo Daejeon, and went on a temporary hiatus to recover her health.
Just a simple reminder that article is created and owned only by kpopwiki.org. Article cannot be re-published in any other pages or documents. Copyright is protected by DMCA. All found copies will be reported.
Original source: https://kpopwiki.org/all-about-wendy-from-red-velvet-age-family-height-bio/
Early life and family
Wendy was born Shon Seung Wan on 21 February 1994, in Seongbuk, Seoul, South Korea into an affluent family. The neighborhood of Seongbuk was owned by the royal family during the Joseon period, and was later dubbed as the Beverly Hills of Korea. She has an older sister named Son Seunghee, who graduated from Cornell University with a Doctor of Pharmacy.
Her family moved to Canada in 2004, where if Joy, her co-member, was to be believed during a radio show interview with Red Velvet, her family owns a mansion with 50 rooms. Wendy denied that, and said she didn't know how many rooms there were in her home, as her parents keep moving. When she posted her holiday meal in December 2020, fans were again reminded that she came from a wealthy family, based not on the food but on the dinnerware used, a Lomonosov Porcelain in which one dinner set can cost from $1,400 to $2,000.
Educational background
Wendy attended Jecheong Jungang Elementary school until fifth grade, before going to Canada and then the US for her studies – for her overseas schooling, she used the name Wendy Shon. From seventh to ninth grade she attended Shattuck-Saint Mary's boarding school in Faribault, Minnesota USA. According to a faculty member of SSM, Wendy was a hardworking student who excelled in both academics and arts.
She was included in the school's honor roll from 7th grade, won fifth place at the Minnesota Junior High School Mathematics League, and was awarded by former President Obama for her 'outstanding academic excellence and leadership within the community.' During school activities such as family weekends and pep fests, she actively participated and showed her singing, dancing, and acting skills. She was also part of the varsity golf team of her school during her freshman year.
Her older sister often visited Wendy in her classroom to inquire about how she was doing in class. Their parents also visited their children at SSM, and would have dinner with them and some members of the faculty. She left school when her older sister matriculate, returning to Ontario to attend Richmond Hill High School. She joined the school choir called Vocal Fusion, and was seen performing with them in the 2011 Canada National Show Choir Championship.
Career
First steps
Prior to her debut, videos of her singing were uploaded onto YouTube, but the account was deleted later when she became a professional singer. Her parents were initially against her becoming an idol, but became supportive of her decision when she persisted, and went to auditions including the one given by Koreaboo in partnership with Cube Entertainment in 2011. Out of 5,000 videos of aspiring singers submitted for the online global audition, only 15 made it to the final round, and she was one of them. However, things didn't work out in the end.
She also auditioned for YG Entertainment but failed to pass, and was among the people whom the company seemed to have regretted to have slipped through their fingers, as revealed in the reality television survival series, "Treasure Box."
She was 18 when she passed SM Entertainment's 2012 Global Audition in Canada, after she performed an R&B Soul rendition of Kim Gun Mo's "Moon of Seoul." Interestingly, she only accompanied her friend, but was cast by the company. The training program involved lessons in vocal and various genres of dance; trainees were also taught English, Chinese and Japanese – Wendy already knew English as well as French and Spanish from her schooling.
In March 2014 after training for two years, she was introduced as an official member of SM Rookies, a pre-debut training group, and SM Entertainment released a video of her doing a cover of Taylor Swift's "Speak Now."  She also sang "Because of You," the soundtrack of Mnet's drama series, "Mimi."
Red Velvet debut
She officially debuted in August 2014 as the main vocalist of the K-Pop girl group called Red Velvet, along with three other members, namely Irene (leader and main rapper), Seulgi (main dancer and lead vocalist), and Joy (lead rapper and sub-vocalist).
"Happiness" was their first digital single released on 4 August 2014, which they performed three days prior in KBS' "Music Bank." It reached No.5 on South Korea's Gaon Weekly Digital Chart, and No.13 on its year-end chart with over 265,000 download sales, and cumulative download sales of about 430,000.  Red Velvet ranked No.4 on Billboard's World Digital Song Sales chart, with cumulative sales of 15,000 in the US, making history as the first K-Pop girl group to have entered the said chart with their debut single.
However, the group's successful debut was marred with controversies involving their name and music video. An indie band protested the use of the name, as they had been using it since 2013, and it would be difficult for them to promote having the same name as the group coming from the biggest entertainment company in South Korea. The band met with SM Entertainment and the issue was settled – considering that the name had not been registered as a trademark at that time, the decision was that both bands would continue to use the name.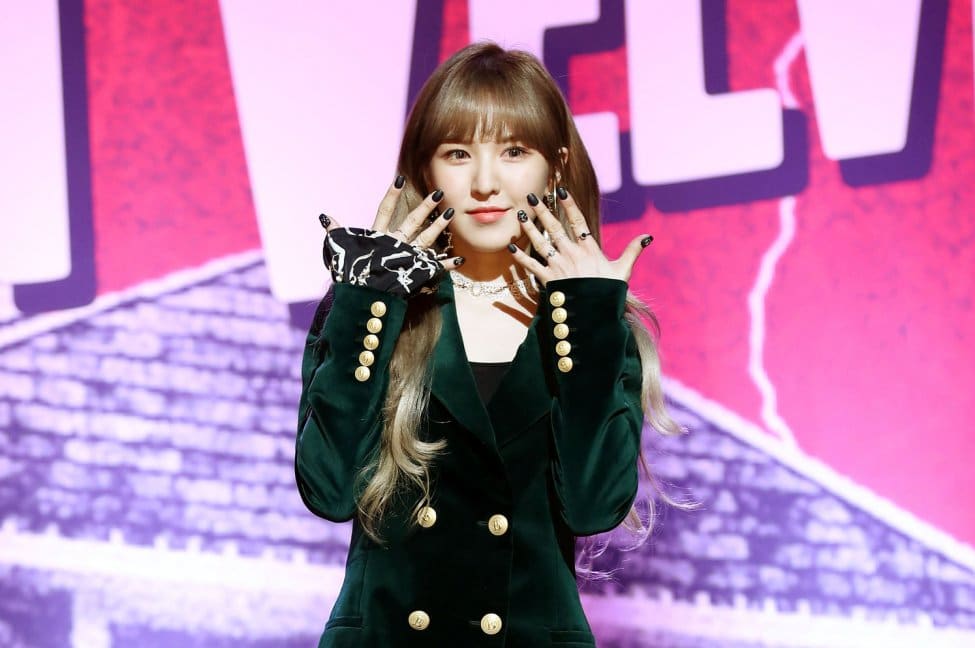 Another issue that came up was the background imagery used in the music video, that included the Hiroshima and Nagasaki bombings and the 9/11 terrorist attacks. The controversial scenes were removed, and the edited version has garnered over 100 million views to date.
Further success
Another member named Yeri was added as the sub-vocalist and sub-rapper of the group in March 2015, when they released their first extended play (EP), "Ice Cream Cake." It was No.1 on the Gaon Weekly Album Chart, and sold over 47,000 copies that year, reaching No.2 on Billboard's World Albums Chart. It was the highest-selling album by a girl group for the first half of the year according to Korea's Hanteo Chart. The EP also entered Japan's Oricon Albums Chart at No.76.
All six tracks made it onto the Gaon Digital Chart including "Something Kinda Crazy" at No.52, "Take It Slow" at No.64, and "Automatic" at No.32.
The title track charted at No.4 on Gaon with over 850,000 download sales by the end of the year, and eventually became their first single to reach the million download sales mark, with cumulative sales of 1.3 million downloads. It also performed well on the Billboard World Digital Song Sales chart at No.3, with 23,000 download sales in the US. "Ice Cream Cake" gave Wendy and the girls their first music show win on 27 March 2015, for the No.1 Song of the Week courtesy of KBS' "Music Bank."
"The Red," their first studio album released in 2015, topped both the Gaon Album Chart and Billboard's World Albums Chart. All ten tracks made it onto the digital chart of Gaon, including "Huff n Puff" at No.36 and "Oh Boy" at No.35, with each of them exceeding 100,000 download sales. Its lead single, "Dumb Dumb" had cumulative sales of over 1.6 million in South Korea, and 26,000 in the US – according to Dazed Digital, it was the Best K-Pop Song of 2015.
The official MV, which attracted more than 137 million views, was ninth on Rolling Stone's list of Ten Best Music Videos of 2015.
"Russian Roulette," the title track of their third EP released in September 2016, had cumulative sales that surpassed 2.5 million downloads in Korea, and 24,000 in the US. All seven tracks from their EP also entered the Gaon Digital Chart, including "Lucky Girl," "Bad Dracula," "Sunny Afternoon," and "Fool."
Red Velvet had three singles that sold millions in 2017, including "Rookie," the title track of their fourth EP released in February with over 1.3 million download sales; "Red Flavor," the lead single of their special EP, "The Red Summer," released in July, with more than 2.5 million download sales; and "Peek-a-Boo," the lead track of the second studio album, "Perfect Velvet," released in November, with around 2.5 million download sales.
Wendy and the girls held a three-day concert called "Red Room" in August 2017 at the Olympic Hall in Seoul, with 11,000 fans in attendance.
With Japanese fans also clamoring for a concert, they went to seven cities in Japan for 10 shows from March to June 2018, and had a total of 51,000 attendees.
The second studio album repackaged as "The Perfect Red Velvet" was released on 29 January 2018, which claimed the No.1 spot on the Gaon Album Chart with over 120,000 copies sold, and No.29 on the Oricon Chart with close to 13,000 copies sold. It also entered two Billboard charts, peaking at No.3 on World Albums and No.7 on Top Heatseekers Albums. The lead single, "Bad Boy" placed second on both the Gaon Digital Chart and Billboard's World Digital Song Sales Chart, reaching the 2.5 million download sales mark, which earned Wendy and her group their first platinum certification from the Korea Music Content Association (KMCA). It had 27,000 download sales in the US too, and the song topped Billboard's list of "The 20 Best K-Pop Songs of 2018: Critics' Picks", and BuzzFeed's list of "30 Songs That Helped Define K-Pop in 2018."
This one iconic day.. ☺#웬디 #WENDY #레드벨벳 #RedVelvet pic.twitter.com/5oeSw4bSN6

— , (@SSWLOOKS) February 25, 2021
"Power Up," which was also released in 2018, was the lead single of the second special EP, "Summer Magic." It had cumulative download sales of over 1.2 million, and gave Wendy and the girls the most number of Top Song of the Week trophies so far from various music shows. The song also achieved a "Perfect All-Kill" (PAK) status, for placing first on all real-time major music charts simultaneously, including the Instiz Weekly Chart.
"Psycho," the lead single of their compilation album "The ReVe Festival: Finale," was released in December 2019, and earned the group another platinum certification from the KMCA for surpassing 2.5 million downloads; it also won the Best Digital Song at the Golden Disc Awards.
Wendy's injury
During rehearsal on the 25th December for her solo stage appearance at the 2019 SBS Gayo Daejeon, Wendy fell from a platform over two meters high, as the lift stairs were reportedly not properly in place.
She was hospitalized after sustaining injuries to her face, a broken wrist and pelvic fracture on the right side of her body. It was confirmed in early April 2020 that she had been discharged from hospital, but continued to receive outpatient treatment. SBS has since apologized for the unfortunate accident, saying that they would take measures to ensure the safety of all artists.
She made a partial return to Red Velvet's activities for BoA's 20th anniversary cover project in August 2020.
Solo activities
Wendy collaborated with Eric Nam for "Spring Love" (2016), which peaked at No.7 on the Gaon Digital Chart, had cumulative download sales of over 820,000, and was part of the SM Station digital music project for season one. Other collaborations she had for SM Station were with Baek A-yeon in "Little Match Girl" (2017), with John Legend in "Written in the Stars" (2018), and with various artists for UNICEF in "This Is Your Day" (2019).
Wendy was the featured artist in one of the English versions of "Vente Pa' Ca" (Come Here) by Ricky Martin in 2016.
She's contributed to the soundtracks of popular TV drama series, including "Don't Push Me" with Seulgi in "Uncontrollably Fond" (2016), "My Day is Full of You" with Zico in "The King: Eternal Monarch" (2020), and "Two Words" in "Start-Up" (2020).
She was credited as one of the lyricists for the Korean verse in Ellie Goulding's "Close To Me" remix version with Red Velvet in 2019.
For the Korean release of the animated film, "Trolls World Tour" (2020), she lent her voice to the main character, Queen Poppy.
She was cast as the co-host for JTBC's music talk show called "Mysterious Record Shop," which started airing in January 2021.
Personal life
Wendy is single and not known to be dating anybody at the moment. She did reveal in the variety show called "Love Actually" in 2019 that she had not been single all her, life and said that she's the type who gave her all to the person she likes.
When it comes to her ideal type, it has to be someone who smiles a lot, is considerate, and has good manners.
Hobbies, favorites, rumors, and interesting facts
Nicknames: Wanah, Olaf
She plays the piano, saxophone, flute and guitar.
Favorites: blue (color), soccer (sport), jazz (music genre), Jessi J (artist)
She often brought cookies and bread that she baked for the members and staff.
When she appeared on a show, the host asked her about how English people converse. She mimicked how white girls and black girls talk, and as a result was accused of racism and stereotyping by some viewers.
Appearance
She is 5ft 2ins (1.58m) tall and weighs 105lbs (47kgs) with slim build. She has black hair and dark brown eyes. Her shoe size is 235mm.
Net worth
Wendy has an estimated net worth of over $1 million, as of February 2021, according to sources.